Kate Bush is a genius. She was signed by EMI in her mid-teens and they wisely kept her under wraps for years, as they (in a moment of business forethought that you wouldn't get today) wanted to nurture her talent and not have a novelty child star/one hit wonder on their books. She was taught mime and dance and told to hone her craft by playing live in pubs. When she was eighteen her first single was released and shot to number one.
I've never really thought of myself as a Kate Bush fan, but I suppose I must be. I've been there from the beginning; I remember seeing her first very memorable performance of Wuthering Heights on Top of the Pops and being open-mouthed and speechless… but not in a good way. My favourite programme at the time was Doctor Who, but this was far more alien and far more frightening than anything BBC Drama could muster. I couldn't actually believe what I was seeing or hearing, or how this witch in a white dress had made it onto TV. The next time I heard the song though I was hooked.
So, Sale Waterside… Getting on for forty years later… Forty years! The Red Shoes are a Kate Bush tribute act. The lights dim, the band and singer walked out shrouded in red robes; they stood still as a projected introduction to Kate Bush played on a screen behind them. This recorded intro could have been more professionally done and in the first half of the show it was a regular feature, appearing for most songs and becoming quite intrusive, especially as the information related wasn't always relevant, going on to describe the track's video and sometimes B sides, but the purpose was largely to allow the singer time to change costume.
The band and singer then threw aside their robes. The singer bore a passing resemblance to Kate Bush, in that she has long dark bohemian hair and the various costumes help with the illusion. The set opened with Lily, from the Red Shoes album. It took me some time to work out which song it actually was, but I think that was partly due to the acoustics and a problem with the mic and sound in general. What I can't forgive, though, is that the song was messed around with and given extra choruses and instrumental breaks. I couldn't work out if she sounded like Kate or not, but she sang well. Her dancing certainly had Kate flourishes and it was an enthusiastic performance, but this track didn't draw the audience in and the sound problems didn't help.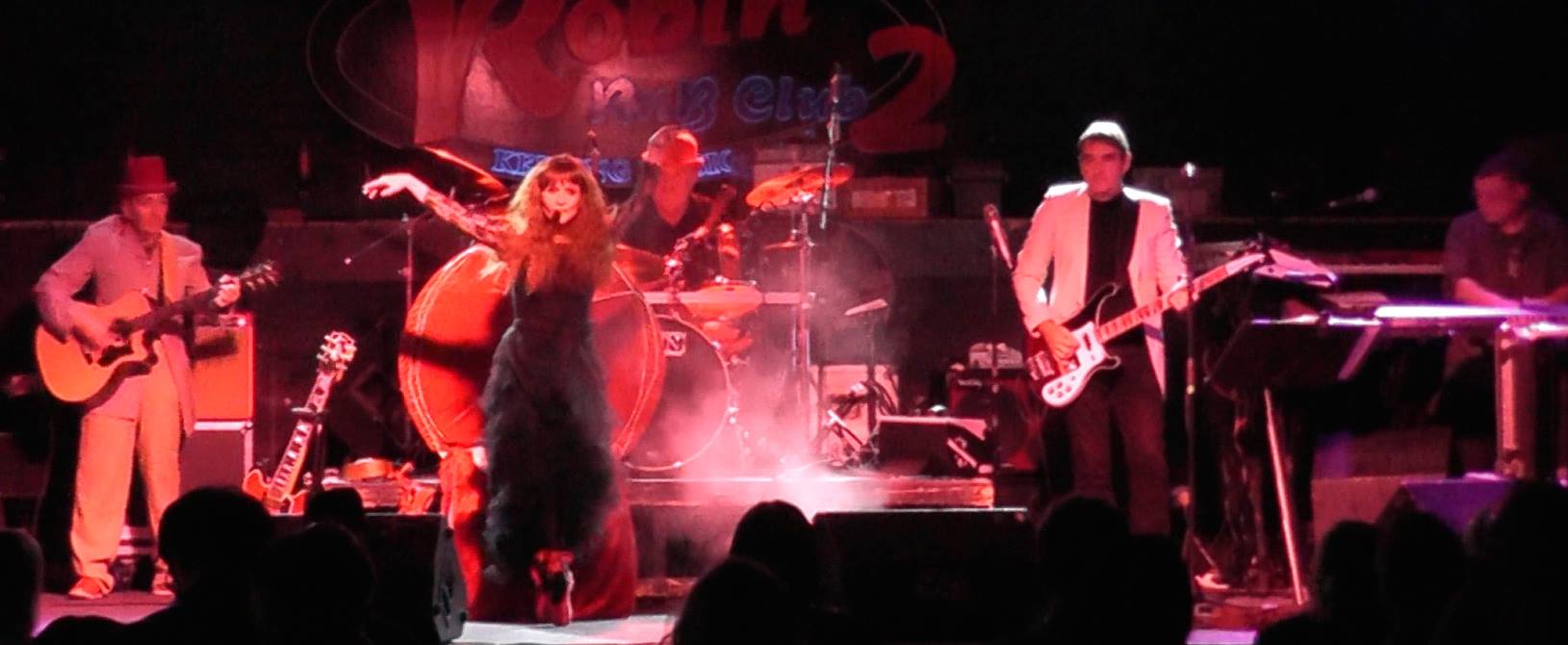 As I see it, if a band does a cover version of a song they generally opt to try and change it and make it their own, and that's fine, that's really the point of a cover. However, with a tribute act the audience surely want to be transported and be fooled into thinking they're watching the genuine article, so you don't reinterpret the songs, you should be aiming to interpret them as realistically as possible. As the evening progressed that was something that was really going to annoy me.
Next up was the Hounds of Love, for which the music was rather too loud and rocky… it was good, don't get me wrong, but it wasn't Kate Bush. Then King of the Mountain, one of Kate's more recent singles, which I felt came across much more convincingly, but isn't really a crowd pleaser.
It was with the fourth track, Army Dreamers, that I really saw some magic. Looking exactly like Kate in the promo video, the singer came out in a combat uniform and sporting a gun. The vocals were very accurate and very Kate Bush and the movements and routine closely followed those from the video. This is more like it!
The rest of the show was a mixture of hits and misses. Experiment IV… this song was completely reinvented, and while it was a good reworking, it's not what we're paying to see! Them Heavy People, about Kate's music and dance teachers, is well sung and well performed, though some of the dance moves are inaccurate. I'm sorry to be picky, but I think it matters.
This Woman's Work was adequately sung, but the music was rather karaoke and unsubtle; it should be a very touching ballad, but it came across as rather brash. The quiet songs seemed to suffer at the hands of this rock band, as instead of a gentle piano a full band sound is used, which doesn't fit the mood and is rather intrusive. The Man with the Child in His Eyes, Kate's second single, written in her early teens and Moments of Pleasure, a beautiful song about friends who have passed away, both suffered a similar fate.
Wow, the song, not an exclamation, had a nice vocal, but the words were wrong. How can this happen! The words are very clear on the track, and they're on the vinyl sleeve or the CD booklet! The chorus is wrong, not just once but every time!
Babooshka and Hammer Horror both had memorable performance/dance videos at the time, which are recreated here quite faithfully, as far as possible.
James and the Cold Gun follows, which is significant in KB history; it remains an album track, but EMI wanted it as the first single. Kate fought for Wuthering Heights and won… or we may possibly never have heard of her. Here it was performed very faithfully with nods to the 1979 live performance as the singer came on with a rifle and proceeded to gun down the band.
Rubber Band Girl is a very oddly structured song and here was performed well, though not like the Kate Bush song, and had added melodic vocals, but that's not what we're paying for. Rocket Man is an odd choice for inclusion: Kate did a cover of this Elton John song for a celebration album of that artist. This rendition is faithful and well done… but I wouldn't have included it.
Eat the Music is up tempo and contagious and very enjoyable. The track The Red Shoes is performed in red ballet shoes, much of it on point… that must take some doing. Very well executed, although the whole point is that the shoes are taking over and won't stop dancing and a more frenetic approach would have worked better, but I'm just being picky. It was good and sounded good.
Cloudbusting and Running Up That Hill are both stirring, rousing and excellent, though there is some truncated delivery on the latter, which I found quite annoying.
Finally, probably the moment most people have been waiting for, the song most associated with Kate Bush, Wuthering Heights. The track is a work of genius, written after seeing the film but never having read the book. Here we're given a fairly accurate portrayal of the promo video, complete with long white dress and mainly true and honest rendition, but with slightly altered dance moves. It's the obvious way to finish and for me it was a good finish and well executed.
This is clearly a talented group of musicians and a singer who has a good voice and her performance is never short of energetic or engaging. In short, what we have is a rock band doing interesting covers of Kate Bush songs, with a front woman doing stylised interpretive dance moves that are a good approximation of Kate Bush's performance, but are often not exact. The success rate of individual songs varies. We're given Kate Bush songs, but usually not how Kate Bush would perform them.
This would have made a really fun cabaret act, but so far, despite the obvious talent on stage, I don't feel the show itself is coming across as wholly professional. But when it works (such as Army Dreamers) it works brilliantly, which makes it even more frustrating, because presumable it could work all the time.
Reviewer: John Freeman
Reviewed: 30th September 2016
North West End Rating: ★★