'Who Loves You?' Well absolutely no doubt the audience at the Grand Theatre, Blackpool do and who could blame them when treated to Walk Like a Man, a tribute act of the popular 1960's group The Four Seasons. Now you might be put on the spot if asked what did The Four Seasons sing, but, once the show starts and hit after hit is performed the memories will flood back and you will be amazed at just how many you do know! Tonight's opener was an obvious choice 'Walk Like A Man' which was recorded in 1963 and the third number one hit for The Four Seasons.
Frankie Valli (Thomas Sutcliffe) with the falsetto vocals and the deep bass sounds of Nick Massi (Jacob Cook) are a sharp contrast and work perfectly together. There followed a lively 'Lets Hang On' featuring the other group members, James Wolstenholme as Bob Gaudio and Adam Baker as Tommy DeVito. Already there is a party atmosphere in the auditorium and plenty of arm swaying. Surely everyone will know 'Grease' the film but how many realised Frankie Valli sang the title song? Tonight we were left in no doubt with a great rendition of it.
These guys like interaction with their audience and came down from the stage to have a little banter with some, before whisking a lady from the front onto the stage with them and serenading her with a couple of songs. There was a nice touch here when she was presented with a flower and chocolates.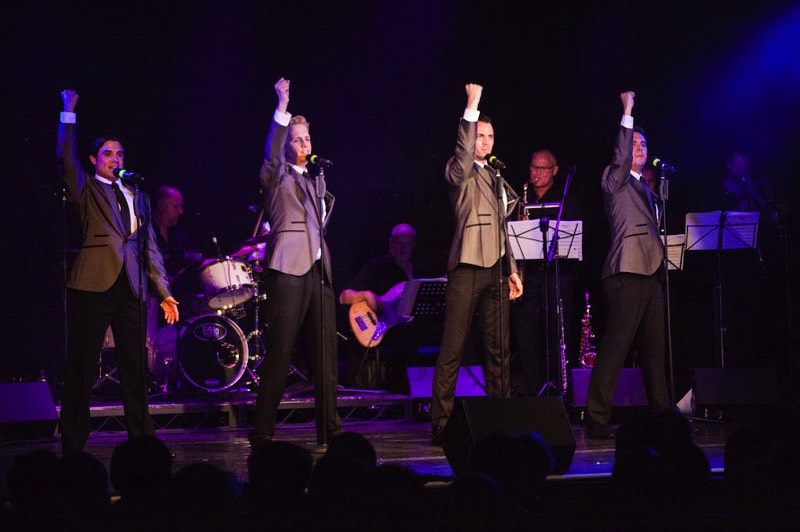 There followed more classics including 'Dawn' 'Big Girls Don't Cry' and a perfect a cappella of 'Blue Moon'. After a short interval and a change of suits the tempo is kept up with the fabulous 'Beggin'. a song written by Four Seasons member, Bob Gaudio , who wrote many of their songs. Slowing down with 'The Sun Ain't Gonna Shine Anymore' again a Gaudio composition which was written for Frankie Valli in 1965 but was more successful when released by The Walker Brothers the following year.
The audience are encouraged to dance and join in with the singing, not that encouragement is really necessary as many are up and dancing in the aisles already. For the finale they perform 'Bye Bye Baby' and then for the encore a medley of songs they have performed earlier leaving on 'Walk Like A Man'.
Walk Like A Man are slick and highly polished professionals with fabulous choreography and personalities that shine through. They look the part and their harmonies are wonderful to listen to. They manage to cram in an amazing number of iconic songs during the show. Fully supported by an equally fabulous five piece band consisting of two guitarists, two keyboards and a drummer who deserve recognition but were not mentioned by name. At the end of the evening the guys appeared in the foyer to thank people for coming along to see them. For great entertainment that ensures that feel good factor you can't go wrong in going along to this show.
The tour continues at the Grand Theatre, Blackpool until 29th October 2016 and includes matinee performances on selected days. For further information see: https://www.blackpoolgrand.co.uk/events/
Reviewer: Lorna Weekes
Reviewed: 17th October 2016
North West End Rating: ★★★★