The dark, bleak songs of Richard Thompson form an appropriate soundtrack for these troubled times. In his one-man acoustic show at the Lowry he provided a tour through his fifty-year repertoire that had a largely grey and grizzled audience whooping in appreciation. Those songs, rooted in the English narrative folk tradition, but treating the state of contemporary civilisation, resonate ever more insistently in Theresa May's Britain.
Thompson's gallery of losers, loners, outcasts, rebels and misfits populate a landscape that's often desperately grim, and the new songs, of which there were a couple tonight, don't suggest his sensibility is changing much. The doom-laden vision is belied by Thompson's customary jovial stage manner: he's happy to banter with an audience who are clearly as comfortable with him as they would be with an old friend.
How do you choose a set when you have a canon going back half a century? Thompson knows "you haven't come for the hits- because I haven't had any" but then plays a song that "brushed the lower reaches of the top 40 in 1974", the jauntily desperate 'I Want to See the Bright Lights Tonight.' He reels off a string of brilliant interpretations of his back catalogue, interspersing crowdpleasers like 'Beeswing', 'Vincent Black Lightning 1952' and 'Wall of Death' with achingly introspective masterpieces – a poignant 'Ghost of You Walks' stood out, as did 'A Love You Can't Survive', his tale of a man whose life is ruined by a moment of violence.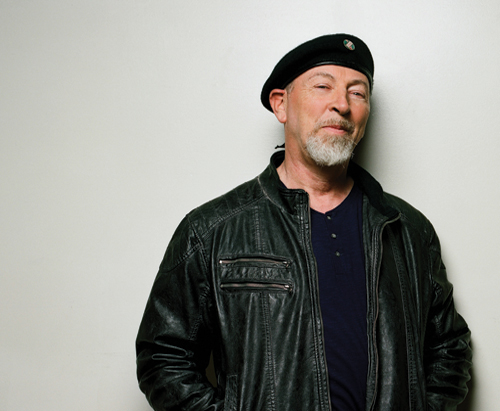 On a bare stage, armed only with his favourite Lowden acoustic guitar, he produces that unmistakable sound, and his virtuosic playing is a wonder to behold, the notes pouring out like a turbocharged Django Reinhardt. The voice too, has matured with the years, growing deeper and taking on some heft.
He is so comfortable with his music that he can change tack at will, and tonight when someone in the audience reminded him that he'd written a song with a local connection, 'Salford Sunday', he agreed to play an impromptu version immediately. He managed it well, pausing once to recollect the lyric, and was rewarded with a huge ovation. Some new (or at least hitherto unheard) material from his current 'Acoustic Rarities' album was aired, notably 'They Tore the Hippodrome Down', which is like a nihilistic version of Ray Davies's 'Come Dancing.' Midway though the set, he mentioned Fairport Convention's fiftieth anniversary, which he had celebrated at Cropredy earlier this year, and then sang a soulful version of the Sandy Denny classic 'Who Knows Where the Time Goes' in her memory. A packed Lyric Theatre wasn't going to let him go without some old favourites, so he encored with some songs that typify his tender insight into human frailty: 'From Galway to Graceland' about the middle-aged Elvis obsessive who gives up everything to mount a vigil at his grave; 'I Misunderstood', the tale of a man who desperately wants friendship to turn into something deeper; and 'Turning of the Tide' in which the ageing process is brutally exposed. On request, he finished with one of his early classic Fairport songs, the moving 'Meet on the Ledge.'
On this tour, which continues around England, Thompson is supported by the duo Josienne Clarke and Ben Walker, singer and guitarist, whose low-key opening set began with the old Fairport tune 'Reynardine', which was bold, and included a song by Elgar, which was unexpected. They have promise, but need to learn from the master about varying the tempo and intensity of their songs. They will do well to have a career such as Richard Thompson's: at 68, he's as distinctive and as entertaining as ever.
Reviewer: Rob Spence
Reviewed: 19th October 2017
North West End Rating: ★★★★