When you enter an auditorium and it's absolutely at capacity you think that maybe the tribute band about to perform have been around some years and have accrued a loyal fan base or there are many fans of the original band out to see if this tribute comes close. On this occasion the answer is 'Oh yes' on both counts! The Illegal Eagles are now on their 20th anniversary year touring with their show covering an exceptional amount of hits of the original American rock band 'The Eagles'.
The atmosphere was electric as the six members of the band took to the stage and held the audience's attention until the very last note of the encore in an amazing two and a half hour show (plus interval).
This is no ordinary band though, all are extremely talented musicians switching instruments throughout whether to a different guitar or to keyboard each and everyone supports each other and that includes latest recruit the 'Stud Muffin' Mike Baker (the bands nickname not mine I hasten to add... although....!) There is an easy banter between the band members with Christian Phillips and fantastic drummer Tony Kiley referred to as the 'Welsh hunks' by fellow member 'Essex' boy Trev Newnham. Newnham does most of the introducing of songs and so can loosely be called band leader because he is not the lead singer, in fact no one is, each member (bar the drummer) at some stage takes the lead vocals whilst the others harmonise.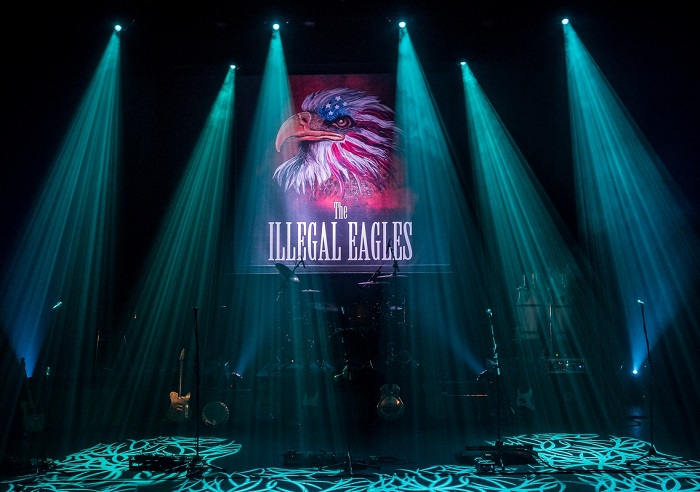 A fabulous rendition of 'New Kid In Town' was performed by Gareth Hickens taking lead and dedicated to a recent arrival to his family. Greg Webb has incredible high vocals as demonstrated this evening during several songs. There is fabulous harmonising in 'Ol' 55' a song written by Tom Waits and covered by the Eagles in 1974 on the B side of 'Best of My Love'. A particular song favourite of mine is performed tonight by Phillips giving a captivating rendition of 'I Can't Tell You Why'. The tempo changes throughout the evening as hit after hit is belted out covering so many classics from rock to ballads that even those who were not particular fans of The Eagles would no doubt remember, I didn't realise I knew so many and was soon singing along with everyone else. After the interval the band returned with the iconic 'Hotel California' receiving an incredible welcome, can you believe it is over 40 years since 'Hotel California' first aired?
The show continues in such an easy and smooth way displaying a professionalism that can only mean each and every one is dedicated to giving a first class performance and tonight that is evident. These guys are multi-talented artistes and give a tribute that although may not look quite alike, (nothing that a long haired wig or two couldn't fix!) definitely capture the amazing sound of the Eagles. I have no hesitation in suggesting you get along to one of their shows, but be quick..they sell out fast!
The tour continues and for dates and further info: http://illegaleagles.com/tour-dates-2/
Reviewer: Georgia Leigh
Reviewed: 19th October 2017
North West End Rating: ★★★★★