I have seen tribute artistes of Billy Fury, Roy Orbison and Buddy Holly but never of Eddie Cochrane and Gene Vincent so I was really looking forward to watching a show portraying all five of these legendary 1950's era rock' n' roll guys tonight at the Charter Theatre, Preston.
After a rather bizarre opening where we are given a very brief history of rock'n'roll fashioned in preacher style by a white suited guy, our first act is introduced onto the stage. Billy Fury (Gavin Stanley) is looking resplendent in gold lame suit as he performs several songs including a favourite of Fury's 'Wondrous Place' and featuring some excellent saxophone playing from Wildcats band member John Wallace in 'A Thousand Stars'. It is in the second half of the show when Stanley sings more of the well known songs such as 'I'll Never Find Another You ', 'Make Believe' and getting the whole audience singing along with a fabulous 'Halfway to Paradise' that you warm to his characterisation.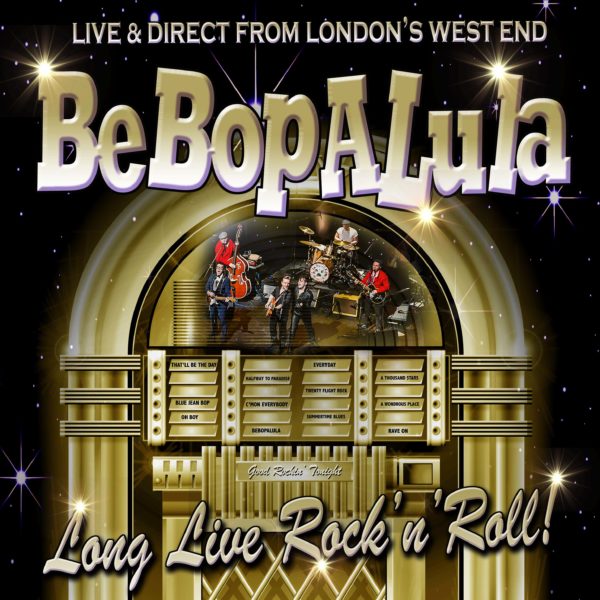 Each act is introduced in a dj manner by an offstage voice and next up is Spencer Jordan as Buddy Holly. Looking the part and playing guitar he immediately has the audience with him with 'Peggy Sue', the ballad 'True Love Ways' before upping the tempo again with 'Rave On'. He continues to delight in the second half and includes 'Learning The Game' the last song to be written by Holly.
Guitarist Gerry Slattery then steps to front of stage and treats us to an extra rock'n'roller for the evening with Little Richard and 'Keep A-Knockin' before Stanley returns as Eddie Cochran. With 'C'mon Everybody' there needed little encouragement for the audience to join in and a definite crowd pleaser was 'Three Steps To Heaven' which was a hit for Cochran long before Showaddywaddy came along!
Jordan makes his second visit to the stage now as Gene Vincent. Now I have to confess to not being familiar to many of his songs other than the one giving title to the show, 'Be Bop A Lula' or his stage performances so after researching a little, I can now see the reason for the limp and stiff leg and can verify that after watching film archives of Vincent performing, Jordan gives an accurate and convincing portrayal of Vincent. For those also wondering, Vincent is reported to have had a serious motorcycle crash in the accident in 1955 resulting in severe leg injuries but refused to have it amputated and instead wore a steel sheaf around his leg for the rest of his life, although later biographies claim it was a war injury he gained in combat in Korea.
The Wildcats Band provide exceptional support tonight in particular the saxophonist who deserves a mention for his amazing solo performance of Night Train'. Another chance to display their skills came with an instrumental of 'Tequilla'. Making up the rest of the band are Gerry Slattery/guitar and vocals, Spencer Lingwood/drums and Chris Kaine/keyboard.
I'm a little perplexed as to why Roy Orbison is listed as one of the five rock'n'rollers to be performing when in fact it was the guitarist Slattery who stepped forward to perform his songs. Although not wishing to take away the excellent job he did, I did expect and wanted to see someone taking on the full role, suited and wearing the trade mark dark glasses especially as the others were portrayed in full character.
Be Bop A Lula crams a lot into the show and gives a pleasurable evening of nostalgia but by doing so I feel loses some of the intimacy that develops with individual tributes.
Reviewer: Lorna Weekes
Reviewed: 16th March 2018
North West End Rating: ★★★