As an avid Beatles fan, I was excited to see this show. I have seen the Mersey Beatles play many years before, but don't remember specifics about them, just that they were good.
So, where to start. Firstly, both their singing and speaking voices were spot on, they all mimicked their Beatle in such a way you very often forgot you were watching a tribute band, and instead of comparing them to the real deal, you just accepted them, which can't always be said of this sort of act. The fact that they are all Liverpool born and grew up as childhood friends really does give them that extra bit of authenticity.
They covered a huge array of songs, from their most popular numbers, such as 'Twist and Shout' and 'Ticket to Ride' to slightly lesser known tunes such as 'Hey Bulldog' and 'Fool on the Hill'. They also performed 'In My Life' as a tribute to both George Martin (who created and performed the piano section, as well as producing the song) and The 96 victims of the Hillsborough disaster, which was very well received and appreciated by the audience.
Individually, they each brought something unique to the stage;
John, played by Mark Bloor seemed to be the most dominant from the beginning. His physicality and emotional portrayal of Lennon was so pure you just felt at ease with him. His comedic reactions to hecklers were well received and you just enjoyed watching and listening to him throughout the evening.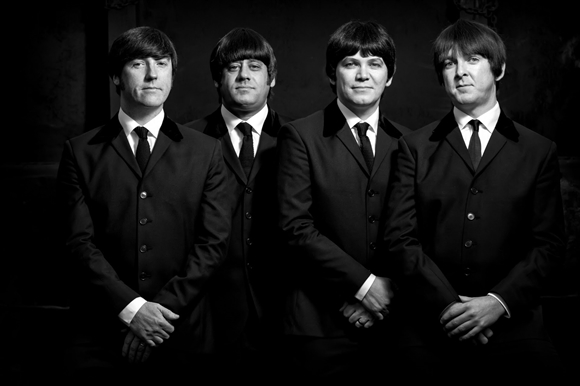 Paul, played by Steven Howard took a little longer to warm into his role. He didn't quite hit you with it as immediately as Bloor, but once he did it was extremely impacting and sustained vibrantly throughout the show. For me his stand out performance has to be 'Fool on the Hill'. This is the song which stuck with me once I got home and if there are any differences between his and McCartney's versions then they must be minute. The only real criticism was that he didn't play the guitar left handed, but that's just nit-picking and something I forgot about as soon as I witnessed what he had to offer.
George, played by David Howard (Steven's cousin) had an admirable stage presence. Time and time again you were drawn back to his guitar playing and watched on in awe. We were treated to his lead vocals on two of the numbers including 'Something' which was just beautiful. It was also really enjoyable to see him share the mic with Paul for backing vocals and harmonies.
Ringo, played by Brian Ambrose was rather amusing to watch. When he first came on stage I heard somebody say 'I see Ringo's put on a few pounds' which sort of summed up how much he looked like him. However, that didn't matter because his drumming was excellent. I don't think he missed a beat all night and he really did keep the group going, as a drummer should. The amusement came when it was his turn to sing. As any Beatles fan knows, Ringo himself was not the best of singers, but Ambrose takes this further. I don't think it is meant deliberately, but some of the notes he sang were so flat I wondered how the others managed to harmonise with him. At one point I felt as though John Bishop had joined them on stage and was trying his best to sing 'Yellow Submarine'.
I have to also mention Tony Cook who played keyboard, and is known as the fifth member of the Mersey Beatles. His playing was impeccable especially in the likes of 'A Day In The Life' and 'Yesterday'. He is clearly a vital key to the group and his efforts did not go amiss.
Overall, this ensemble really do bring The Beatles to life again. I am grateful that I got to see this show as it will certainly be the closest I will ever get to seeing The Beatles for real. I hope the show gets the support it deserves for the remaining dates at the Epstein, as they really should be seen and heard, especially in Liverpool.
Reviewer: Sara Woodruff
Reviewed: 20th May 2016