Over the years I have seen over a hundred pantomimes - oh yes I have - and whether that is just total lunacy or not I couldn't say. One thing I can say though is that this evening's production of Aladdin by First Family Entertainment at Manchester's Opera House goes straight into my all-time top 10. It doesn't hit the jackpot sadly, but nevertheless is still one of the best and most traditional family pantos I have seen.
I would love to credit the designers here but cannot find them in the programme unfortunately. The sets were absolutely fabulous, and along with some of the best costumes I have seen made a gloriously colourful spectacle. The only set I thought extremely weak in comparison with the rest was using a curtain to represent the entrance to the cave, and the boulder, which needs to be moved by the magic words, 'Open Sesame' was painted onto the material. Extremely lame when everything else was so well designed and detailed.
The whole company of performers truly embodied the panto spirit, although I would have liked to have seen the audience a little more involved than they were. I admit that this is difficult in the Opera House, a building not designed for audience participation; but perhaps sweets or an empty bucket of water could have been thrown, or a singing competition between the three seating levels, etc.. A camera and screen were there before the show started and during the interval, filming the audience and playing it back on the screen inviting us to wave and be silly, which seemed to please most, but this idea of audience involvement sadly was not really continued into the show.
It was, though, age appropriate and with plenty of silly jokes and comedy chases for the little ones, and the odd bit here and then for the mums and dads to sneer at, it was excellently balanced. I would also have liked to have seen a couple more of the traditional routines associated with panto included. And since this was a show without a Principal Boy, then the 'Behind You' routines, or Wishee-Washee asking the audience to look after something for him, or other traditional favourites should have been included.
The production was written and directed by Dame Widow Twankey herself, Eric Potts. The directing was good, although I would have liked to have seen Princess Jasmine do more, her part was very small and her singing too quiet. And I really applaud the idea of using local juvenile dancers (I don't know which of the two teams performed this evening), but again, they were very underused and overshadowed by the 8 adult dancers. that was such a pity.
His Dame however was wonderful. Butch with a touch of feyness; lascivious when required to be but never too much and always kept that element of fun foremost. Sherrie Hewson played The Genie Of The Ring with a touch of the commoner and resignation, whilst Joe Speare's Genie Of The Lamp was imperious and sonorous. Neil Henry was an amiable Wishee-Washee whose magic tricks delighted; Michael Remick was excellent as the aging and slightly doting and daft Emperor; whilst Phil Holden made a lovely half to what should have been a double act.. playing PC Pong. (PC Ping was nowhere in sight however - thus missing out on some excellent comedy and adding so much to the show... oh well....!)
Eye-candy and love interest Princess Jasmine was played by Claire-Marie Hall, and Aladdin (who should have been a girl) was played ably and amiably by Ben Adams. John Thompson though, almost stole the show with his Abanazer. His wonderful stage presence, lovely facial expressions and beautiful deep voice (not to mention his lovely black and gold costume) made my eyes stay on him whenever he was on stage. Perhaps he wasn't really quite evil enough, but we all booed him anyway.
The music, under the direction of Steve Price was solid, secure and the songs well chosen. Choreography, by Kerry Newcombe was good, but didn't have the sparkle, pizzazz and indeed level of difficulty to increase the spectacle that I would have thought 8 professional dancers could have pulled off, and as already mentioned, the youngsters needed more to do, and not to be being pushed to the back all the time.
Maybe I am nit-picking, and being uber-critical, since most of these things didn't really seem to matter too much as the cast were given a rousing applause at the end and, watching the children seated around me, all were totally involved and loving every minute. And, that, after all, is the name of the game, pleasing the children!
This traditional fayre is playing at The Opera House until January 8th, and in Greater Manchester you really cannot get better than this.
http://www.atgtickets.com/shows/aladdin/opera-house-manchester/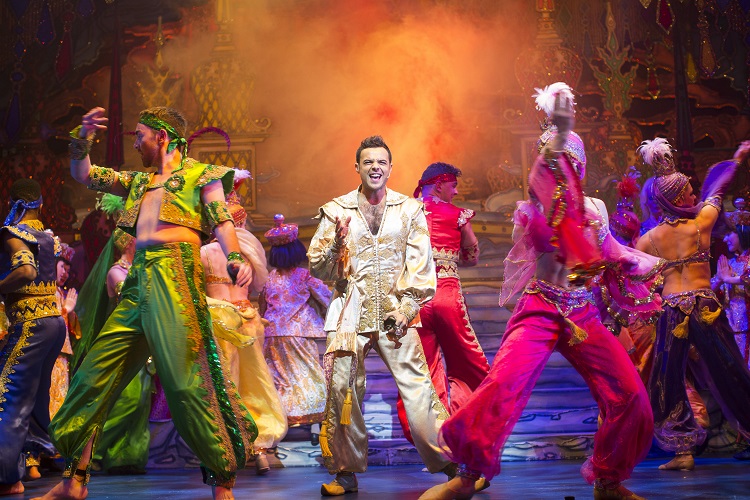 Reviewer: Mark Dee
Reviewed: 13th December 2016
North West End Rating: ★★★★
Photo: Phil Tragen