10 days ago Sheffield's City Hall was a blank canvas, then Manor Operatic Society moved in and converted the space into a fully functional conventional theatre complete with the capability to fly scenery in and out of the stage. This is a herculean task which the team at Manor take on twice a year, and the results in the past have been superb.
Today was the first 2 performances of a run of 16 in total of Jack and the Beanstalk, and playing to over 3,000 people over the two shows they are well on their way to cementing their claim to be the biggest amateur pantomime in the UK, if not the world. Make no mistake however, this show is amateur only in respect of the fact nobody gets paid to be on that stage night after night. Each and everyone in this cast could walk into any professional pantomime on in the UK this Christmas and shine.
Everybody knows the story of Jack and the Beanstalk but Hands on Productions have tweaked the story ever so slightly to accommodate producer/director Richard Bradford's dreams and aspirations. Every year their shows get bigger and bigger and you walk away wondering just how it is possible to top what you have just seen. I thought just that after seeing Cinderella last year, but the whole production team have surpassed themselves with this year's offering.
Unusually I am not going to mention each cast member individually as they were all on fine form tonight, however James Smith as Jack and Robert Spink as Dame Tilly Trott impressed as ever. The title for best vocal of the night has to be a dead heat between Emma Holmes as Witch Wee'd singing 'Defying Gravity' and Emily Mae Hoyland as Princess Lilly singing 'Home'. I must also pay special mention to ensemble member Lauren Lomas, she stood out all evening with her broad smile and impeccable dancing.
The technical elements in this production were nothing short of astounding, not just for an amateur production, but for any production. You name it, they had it! The first half featured over 50 separate pyrotechnic effects alone, there was flying, a 16 foot tall giant and of course a beanstalk. The UV scene which precedes the beanstalk growing is imaginative and proved mesmerising to the youngsters sat around me tonight.
The journey to the Giant's land is without question the best thing about this whole production. The orchestra swells to number 40 plus as the stage and aisles become filled with cast members providing a hypnotic beat to accompany us on the journey. There is fire, more pyrotechnics and two very special guests as the top of the beanstalk approaches. One of the best finales to the first half of a pantomime I have ever seen, spectacular!
The rest of the production team, Linda Kelly (Director, Choreographer), Andy Collis (Musical Director) and Pete Brown (Stage Manager) provide to be pivotal cogs in this well oiled Manor machine which keeps growing year on year.
Following tonight's show I am left wondering how they are going to top this show when they present Singing in the Rain at City Hall from the 10th-13th May, I may just bring my umbrella!
Tickets for the remaining performances of Jack and the Beanstalk (until 8th January 2017) and also Singing in the Rain can be found at www.manoroperatic.com or www.sheffieldcityhall.co.uk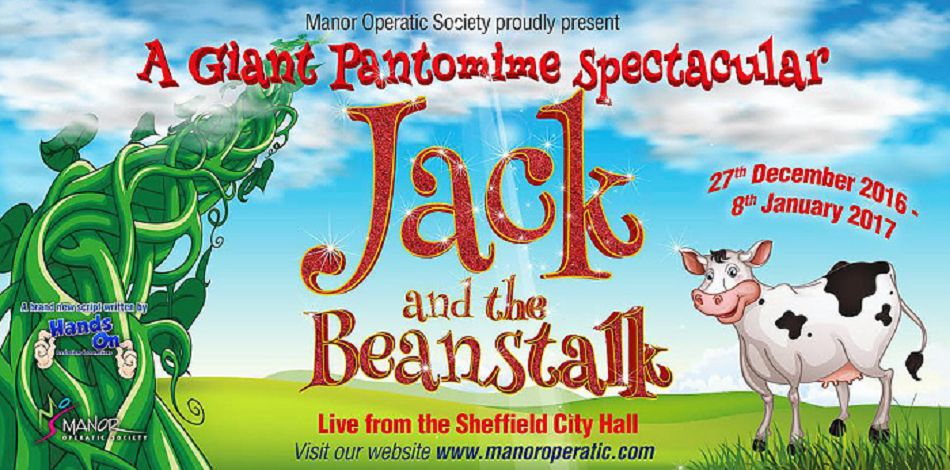 Reviewer: Paul Downham
Reviewed: 27th December 2016