Filled with excitement, despite knowing this wonderful family favourite show like the back of my hand I pondered over what to expect. However, on entering the beautiful Art Deco theatre in Stockport there was an excited buzz from the audience. A large proportion of the audience consisted of many 'munchkins' on their anticipated journey over the rainbow, in disguise as excited children on their school holidays.
The story of course does not need much explaining but this production had many hilarious aspects to it whilst sticking very closely to the original story.
Cheryl Fergison, better known for playing the fabulous Heather Trott in EastEnders, was outstanding. She demonstrated incredible stage presence as soon as she walked on and commanded the audience's attention through her part as the Wicked Witch of the West. Unpleasant and offensive to the audience, her tyrannical, wicked behaviour was simply perfect. She added many comedic elements to her wickedness with a glint in her eye.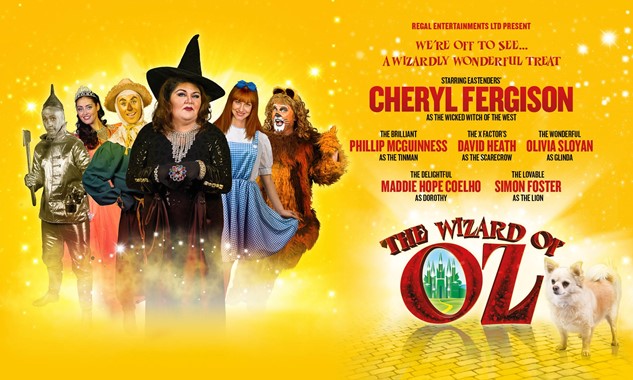 Some of her one liners contained hilarious Eastenders references to the delight of the audience, demonstrating the shows appeal to both children and adults. Her thundering voice constantly boomed on stage. The lively Stockport audience booed her when she shouted, 'You bunch of wannabe Mancunians!', and to the children she suggested she could make bacon out of Pepper Pig. Boos and hisses constantly followed her lines, from the largely young audience. Like an early Christmas treat, this was pure Panto at its finest.
Dorothy was played by Maddie Hope Coelho and replaced the advertised Charlotte Gallagher. Having recently been a contestant on BBCs 'Pitch Perfect', she was excellent and full of theatrical know how- she could act, sing and dance to a magnificent standard and was consistent throughout. Her performance of 'Somewhere Over The Rainbow' was stunning. Her handling of the adorable Toto was endearing as she demonstrated to all, that she could not only work with (and entertain) children but also work with animals. Although I am not familiar with commenting on animals acting skills, Toto, I might add, was a star.
The Scarecrow, Tin Man, and Lion, were all fantastic and led on many of the songs and dances that had the audience in stitches. Dancing alongside them was Glinda played by Olivia Sloyan who demonstrated as much sugary goodness in her part as she did fun, when singing together with them, an outstanding actress.
Choreography was wonderful and costumes were camp, garish and quirky. It was hard to criticise this production by Regal Entertainments.
At the end of the evening the Wicked Witch of the West thanked everyone and insisted the audience took pictures and shared them over social media. Clearly, she wanted to spread the word to all and encourage people to come and see Wizard of Oz. And you should.
Colourful, hilarious and a guaranteed feel good factor for all. Click your sparkly red shoes, wave your wand and follow the rainbow to Stockport for a fabulous show on until 12th August. http://stockportplaza.co.uk/whats-on/the-wizard-of-oz/
Reviewer: Angela Kelly
Reviewed: 7th August 2017
North West End Rating: ★★★★