Cheesier than a packet of Wotsits! Oh yes it is!!
It's that time of year again (oh yes it is!), after all, Christmas would not be Christmas without a good old panto! This year Sheffield welcomes the delights of Widow Twankey and her handsome young son, Aladdin.
With gags a plenty, jokes old and new and a lot of innuendos - Aladdin delivered a delightful evening of entertainment for audience members both young and old.
This traditional fun filled pantomime is set in China's old Peking. Centred around poor Widow Twankey (Damian Williams) - the "bloke in a dress" and her son Aladdin (Jonathan Halliwell) and their adventures. Aladdin is madly in love with the Emperors daughter, Princess Jasmine (Elizabeth Carter), but sadly as he is not a Prince, and is as poor as poor can be, he is not permitted to marry her. Aladdin sets out on a quest to find wealth in the return for a lamp hidden deep within a cave, which the evil Abanazar (Chris Gasgoyne - aka Coronation Streets' Peter Barlow). Along with his new found friend - the Genie of the Lamp (Eddie Elliott) and the Spirit of the Ring (Hilary O'Neil), Aladdin sets out to become Prince Ali, get the girl and rescue the mummified villages of Peking.
The show's most loveable character has to be Aladdin's brother Wishee Washee (CBeebies Alex Winters); it is easy to see why Alex has such a successful career as a children's TV presenter. He has such an excellent rapport with children, and is great fun to watch perform such a loveable character. Although until this evening I had never seen him perform and not knowing he has a background in children's TV, I warmed to his charming and loveable character within minutes and he was a huge hit with the hundreds of children in the audience. It has been several years since I last saw a pantomime (oh yes it has!) and tonight's performance took me back to my childhood where it became a tradition to see a panto each Christmas.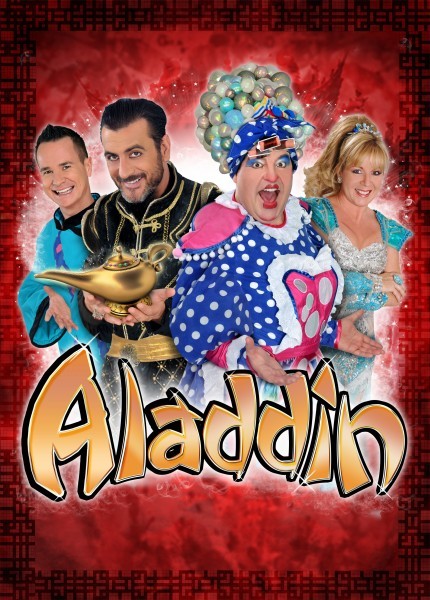 I particularly loved the reference to the town I grew up in which was used as one of the many jokes (Barnsley advent calendar - "How can you tell it is?", "Because all the windows are boarded up!") - This released my inner child and I had to boo Widow Twankey for dissing my home town! From this moment, despite having pretty much lost my voice to a rotten cold, I was joining in with all the audience participation - which - with it being a panto there is plenty of! However, the only thing I missed in this pantomime which was a firm favourite part of the show as a child, was the throwing of sweets into the audience but I know that Health and Safety has. let's say. "moved on" a lot from the 1980's and 90s. I particularly enjoyed the audience participation of THE TWELVE DAYS OF CHRISTMAS, which included "a bra that was made for all three" and "five custard pies" which poor PC Pongo (James Mitchell) had to endure at least four repetitions of.
The cast came into the audience at various points of the show, and some of the more unfortunate audience members had the pleasure of being soaked by water pistols. The comedy was spot on and I was sad to see the curtain come down for a final time. If you only see one Pantomime this Christmas, make sure it is this production! I went in as a miserable under the weather 30 something year old and came out feeling more excited and giddy than a six year old on Christmas Eve! The show did not disappoint and I was particularly overjoyed to have two songs featured in the show from two of my favourite West End Shows (What You Want from Legally Blonde and Defying Gravity from Wicked).
The stage set itself was fantastic and I actually had wardrobe envy over Widow Twankey's many elaborate costumes and numerous costume changes. Chris Gascoyne was perfect as villain Abanazar, but we also got to see Chris' softer side. He may act like a villain but underneath it all he is really just a softy with a big heart.
Aladdin is playing at Sheffield Lyceum until Sunday 3rd January 2016, so grab your granny, your grandad, brother, sister, babysitter, next door neighbour and go and see this not to be missed slap-stick laugh out loud pantomime, it has something for everyone both young and old.
Reviewer: Lottie Davis-Browne
Reviewed: 8th December 2015