As I sit I what is one of the most stunning auditoriums I've ever seen the feel of absolute hysteria surrounds me as hundreds of school children and myself wait to see the CPOS production of Aladdin. The show is opened by in my eyes the star of the show Graham Macduff who portrays the role of Abanazar is evilly hilarious. This year it seems that baddies are just getting more love than the goodies in my eyes. He has everything about the character even down to the eyebrow movements he thrived from the audience reaction to him making him even more believable. He was quite quickly joined by Layla the slave of the ring played by Zoe Littleton who the script writer had decided to give an The Only Way is Essex inspired performance, which was slightly strange but worked he also gave the genie a Made in Chelsea inspired which ago an I felt a slightly odd choice as this lent itself to a large amount of London based jokes which were lost to many audience members not knowing the areas mentioned.
After the intro scene between Abanazar and Layla we were treated to the song of the Panto season Uptown Funk which was a fast, engaging and even had it comedic moments which had been incorporated between Aladdin, Wishee and the Policemen. The choreography was exciting and intense through the whole show as were the rest if the song choices. I particularly loved Aladdin singing Defying Gravity on his UV magic carpet it gave the perfect flying feel.
The person I was most excited for was James Holmes probably most famous for playing Clive in Miranda as I'm a huge fan of the show and his character in the show, I find him hilarious to watch. I'm not sure if this got my hopes up too high for his performance as I feel he just didn't have me in stitches as he usually does, I feel this could have been down to the accent he was using as Widow Twanky due to this a lot of his comedic lines were lost through lack of comprehension which was a huge shame as the times you could understand him were comic gold. I felt the accent did get lighter as the show progressed and with this his loveable comic character came out so much stronger.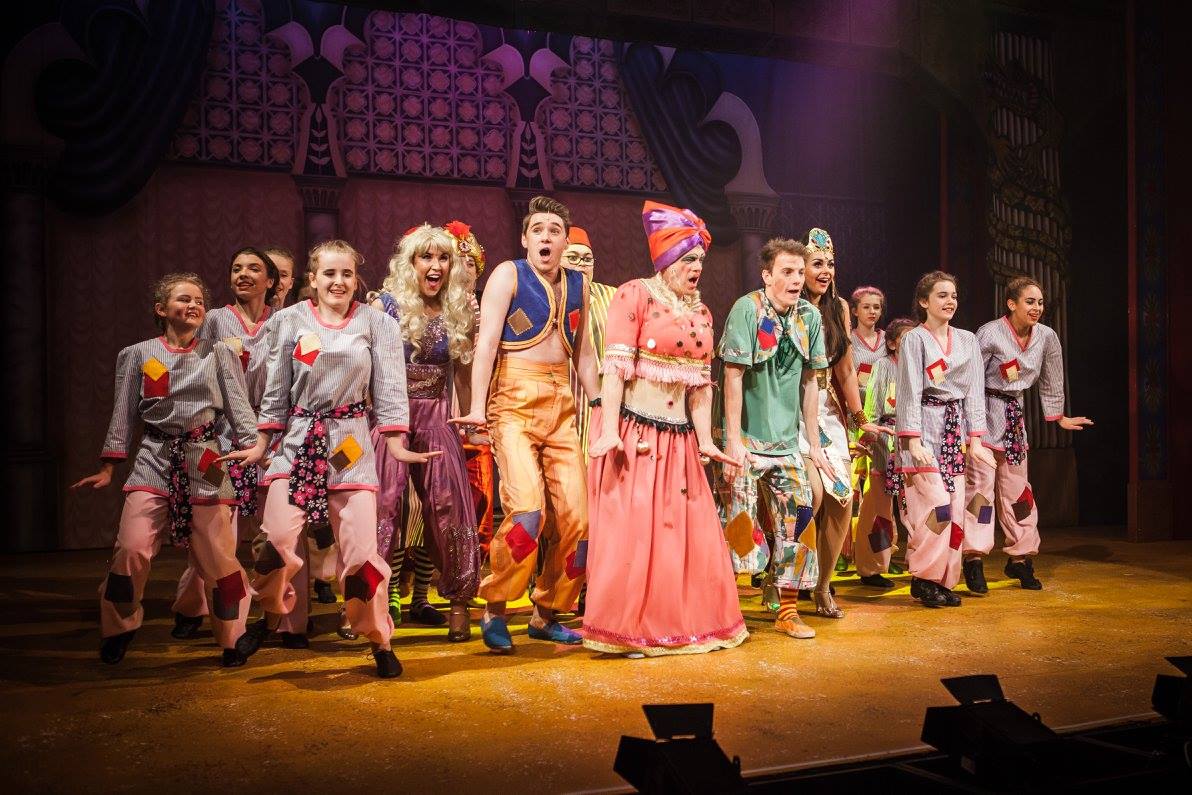 Princess Jasmine was portrayed by Kelsey Beth Crossley was a sweet naïve Jasmine who lent her vocals to many songs including Lean on. Her costumes were dazzling as were all of them. The children in the audience really took to both her and Aladdin with many of them saying Aladdin was there favourite at the very end whilst on stage with Wishee.
Wishee was comedically brilliant he had the audience in the palm of his hand and was brilliant with breaking the fourth wall and keeping everyone engaged.
Aladdin looked like he'd jumped straight out of a kids cartoon with his animated facial expression and his boyish good looks. He had an adorable charm about him and was a definite triple threat striving in all three areas and doing it at a level which was outstanding it's no wonder all the little girls were in love with him.
The police men were the perfect loveable comic pair. They arrived on there tinsel covered scooters and just bouncing off each other perfectly. The pair one serious and one silly just balanced each other perfectly giving them just hilariously physical performances which were just a joy to watch.
There was no adult chorus but they weren't needed the children were excellent. They danced the numbers beautifully and were as good as many adult panto choruses I've seen.
The whole acting style of the show was exceptionally physical theatre based which was a breath of fresh air as the actors were just so animated that the panto screamed happiness everybody left with a huge smile on their face. Well done Buxton.
Reviewer: Leanne Ashworth
Reviewed: 16th December 2015