Football is a part of Manchester's culture. To it fan's it's a religion, it's a way of life and in Manchester you either a red or a blue. MaD Theatre Company are definitely Manchester United fans and have decided to create a comedic tale inspired by the formation of the FC United Club and its rise to recognition. Single mother of five Marilyn has been stood up on a blind date at a local curry house in Rusholme. However things take a turn when she hears two gentlemen discussing about creating the first United FC. From there, with the addition of multimedia and live footage of football matches we follow Marilyn and her collective of friends, family and club organisers as their club rise to stardom.
Jill Hughes and Rob Lee's ensemble comedy is a tongue in cheek tale about United as well as the people of the Manchester. Though the pace and direction of the piece was a bit everywhere with its storytelling, their play gives its cast, both young and old the chance to shine and show their acting talents.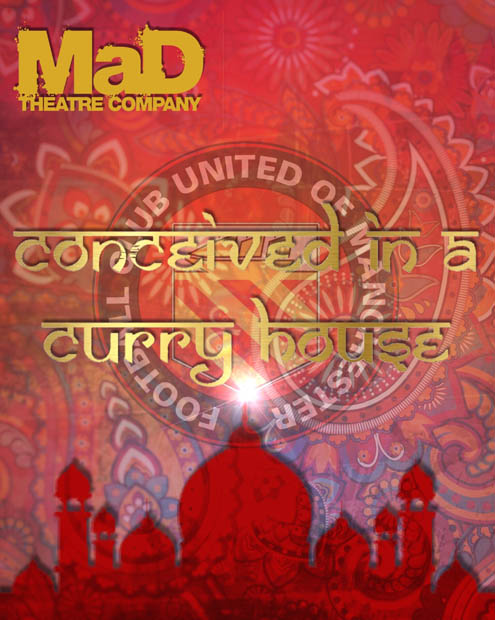 Jill Hughes's Marilyn is entertaining with a Victoria Wood styled monologue and her character's loud and ditzy characteristics. The young cast as well were excellent, especially the stand out duo of Jake Hardman and Mia Evitt as Marilyn's chavvy son's Calvin and Melvyn who are the modern embodiment of Harry Enfield's Kevin and Perry but with ASBO's. They really shine when they meet Paula Sokolowska's artistic Daisy, who performs an Avant Garde rendition of the Happy Monday's 'Kinky Afro' with ease. I enjoyed how all the character's bounced off each other, exaggerated versions of both the working and higher classes, they all connected and you could tell the cast are having a ball.
Performing to a packed theatre space within the Lowry's studio area, with audiences of different ages and wearing Manchester United scarfs, you could tell this play was a love letter to the club as well as its fans. The audience singing along and chanting 'Glory, Glory Man United' along with the cast. Though I felt that the play was more substance over story is was an enjoyable romp. I was also surprised by the humour of the piece and how the younger cast got away from it. A cocktail of northern humour to riskier jabs, including Calvin and Melvyn being approached by Fred the Weatherman and how he offered them the opportunity to 'look down his map'.
Conceived in a Curry House is as I said an enjoyable romp that gives its performers the opportunity to show their acting talents and to entertain a supportive audience both theatre goers and Manchester United fans.
Reviewer: Luke Richards
Reviewed: 11th August 2016
North West End Rating: ★★★