As the audience were taking their seats for choreographer Arthur Pita's The Little Match Girl we were treated to charming accordion music played by Tim Van Eyken. The musician played music live throughout as well as creating wonderful soundscapes for difference scenes. As the lights came down he wound a small music box and the show began.
Set in an imaginary Italian city, the songs and dialogue were all in Italian. It was extremely simple to follow the main action throughout. However during one or two sections the gestures could have been slightly clearer as there was a feeling some of the smaller comical nuances may have been missed.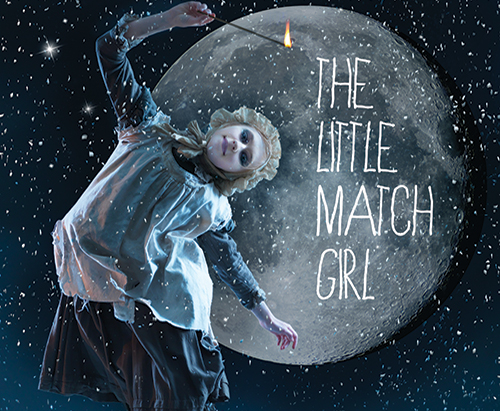 The set was simple and beautiful, a large moon filling most of the backdrop and a little silhouetted town with the warm glow of lights inside. Fiammetta, the little match girl, played by an exceptional dancer, Corey Annand, enters trying to sell her matches. It took researching her on the internet to convince me wasn't about ten years old. Her innocence, vulnerability and a little fire in her soul was the perfect balance, allowing us to root for her selling her wares on the cold street yet also made our hearts break when she was tied to a lamp and robbed of her shoes and only coin. Her movements were precise, beautiful and truly magical in moments. During the curtain call I was shocked to realise there were only three other dancers in the performance which is a testament to each of their talents. The three dancers made up The Donnarumma Family - a rich trio of two parents and their horrid daughter who could have spared some change to the poor match girl. Valentina Golfieri was wonderfully mean as the spoilt brat of the Donnarumma Family. Her facial expressions combined with her colourfully grotesque hat, bloomers and dress were perfection. Conversely, her smaller role showed her versatility as the match boy was the polar opposite, filled with grit and an Artful Dodger type attitude. Angelo Smimmo wowed in his surprising vocal performance as the grandmother that was akin to a beautiful operatic lament. However, some younger children did start to stir at this point. Whilst Karl Fagerlund Brekke performs as a rather terrifying older match boy then transforms into the beautifully hideous, pantomime dame like mother of the Donnarumma Family who literally wretches when the little match girl touches her.
The beautiful and meaningful story was lovingly told with a few minor variations until the little match girl was transported to the moon with a wonderful spin of 'la luna' which we had been looking at from Earth, this transformed into the Earth, as seen from the moon. Arthur Pita has stated he is 'more David Lynch' when it comes to influences and the surrealist style definitely shone through during the moon sequence in a bizarre pas de deux between the little match girl and an astronaut. The section began with Tim Van Eyken transforming into a spaceman with a futuristic black biker type helmet, creating a strange warbling sound on an aerial attached to a lectern. This was then followed by a mock Apollo 11 lowered onto stage in a very stuttered landing, followed by an electric toy car with a mini astronaut driver that whizzed across the stage – however this was the comical highlight for the younger children in audience. It was a very strange twist from the fairly magical, sometimes Commedia dell'arte, almost pantomime style we had been treated to thus far. Once we were back safe on Earth after a slightly wild trip to the moon we were treated to a truly beautiful ending with the little match girl waving and bringing the audience on Earth a night full of stars in the sky.
If you are looking for a more traditional dance interpretation of a heart breaking, magical Christmas story, this may not be the show for you. However, if you are searching for a twist on a classic, something a little eccentric and different to the normal family show then head to the Lowry where Arthur Pita's The Little Match Girl can be seen Friday 25th and Saturday 26th with a matinee and evening performance on both days.
Reviewer: Charlotte Green
Reviewed: 24th November 2016
North West End Rating: ★★★