Poet Ted Hughes spent ten years working on his prose poem Gaudete before it was finally published in 1977. He originally hoped that is would work as a film but that never happened. Ten years after first reading the poem, Kate and Oliviero Papi of OBRA theatre company, have culminated years of development into their piece of physical theatre.
Gaudete is written in three parts. The first part tells of the English vicar Nicholas Lumb,who is carried off by elemental spirits into an underworld place where he is duplicated and a changeling made from an oak log is returned to his home. There is no real explanation as to why Lumb is taken or what happens to him there apart from finally finding a way to see the real world above him.
The second part of the poem is the final day in the life of Lumb's changeling. The changeling has taken Lumb's Christianity and developed his own reasonings. He has convinced the entire WI into becoming a coven, there for him to sleep with, and the objective of them all getting pregnant as one of them will give birth to the second coming of the saviour. But this does not go down well with the cuckolded men of the village.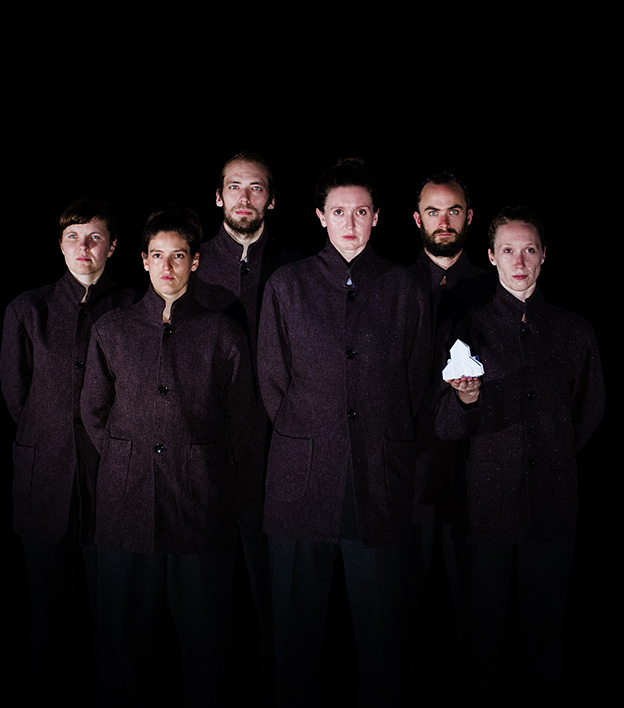 OBRA have taken these two sections of text and developed a telling of the story using physical movement and dance alongside the spoken word. Some is spoken by the performers and some by a voice over. An ensemble of eight performers take on all the parts, Lumb himself, spirits and villagers. The first part is set to a live percussion aaccompaniment by Eilon Morris. The performers Rachel Alexander, Oliviero Papi, Ed Richards, Caitlin Rose Smith, Gemma Rowan, Ixchel Rubio Martinez and Fabian Wixe all create a vast number of characters.
Staging is simple and effects are through lighting, by Yves Marie Corfa, and basic blocks. Everything from the staging through to the costumes are monochromatic allowing emphasis on the movement rather than the surroundings.
Hughes' original work has an epilogue, from the point of view of the real Nicholaas Lumb after his return from the underworld. But thankfully this isn't covered by this adaptation. Hughes' poem can be difficult to read with its surreal imagery and twisting plotline. OBRA have added another level of surrealism and at a running time just short of three hours, have not made if any easier to understand. Act one is short but with act two running at an hour and fifty minutes, it becomes an trial to watch.
OBRA are a talented company but this show does little to encourage those who don't know the work of Ted Hughes to investigate it further.
Reviewer: Helen Jones
Reviewed: 20th March 2017
North West End Rating: ★★★