I have been reviewing theatre for over 5 years now and tonight I think I witnessed the worst play I have ever had to sit through. Murder at Haversham Manor by Cornley Polytechnic Drama Society at the Lowry was a disaster from start to finish. Quite how this society managed to end up on the main stage at the Lowry is completely beyond me.
First impressions were good, as you walk into the theatre you are greeted by an imposing sitting room and an office set over two levels. Things didn't seem right from the off as members of the crew were wandering around the auditorium looking for something, which I later found out was a dog who was due to appear in the show and had slipped his lead.
The play follows the classic murder mystery framework with a Police inspector arriving at the manor to try and discover who murdered Charles Haversham. The story itself worked as members of the family and household were eliminated from enquiries one by one. Where the show fell down was the societies disastrous luck on this their opening night.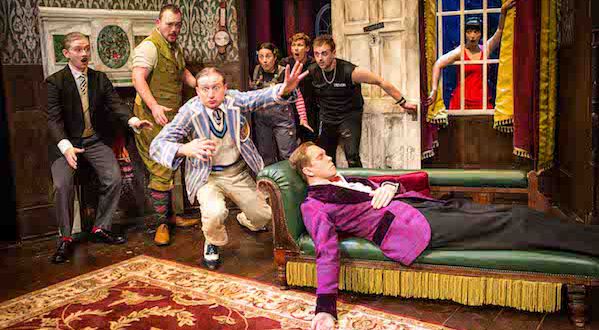 The set, as impressive as it looked was simply not fit for purpose and something Bob the Builder would have been embarrassed by. It simply fell apart. I really felt sorry for the actors on stage having to deal with these things happening and also for the incompetent backstage team they had employed.
Time to come clean, if you haven't already realised I was in fact watching The Play That Goes Wrong, the international smash hit that is taking over the world right now and has just opened on Broadway.
It is hard to quantify just how good this production really is! From start to finish it is an absolute work of art, directed perfectly by Mark Bell. As much as it looks like chaos on stage this is a technical masterpiece which revolves around Nigel Hook's ingenious set design. Just as you think you have seen everything you could possible see go wrong, something else happens.
The cast Graeme Rooney, Katie Bernstein, Patrick Warner, Jason Callender, Adam Byron, Edward Howells, Meg Mortell, Alastair Kirton, Natasha Culley, James Watterson, Helena Muir and Matthew Howell can't be singled out as this is truly an ensemble piece. Each and every member of this team worked so hard to make the insane goings on on-stage look anything but intricately choreographed.
It is difficult to review this production in a way without giving away any of the things you simply need to witness for yourself. There is little doubt as to why tickets for the show are very difficult to come by and why the show has gone on from strength to strength since it first opened in London nearly 3 years ago.
The Play That Goes Wrong continues at the Lowry until Saturday and then continues on tour until the 5th August. www.theplaythatgoeswrong.com
As I finish this review I pray that the cast have managed to find their dog on the streets of Salford Quays and he is fit and well enough to return to the stage tomorrow evening.
Reviewer: Paul Downham
Reviewed: 5th June 2017
North West End Rating: ★★★★★
Picture: Helen Murray