On entering the Quays theatre there was an immediate atmosphere of entering a Jazz club. There was table seating with smoky, subtle lighting in the theatre and a smattering of audience members who seemed to know what to expect arrived dressed in pure glamour, right down to feather boas.
Eva Fox started proceedings. She was motionless initially on the stage in a long Silver and gold lamé dress. (that she later likened to Bacofoil). She was a true, cabaret style powerhouse and opened to "The First time" and "Song bird". The performance was smattered with swearing and smut which in isolation is fine and fitting to some degree of the night itself, however it was a contradiction amidst the beautiful lyrics of Song bird. This may have been disappointing for some.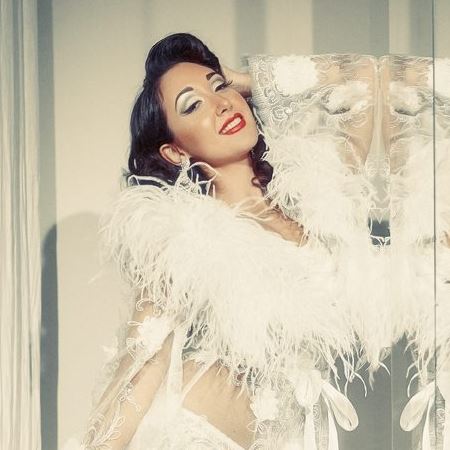 Then 'Natalia Kolashnikov' entered. She sauntered on the stage in a sassy, bright, yellow burlesque costume right down to a feather in her turban. She was the host for the evening and a very entertaining host at that. She had huge stage presence and a camp, saucy humour that overflowed with innuendo. At one point prior to introducing an act she decided to leave the stage, enter the seated area and lie on the table in front of two nervous looking men. The tabled seated area was certainly not the place to sit if easily offended.
One act were called 'The Saucy Pear'. It's extremely hard to know where to start with these two. The act consisted of a man and woman- the woman, whose costume represented a piece of broccoli, went in to the audience and threw broccoli florets and then went back on stage to proceed with pulling off the leaves from her body in a comedic burlesque fashion. Her partner who identified himself as 'Mr Fit Kat' smothered himself in chocolate sauce whilst she was dancing (as a now nearly naked piece of broccoli). It was like Willy Wonka meeting Charlie Dimock. It was at this point I wondered if a glass of wine may have helped me during this show as the audience who were in the seated area and drinking alcohol were providing rapturous applause below me.
The second half consisted of the same acts in different outfits. The 'Saucy Pear' appeared again, attempting, in true comedy style to re-enact the Titanic. Props were minimal in most acts but the card board Titanic was possibly a low point.
Natalia Kolashnikov demonstrated her 'skills' in the second half. She carried out a challenging strip tease, on a unicycle and completed her act by staying on the unicycle skipping with shoes on that had a glowing light in the heel. This was hilarious and demonstrated her quirky character that the audience clearly loved.
Jolie Papillon was one of the standout performers. She was a true Burlesque show girl and her first performance demonstrated her burlesque skills to the full. Her final performance started with her entrance through the audience. She epitomised glamour dressed in fur and diamonds.
The night was full of nudity, edgy humour and if the performers could shake, wobble or expose their 'naughty bits' they certainly did! With witty comments throughout I felt as if I'd arrived at innuendo central.
Burlesque is not a night for the faint hearted. Although lacking in sophistication in parts it was certainly one of the most entertaining, unforgettable and surreal nights that I have spent at a Theatre.
Reviewer: Angela Kelly
Reviewed: 30th June 2017
North West End Rating: ★★★
Photo: Diego Diaz photography