Growing up with parents who loved a bit of 'Parky' on a Saturday night I was intrigued to see what the great man was like today. Known for being a popular interviewer back in the day, what I perhaps hadn't appreciated was his love and undeniable passion for the Great American Song book genre of music.
The stage was set with two classic black 'interview come Mastermind' style chairs with a big screen behind them and a Grand piano to the left of stage. He initially appeared on stage somewhat casually with another gentleman who posed the questions and started various discussions with him. This prompted memories of his days not only interviewing but listening to and becoming friends with some of the musical greats. It was only part way through the first half that the audience were introduced to this gentleman who was in fact Parkinson's son Mike, who we learned was actually his long term producer and collaborator.
Mike was very adept at keeping the conversation flowing and knew as much as his Father about this style of music. He introduced snippets of the past shows that were the most meaningful to his Father. Their strong relationship was clear to see.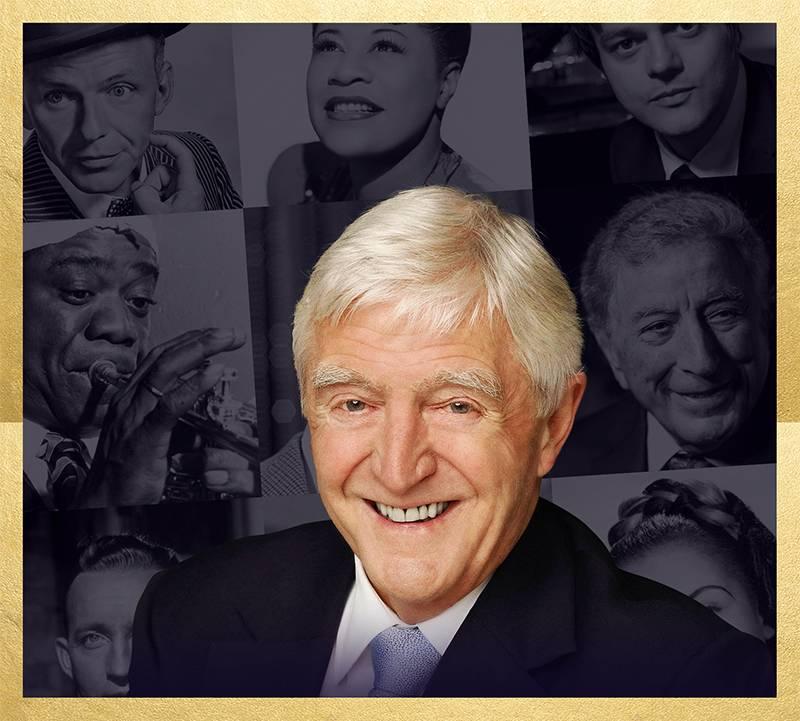 Parkinson's stories of meeting the greats were effortlessly relayed. Stories of Duke Ellington, Fred Astaire, John and Yoko and his very good friend Dudley Moore were discussed amongst many others with ease. When one or several of the greats were being spoken about we were then shown a clip from the Parkinson show which was mainly them performing their music- his loves were clearly the great Jazz artists. His passion for some of the younger stars such as Cullum, Bublé and Krall were also discussed and it was clear that they certainly had their careers enhanced somewhat by appearing on the Parkinson show.
From Parkinson's stories it seemed that the majority of his guests on his chart show were extremely pleased to be there. Wonderful clips of a young Mick Jagger being interviewed by him showed him suggesting he may only be around in a band for 'a few years'. The only person he invited on to the Parkinson show who he wished had made it on but didn't was the one and only Frank Sinatra. He describes introducing himself at a party that the Sinatra's were holding in the States. As things weren't going very well, on his way out he met Nancy Sinatra and asked her to remind Frank to visit the show in London. 'I will David' she replied. Possibly this was the moment Parkinson realised that he would not be appearing.
A stand out performance that is not to be overlooked was the pianist - Joe Stiligoe – (son of Richard!). He played effortlessly on the piano and was clearly exceptionally talented. Moon River, one of Parky's favourites was simply magical. His medley of some of the Beatles greats had not only the audience tapping and moving but also Parky himself from the stage.
This show is for those who not only appreciate Parkinson's vast knowledge of this genre of music but also for those who enjoy listening to and hearing charming stories of the great musicians of this time.
I don't really think Parky has changed much at all from back in the day – his hairstyles certainly had but one thing that remains apparent is that he has stayed true to himself- he is still a Yorkshire man at heart and his love of Barnsley and his second home of Manchester make him very grounded. Our kind of Music is a really fascinating night, full of nostalgia and clips of the greats. Parky the raconteur has still got it, that's for sure.
Reviewer: Angela Kelly
Reviewed: 29th April 2018
North West End Rating: ★★★★