If you are expecting the normal Sherlock Holmes and Watson scenario then you are in for a surprise! Dr John Watson is now Dr Jane Watson and the normally austere Sherlock Holmes is played with his tongue very firmly in his cheek. This farce was originally created in 2017 by Northern Rep and proved so successful that they have returned with this new production.
The story is a familiar one to most as this is the most popular of the Sherlock Holmes series of books. Sir Charles Baskerville – the owner of Baskerville Hall has died apparently from natural causes, but this has been called into question and Holmes and Watson must investigate. After meeting with Sir Henry Baskerville, they decide to go to Baskerville Hall to try and solve the mystery. At Baskerville Hall they learn of the hound which at night sounds its blood curdling howl. During their investigation they come across several suspects, Sir Henry Baskerville himself, Seldon (a runaway prisoner), Mr and Mrs Stapleton, Laura Lions and Barrymore the Butler and his wife. Inspector Lestrade joins them to help solve the crime. The similarity with the Basil Rathbone and Nigel Bruce movie we know and love ends there!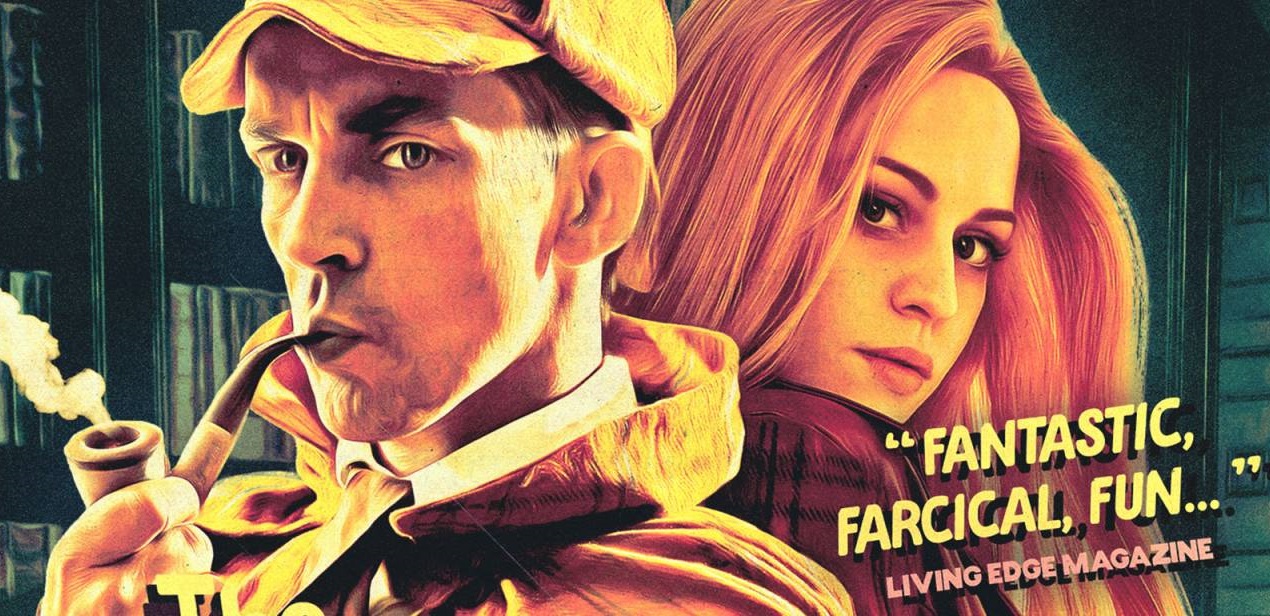 All these characters are played by the two actors. Their props are hung up on a hat stand on stage and the set is a parlour charmingly decorated. The world of slap stick comedy takes over. You cannot help but involve yourself in the risqué repartee that goes on. The actors have perfected it and it seems to come so easily to them that you sometimes feel that they would be at home on the Benny Hill Show. This is not a family show as there is a splash of adult humour littered throughout the show.
The script has been very cleverly written with the actors obviously enjoying the chance to enjoy the free and easy word play. The naughtiness of the script goes far enough to give the audience something to titter about without causing offence.
The only complaint I would have is that the story itself sometimes gets a little lost and you could forget you are watching the famous detective in one of his most iconic stories. It doesn't seem to matter to the audience though as they are having a fantastic evening watching the comedic talent of these two truly natural actors; roaring with laughter and joining in where possible.
Even though this play is a little rough around the edges it gives its audience a chance to laugh out loud whilst taking a sharp intake of breathe at the bawdy comments. It's a winner and should quite rightly attract appreciative audiences in London.
To book the London show go to - https://www.thedraytonarmstheatre.co.uk/the-hound-of-the-baskervilles The show runs from 11th December 2018 until 12th January 2019
Reviewer: Caroline Worswick
Reviewed: 28th October 2018
North West End Rating: ★★★★