The Merry Widow the operetta by Austro-Hungarian composer Franz Lehár was performed by the prodigious Opera North on their 40th anniversary it was on this date 15th November 1978 when the company took to the stage for the first time with a production of Saint-Saens's Samson et Dalila at Leeds Grand Theatre. Since then Opera North has established a phenomenal reputation for producing some of the finest and exclusively luminous productions that have ever graced the Opera scene engaging a whole new generation of patrons.
First performed in 1905 The Merry Widow pokes fun at traditional opera with its ridiculous characters, slap stick comedy, garish outrageous brassy ladies of Maxim's Brothel and larger-than-life musical numbers. Last performed by Opera North in 2010 they have brought it back to the stage at Salford's Lowry Theatre as part of their birthday season accompanied by the original director Giles Havergal with his vast array of experience dating back to the late1960's.
I didn't know what to expect from this extraordinary production as I have come to appreciate and predict what an Opera North's classical presentation should be, however after reading the synopsis prior to the show I was more than apprehensive I was doubtful and concerned how this could be deemed a gentile or elegant masterpiece.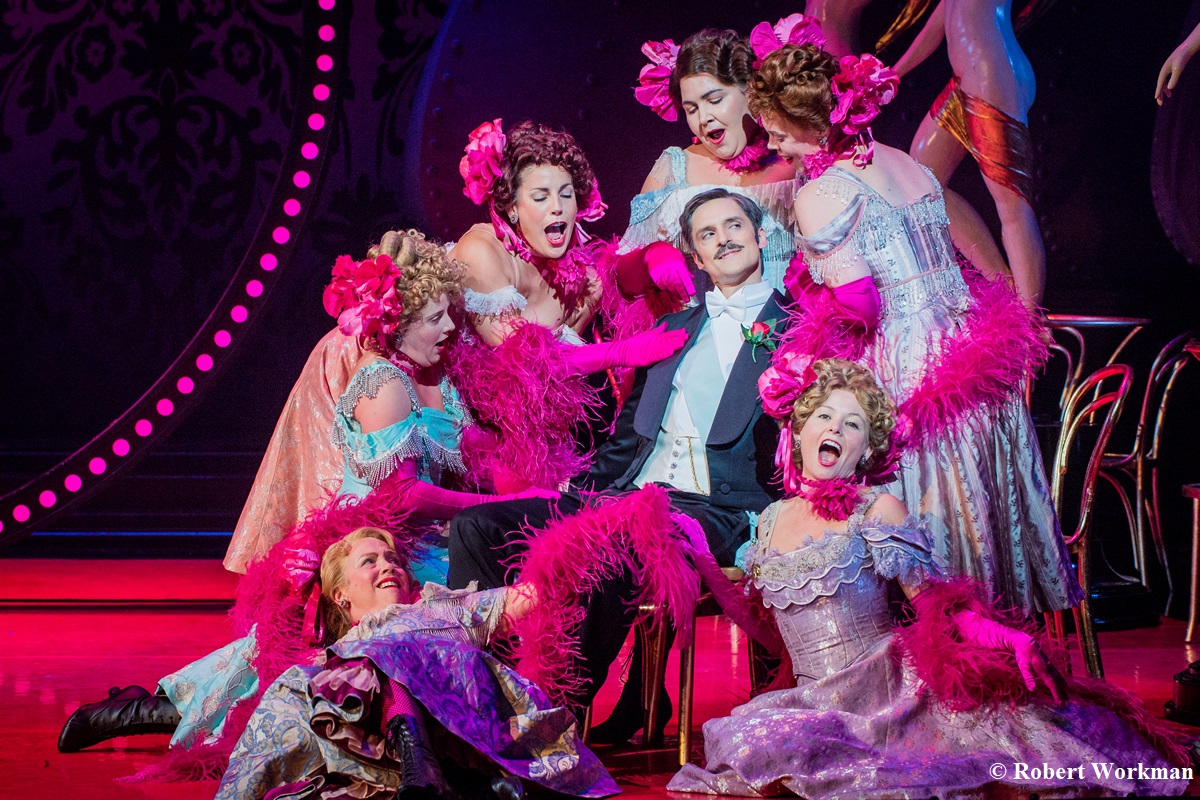 The Opera is sung in English so it is easy to follow and there are also English Surtitles on screens either side of the stage to help you follow the dialogue, unfortunately the plotline is threadbare which isn't too unusual with an Opera however this script felt personally like a mix of scenes from Monty Python, Pantomime and Moulin Rouge with elements of a genuine sincere Opera thrown in.
The story is basically about a young vibrant beautiful woman Hanna Glawari (Katie Bird) from a humble background who marries a fabulously wealthy geriatric man after the breakdown of a previous love affair and is widowed a week later. Her deceased husband's money is invested mainly in the tiny Balkan country of Pontevedro and should his widow pull out these investments it would leave the country bankrupt. Baron Mirko Zeta (Geoffrey Dolton) the Ambassador of Pontevedro is troubled with the possibility of Hanna now a Countess remarrying a foreigner and by doing so would bring the country to its knees, with this in mind he sets out to find a local suitor to ensure the country remains financially secure. The perfect candidate in the Ambassadors mind would be Count Danilo Danilovitch (Quirijn de Lang), his drunken womanising Godson, predictably as the story gradually unfolds with its relationships past and present it becomes apparent that her heartbreak leading to her unmatched marriage was indeed caused by someone in Pontevedro.
Nonetheless in the course of the evening there are some tender moments and some magnificent heartfelt and seductive singing however the delivery is in short supply with far too many awkward and mixed scenes of spoken word, clumsy choreography and outlandish dialogue. In spite of this on a positive note there was no expense spared on the lavish sensational costumes fashioned from fine silk ball gowns embellished with feathers, beads, jewels and dazzling accessories and the exquisite luxurious male costumes from formal wear to traditional costumes all creating a visual ecstasy. A huge credit to Leslie Travers for the costume and set design as this is what made this evening bearable as visually it was everything I have grown to expect from the classic Opera North's productions. Opera North's Orchestra conducted by Martin Andre was also another saving constant that enhanced the evening with its dominant perfect sounds and tones of Violins, Violas, Cellos, Basses, Flutes, Piccolos, Oboes, Clarinets, Bassoons, Horns, Trumpets, Trombones, Timpani, Percussions, Harp and Cimbalom all producing the most glorious sound that mankind is capable of making.
Verdict: This production was not for me with but if you are open minded and don't expect a classical opera then this show is worth a watch at least once.
Reviewer: Katie Leicester
Reviewed: 15th November 2018
North West End Rating: ★★