Parallel Lines was the third album by New York supergroup, Blondie. It was hugely successful, critically acclaimed and cemented them as an international act. It is 40 years old, but still repeatedly appears on lists of the top albums of all time and has sold over 20 million copies worldwide. Tonight's show celebrates all that and more.
Bootleg Blondie are a tribute act, but with a difference. For this tour they are joined by Blondie's real life, renowned and celebrated drummer, Clem Burke.
The stage at the Lowry has a simple black and white striped backdrop, reminiscent of the Parallel Lines album cover. The band come out. The boys are all wearing black suits, white shirts and skinny black ties, as was Blondie's uniform at the time. The singer, Debbie Harris is wearing a copy of near-namesake, Debbie Harry's simple, thin white dress from the album, little more than an underskirt. She looks remarkably similar to the Blondie icon.
The set begins with the album's first track, the single and smash hit Hanging On the Telephone. It is pitch perfect. The sound is fantastic and the crowd go wild. Debbie Harris has honed her performance, incorporating many moves and facial expressions from the song's video at the time. The drums are full on, up front and 3D. Clem Burke is a frenetic drummer – the drums are never used just to keep time, they are an instrument at the forefront and to think of them as part of the rhythm section would be an injustice.
The second song begins with a rousing and instantly recognisable guitar riff, One Way or Another, about a stalker – a true story folks. Debbie stands with her hands on her hips, displaying cool arrogance. Debbie Harry isn't a "fluid" mover, much of her dancing can appear awkward and robotic, but that's her style and here it's captured seamlessly.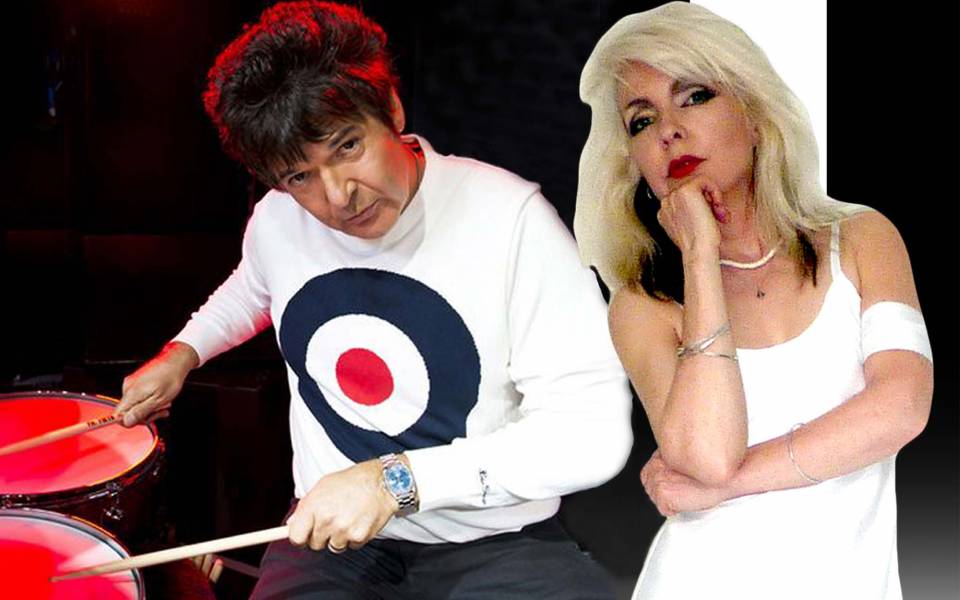 Things slow down with the gorgeous Picture This, so they're definitely doing the album in order. It was written by Debbie Harry to her partner, guitar player Chris Stein. Again, movements from the song's video really help to sell the illusion.
Fade Away And Radiate is atmospheric and otherworldly. The lights are subdued and the stage becomes womb-like. Debbie steps up to the mic, with the addition of sunglasses and a mirror-covered jacket – she looks like a tailored mirror ball. The jacket casts beams of light over the audience. It's so simple, a low-tech gimmick that's so effective.
Pretty Baby, a song about Brook Shields, is beautifully retro. By this time, I am convinced I'm watching Debbie Harry – the real Debbie Harry. After all, Clem Burke is behind her thrashing at the drums, so I must be.
I know But I Don't Know completes side one. A perfect side of vinyl, perfectly represented tonight. The audience are loving it.
Side 2 of the album isn't as successful for me. It opens and closes with two brilliant album tracks, and it has two smash hit singles in the form of the sweetly innocent Sunday Girl, allegedly written about Debbie and Chris's cat, Sunday, who went missing. The other band members have always said it was a love song from Chris to Debbie. It was a number 1 hit in most of the world and is an instant crowd pleaser.
Heart of Glass began life as a reggae number, but by the time the album was recorded it had become their cross-over from punk to disco. It gets a rapturous cheer, as does Debbie Harris when she returns to the stage wearing a copy of the single-strap dress worn by Debbie Harry in the video, with her hair pinned up to resemble Debbie's cut at the time. The likeness, the stance, the dancing and a nifty bit of cape-work are incredible.
The other two songs that, in my opinion, let the album down, are covers. Buddy Holly's I'm Gonna Love You Too was chosen as a single in the US, because the cover Denis had been a hit. This is a weak and simplistic song and it bombed and sank without trace. It wasn't released in the UK. Tonight though, Bootleg Blondie have made it feel vibrant and fun and really brought it to life, as they do with Will Anything Happen.
The album is over. The songs have been faithfully delivered, with real passion. The real Blondie are still going and still touring, but they are no longer that Blondie; the songs are different and tend to reflect who they are as a band now, but tonight we have seen a snapshot of that time. Parallel Lines has been lovingly performed by Bootleg Blondie as Blondie were then, which really, is what we want. It has been magical.
And the evening isn't over. After a short break they're back with a brave and unusual set, which might not have pleased everyone but I thought it was inspired. There were some singles, Dreaming, Union City Blue, Denis, but also many very early songs, In the Flesh – sublimely beautiful – and the punkly aggressive Rip Her To Shreds, but also some odd choices, rarities like Scenery, a song never released at the time, but now available as a CD bonus track and Attack of the Giant Ants, probably chosen for its tribal drumming. I found it refreshing and exciting to hear songs that the real Blondie would no longer be interested to play live.
There were many costume changes and each time Debbie Harris encapsulated Debbie Harry and became more like her as the night wore on.
The main set finished with the only "new" song of the set, Maria, which is now an astounding 20 years old. This had everyone screaming and out of their seats. An encore of Atomic followed. Debbie appeared with ripped yellow T-shirt and bin bag top, from the video; when she turned round she had DEBBIE DOES SALFORD written on her back. Finally, Call Me, the theme from the Richard Gere film, American Gigolo, finished the evening in an explosively upbeat style.
While the lighting was very effective, the show relied on the performers and the strength of the songs to sell it. And they smashed it. I didn't think Debbie Harris sounded too much like Debbie Harry, but that didn't actually matter. She has a very strong voice, a very powerful voice and it was a pleasure to listen to her. She sang effortlessly and is a talented vocalist.
Tribute acts can be tacky and a shallow representation, but Bootleg Blondie are a class act.
Reviewer: Gray Freeman
Reviewed: 23rd January 2019
North West End Rating: ★★★★