A slightly unusual double bill is presented at The Lowry, Salford. The first half is a reimagined dance piece derived from the infamous Stravinsky's controversial showing in Paris 1913. And the second half, Opera North performs Puccini's Gianni Schicchi a comedy.
Phoenix Dance Theatre present the Rite of Spring in this first ever collaboration. Haitian choreographer Jeanguy Saintus reworks this challenging piece which initially involved a human (female) sacrifice. Making links from Pagan culture through to his own ancient Haiti's long fascination with magic he gives this piece an exciting fresh slant. Phoenix Dance is a contemporary repertory company and have been active since 1981.
Their Rite of Spring includes both male and female dancers dressed in billowy white costumes, which work in harmony with the movement and lighting tonight. It's a very carnal performance with obscure twisted writhing. It works in conjuring up a feel of spring and nature, the cast hands suddenly turn green (and some red) it looks like paint and is reminiscent of flowers blooming from the earth. This is compounded by Stravinsky's score which resonates earthy pagan madness, conducted by Garry Walker.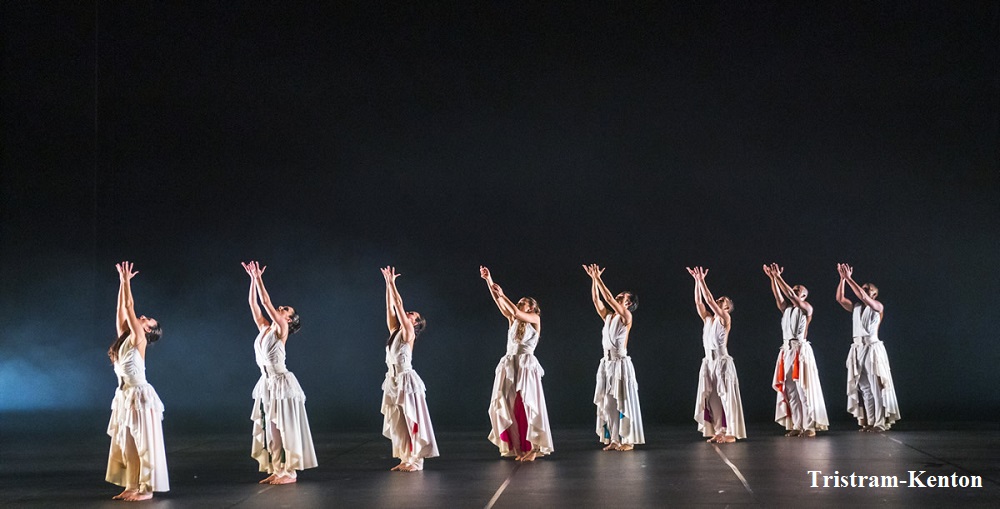 It is fascinating to watch and a visual treat. The physicality of the dancers is impressive. Linking hands and weaving in and out they merge into one pulsating, breathing mass. Yann Seabra is behind the costumes, they very subtly morph with additions of colour to the skirts just peeking through.
Act two is Opera North's Gianni Schicchi a satirical comedy opera centring around a dying man – Buoso whose relatives are willing his departure to grab hold of all his money. Again, another fascinating yet slightly uncomfortable watch; although musically very different. This is based on a part of Dante's Inferno (not to get too complicated) but brought into modern day. The family are portrayed as trashy, vulgar, mean and aggressive just out for what they can get.
The set design by Charles Edwards was particularly eye catching with a very white stark background that worked very well for lighting and dramatic effect with the cast, such as Lauretta's solo. Gianni Schicchi is the conman the family go to with a view to helping them gain their fathers' money nefariously. The inferno appears to be more social and psychological, have things really changed since medieval times?
The portrayal of greed is something that is very relevant today and I respected the choice of theme in its relevance. Buoso stays on stage even after his death, climbing dizzyingly high upon the set, watching his Mafioso style family greedily plotting to grab all his wealth. The Rite of Spring and Gianni Schicchi me was a reflection on the times we live in where human kindness maybe being whittled away replaced by greed and corruption. Both performances were challenging and raised a lot of questions about family, money and death. It was interesting to try and make connections between the two and the contrast of opera and dance on one bill was truly exhilarating.
Reviewer: Rachel Foster
Reviewed: 8th March 2019
North West End Rating: ★★★★