Judy (Katherine Parkinson) and Johnny (Jo Stone-Fewings) adore the 1950's. Along with their friends Fran (Siubhan Harrison) and Marcus (Hywel Morgan), they decorate their houses, dress in the clothes and exclusively listen to the music from the decade, Judy even transfers the milk from plastic bottles into glass ones before placing in her refrigerator. It is a fetish that Judy and Johnny decide to take to the next level; she takes redundancy from her high powered city finance job to become a full time housewife, fully embracing the gender stereotype prevalent in the era. This decision and its ramifications on the couple is explored with great style, humour and depth, with much to say about the respective roles of men and women in a modern relationship.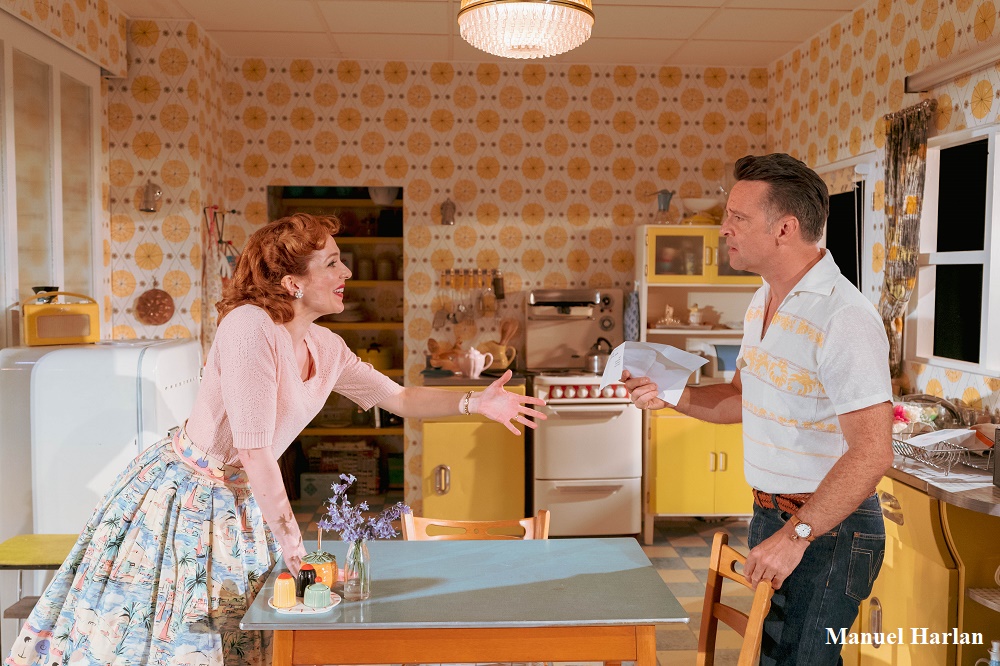 Beginning its life with National Theatre at Theatre Clwyd in North Wales, Artistic Director Tamara Harvey then transferred it to the West End, where the show has enjoyed a successful run prior to this short tour. This production has lost none of its scale, with the cavernous Quays Theatre being dominated by a beautiful two storey 'Dolls House' style set. Open to the audience it is pitch perfect, complete with every mod con from the era, including my favourite, a pineapple ice bucket!
Designer Anna Fleischle displays her enormous talent and versatility with this set. Contrasting strongly with her current minimalist design for 'West Side Story' at the Royal Exchange, this is packed with exquisite detail, with the innovative scene changes being a particular highlight, provoking warm applause from the appreciative audience. Complimented by colourful and authentic costume design (Leah Curtis), this is a visually stunning piece. Choreographer Charlotte Broom and Sound Designer Tom Gibbons combine throughout to produce music and dance sequences, which both pay homage to the decade and act as wry social commentary on it.
Parkinson is superb; capturing the brittle neurosis of a career woman who now puts tremendous energy into her new vocation of cleaning and cake making, whilst always teetering on the brink of collapse. Her constant insistence of how much she loves her new role, merely leaves the audience convinced that she is wound too tight and an inevitable explosion will occur at some point. The motive for her curious decision and obsessional behaviour is provided by the entrance of her mother, Sylvia (Susan Brown). We learn that Judy was brought up as the daughter of a radical feminist, living on a commune where 'no one cleaned on principle', therefore Judy's form of rebellion was to achieve perfect domesticity in an idyllic setting. Brown imbues Sylvia with real anger at all this, with a memorable speech on how 'bloody awful' the '50's really were, and the irony of nostalgia for a decade when women had no choices at all.
This examination of feminism and frustration has strong echoes of Ibsen's Nora in ' A Dolls House', and further strands of this philosophy are deftly examined by the characters. Judy exercising her right to choose to be a housewife is juxtaposed against both her mother's strident feminism, and the careerism of Alex (Sarah Gregory), a work colleague of Johnny. A further layer is explored when Marcus is accused of sexual harassment, is he a victim of 'political correctness' as he claims, or is he an exploitative boss with no understanding of the coercive nature of his actions? The growth of the #MeToo movement gives this issue pertinence and should give the male members of the audience pause for thought. By the conclusion the characters have learned a few lessons, the greeting 'Darling, I'm Home' and 'Home, I'm Darling' are as interchangeable as the roles of Judy and Johnny; a real partnership.
This is a superb piece of theatre, combining elements of Alan Ayckbourn and Mike Leigh with a splash of David Lynch thrown in for good measure. It manages to smuggle its relevant and radical message in amongst the chintz and floral wallpaper. Another winner from the National Theatre.
Reviewer: Paul Wilcox
Reviewed: 23rd April 2019
North West End Rating: ★★★★★
Picture: Original Theatr Clwyd cast