Adapted from a 2006 movie of the same name, Little Miss Sunshine is a musical which follows the journey of the Hoover family, as they make their way from Albuquerque to California in a temperamental mini bus. To say they are a dysfunctional family is an understatement.
When a musical is based on a movie it is hard not to draw comparisons. In the movie it's clear that Olive, played this evening by Evie Gibson is obsessed with beauty pageants and it's all she wants in life. Her family love her so much that despite being in debt are willing to do anything to make her dream come true. I felt this was very rushed at the beginning of the musical and the audience did get the time to let that excitement build. This is clearly an issue with how the musical has been adapted from the stage and how Mehmet Ergen has interpreted the direction for the piece.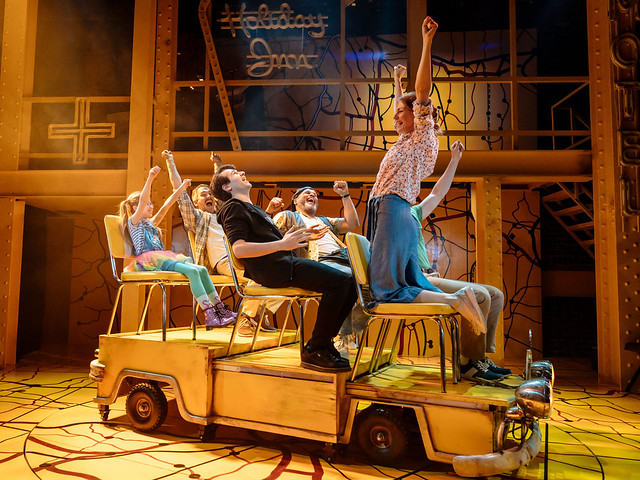 Olive's parents; Sheryl (Lucy O'Byrne) and Richard (Gabriel Vick) are childhood sweethearts who are now up to their eyeballs in debt. There is a nice connection between the pair and the musical includes a new flashback scene of the pair when they were younger. However I felt it wasn't clear it was a flashback, initially I had assumed the characters had just changed costume. I think there could be a stronger indication that we're witnessing the couple as teenagers.
As someone who is a massive fan of the movie, I couldn't help but feel the songs were a bit unnecessary. If I was being honest I think this would have worked better as a play with some music in it, rather than a full blown musical.
O'Byrne is fantastic in the role of struggling mother; Sheryl. Not only has she got a fantastic signing voice but there's an air of authenticity and realness to her performance, which is very rare to come by. I didn't feel like she wasn't acting, it was a very real performance.
Special mention has to be given to Imelda Warren-Green in her dual role as Linda and Miss California. Her performance was a fantastic example of you don't need the most lines to make the biggest impact on the stage. Although both her roles were minor she brought tons of energy to them with excellent characterization that had the audience in stitches.
For me the movie is so amazing that it will take something special to surpass it. The musical doesn't quite do it, but gives it a good go.
Reviewer: Brian Madden
Reviewed: 28th May 2019
North West End Rating: ★★★★
Picture: Original London Cast