Vulvarine A New Musical was brought the Lowry Theatre by the incredibly talented Fat Rascal Theatre company. Fat Rascal Theatre was set up in 2016 by a group of East 15 graduates. Since then they have quickly established themselves as champions of new musical theatre, having produced 6 brand-new musicals in the space of two years.
Prior to the Vulvarine show we were treated to a pre-performance Hors d'oeuvre, (Fat Rascal tapas) by the Nottingham based theatre company Sheep Soup. Five talented performers were testing out their material for their new musical 'Left Overs' a musical about hoarding behaviours. It looks like this enthusiastic crew will be serving up a great dish of musical theatre very soon.
Vulvarine tells the story of the ordinary town of High Wycombe, where nothing exciting ever happens. Office workers Bryony Buckle and Poppy Bright are the best of friends despite their failed attempt at making their fortune in 'Tinder book swap'. Bryony and Poppy are the brightest and the second brightest girls in the office that is run by their not so feminine, not so friendly boss Debbie. The two loves of Bryony's life are her cat Elton and her love interest for office boy Orson Bloom.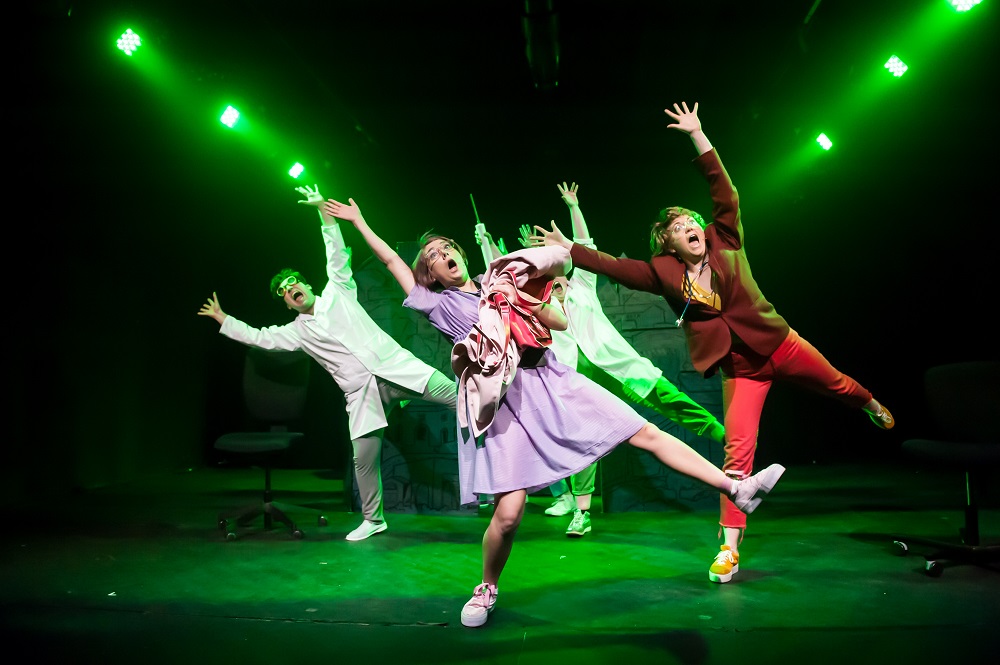 However, with her social anxiety and severe Irritable Bowel Syndrome things never blossom the way Bryony dreamed. Until one day after a visit to the doctor when her troublesome cough led to a prescription for a hormone injection and then a 'wrong place at the right time' moment when a strike of lightening hit, her life changed forever. As boring Bryony, is transformed into vivacious Vulvarine, superhero for all women.
In the quest to find where the Tampax tax was mysteriously being sent to and why the female future fund was fictitious, Bryony lands herself in the firing line of Sonya and her husband Keith Herlit aka The Mansplainer, an eccentric scientist who has plans to make every woman docile. However with all great tales, in the end good and love conquers all.
This piece of theatre is one of the best things I have seen on stage in such a long time, with a super talented cast of 5 playing multiple parts: Bryony Buckle/Vulvarine: Allie Munro; The Mansplainer/Debbie: Robyn Grant; Poppy/The Doctor: Katie Wells; Orson Bloom/The Boss: Jamie Mawson; Sonya/Phil: Steffan Rizziand. Vulvarine is ingeniously choreographed with many clever scenes, such as the one demonstrating Bryony's new superpowers that show Bryony wearing her glasses with the stage lights dimming, the lights turning brighter when she takes them off, while her physical strength is revealed when she lifts friends and colleagues (this is achieved with the help of the other cast members). Jed Berry's choreography brilliantly uses space while artistic director Robyn Grant and Daniel Elliott's lyrics highlight the problematic issues women put up with on an average day. Alongside this, Vulvarine fixes problems in society such as manspreading on public transport, relationship problems and street harassment.
Vulvarine has some fantastic catchy songs and witty lyrics, with my favourite being 'boys will be boys'. Vulvarine was truly sidesplittingly funny and hosted a cast who had oodles of energy who also looked like they were having so much fun performing it. This show is worthy to be on any West End stage and I genuinely hope it tours again. Although I believe Fat Rascal theatre company are just about to launch their new musical Parody 'Unfortunate', the untold story of Ursula the sea witch, which I will definitely have to see if tonight's show gauges the brilliance of their future productions. https://fatrascaltheatre.com/
Reviewer: Grace Kelly
Reviewed: 12th July 2019
North West End Rating: ★★★★★