When writers Craig Cash and Phil Mealey originally announced the decision to turn their 2004 sitcom 'Early Doors' into a stage production, there was a good deal of head scratching within theatrical circles. Although the show was critically lauded at the time, it only ever attracted a small (but vociferously loyal) fan base, and expectations for audience numbers were low. How wrong they were! After a wildly successful tour last year, culminating in a 20,000 sell-out performance at Manchester Arena, the regulars from The Grapes are back for an extra ten night 'lock in' at the cavernous Quays Theatre in Salford.
For anyone who isn't familiar with the series, Early Doors follows Ken, the landlord of The Grapes (John Henshaw) and the lives and loves of the regulars in his backstreet Manchester boozer. It could best be described as 'Cheers' meets 'Golden Age Coronation Street', and the writing of the original series was peppered with a wit and warmth we would expect from Cash, the long time collaborator of the late, great Caroline Aherne, creator of 'Mrs Merton' and 'The Royle Family'.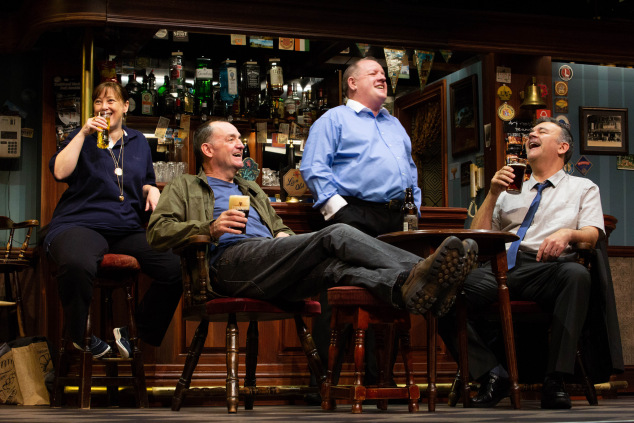 As a huge fan of the original, I was nervous as to whether Cash and Mealey would compromise the series with a saccharine sell out. I needn't have worried, free from the restrictions of a TV audience the writing is even more caustic, with ' a little bit of blue' finding its way more readily into the script.
In addition to the sublime Henshaw as landlord Ken, a significant number of the original cast are able to recreate their characters live onstage. Both Mealey and Cash, as best mates Duffy and Joe display great rapport both with each other and the audience, their frequent corpsing and attempts at topicality only adding to the warmth with which the audience greet them. Debbie (Lisa Millett) still leaves her kids in the car as she pops in for a quick drink and Tanya (Susan Cookson) is authentic and strong as the love interest and object of Ken's affections. I was particularly pleased to see Peter Wright and James Quinn able to reprise their roles as Nige and Phil, the corrupt and lazy policemen, always on the fiddle and bemoaning the modern world. Commissioning editors take note, these two characters could support a spin off series of their own.
Stepping up to replace some of the original regulars are Neil Hurst and Vicky Binns as gormless regulars Freddie and June; Judith Baker as Jean, Ken's selfish mother and her sarcastic cleaner Winnie (Melissa Sinden) and Nick Birkinshaw as Tommy, the irascible old time regular. All managed to slot into the original cast without any noticeable loss to the pace of the show, indeed theatrical veteran Birkinshaw was a highlight of the evening.
The three main set areas from the television show (pub,flat above and kitchen) are lovingly recreated onstage in a pleasing 'dolls house' staging by Set Designer Liz Ashcroft, allowing Director Caroline Jay Ranger to move between scenes with speed and maintaining the comedic energy. As a piece of theatre, it manages to stand alone with an original story set around Ken attempting to propose to Tanya, rather than a rehash of previously seen scripts, something previous theatrical adaptations have been guilty of. There is also successful exploration of the back story of some characters, fleshing out their TV persona more fully than a sitcom format allows. It is this detail in the writing which lifts this show from a mundane adaptation, Ken's bandy legs 'not stopping a pig in an entry'; the phonetic call signs to Nige and Phil spelling out rude words, exemplifying the craft of Cash and Mealey. Even the catchphrases, the bane of every sitcom, were incorporated without resorting to too much pantomime, though we came perilously close on occasion, and an unexpected musical finale was a welcome surprise.
As the audience drifted off into the heat of the balmy Salford night, 'Small World' by Roddy Frame serenaded us, this felt a hugely nostalgic night both for a type of place that is fast disappearing, as well as a safe and secure recent history. A warm, funny and affectionate show that will have old fans and new digging out the DVD's.
Reviewer: Paul Wilcox
Reviewed: 25th July 2019
North West End Rating: ★★★★