In this stunning reimagining of the classical ballet, we find ourselves in a poor rural village in South Africa. Giselle meets Albrecht, a man of wealth and privilege, and falls quickly in love, despite her mother's attempts to marry her off to a fellow peasant, Hilarion. However, when Giselle discovers that her lover is already engaged to someone else, she descends into madness and following her death, she joins the Wilis: spirits seeking revenge who can only be set free by the death of those who wronged them.
The traditional ballet has a final message of redemption, but Dada Masilo seeks to tell a more honest story which more accurately reflects Giselle's pain and betrayal. This is not a work of forgiveness, and here Giselle joins in with the Wilis as their Queen dances both Hilarion and Albrecht to their deaths. In a post-show talk, Masilo said that her aim had been to make the audience share what Giselle is feeling, and I think she succeeded.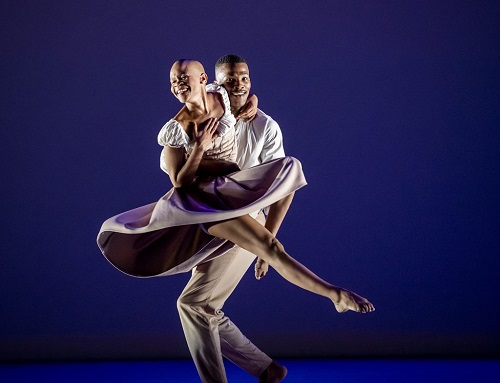 At times this left me feeling uncomfortable, but then real feelings often are.
Masilo's choreography is a brilliant fusion of classical and contemporary ballet and movement that reflects her South African roots. The dramatic lighting by Suzette le Sueur design only enhances the storytelling, particularly in the powerful final moments of the production. The original music by South African composer Philip Miller cleverly combines African sounds and rhythms with classical orchestral elements based on the original ballet score. However, it was a shame that there are no live musicians accompanying this tour; particularly as given the incredible energy demonstrated throughout the piece by the entire cast, especially when they were dancing in unison.
Performing in the title role, Masilo showed not only exceptional dance talent, but also a wonderful ability to tell a story in movement and expression, most notably when portraying Giselle in her most vulnerable and fragile moment of madness. The relationships between Giselle, Albrecht (Philip Miller) and Hilarion (Tshepo Zasekhaya) each had their own identity both musically and choreographically, and likewise the Wilis, led by Myrtha (Llewellyn Mnguni), had their own identifiable sound and style. All four of these powerful dancers were captivating whenever they were on stage.
This is definitely not the kind of ballet most of us are used to, it strips away the sanitized elements of the familiar story to challenge audiences and push boundaries; but this beautiful and compelling reinterpretation deserves to be seen.
Dada Masilo: Giselle continues tonight at the Lowry, Salford Quays https://thelowry.com/whats-on/dada-masilo-giselle/
More information on the rest of the tour can be found at https://www.danceconsortium.com/touring/dada-masilo-giselle/tour-dates-and-venues/
Reviewer: Jo Tillotson
Reviewed: 23rd October 2019
North West End UK Rating: ★★★★★