In the stunning Quay's Theatre at the infamous Salford's Lowry Theatre hosted for one night only a contemporary circus piece titled 'Lola' leaving little clue to what the performance was about. I've always associated the title 'Lola' with The Kinks 1970's song in which several artists have copied over the years, which was notoriously controversial in that era for its risqué lyrics, so I did wonder if this was to follow in a similar vein of controversy.
Scattered amongst the auditorium where handwritten 'post its' with everyday items such as wallet and keys scribbled on them, the synopsis stated: "A twisted exploration of trying to remember and not remembering", leading me to believe it was something to do with our memory of the day to day objects we require and potentially memories with wish or wish not to remember.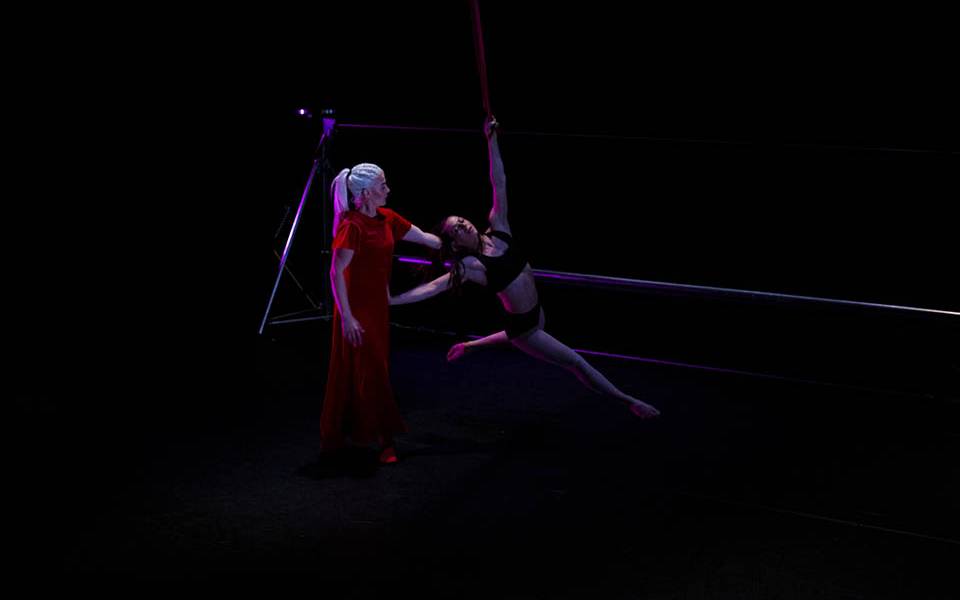 In this two-hander show of a duo of extremely strong and acrobatic females we saw them grace the stage wearing very different outfits one being dressed in a long elegant red dress and one in the typical gymnastic entire.
The show featured an array of skills and performances you would expect to see in the circus such as tight wire walking, aerial acts using straps instead of silks and all manner of circus skills like juggling, balancing and rope tricks. However all this was supposed to encompass a story that explores themes of loneliness, social exclusion and dementia through the lens of black comedy and circus, unfortunately this was too contemporary for me and my co-reviewer, as we observed I found myself thinking 'what on earth am I watching', I couldn't work out if the duo were alter egos of each other or simply entwined as a couple as opposed to what I think they were trying to display. When one of the performers entered the stage wearing a horse's head and the aerial straps brandished riding stirrups I'd seen enough to know this was not a show for me, even though the show was only 60 minutes I was glad it ended as I was none the wiser what this performance was about.
The two performers were extremely talented and gifted in what they did but mixing an abstract storyline that I think was meant to be a deep and meaningful message I'm afraid I totally missed what they were trying to deliver, however I did enjoy their elegance, strength and agility and I can imagine in a native stereotypical circus they would be phenomenal to watch.
Verdict: I enjoyed their elegance, strength and agility.
Reviewer: Katie Leicester
Reviewed: 21st November 2019
North West End UK Rating: ★★