Pendleton Sixth Form College continues its run of productions with their rendition of Guys and Dolls, I had high expectations for the final 2019 musical and I was definitely not disappointed!
I often attend shows at Pendleton College and having reviewed 'Animal Farm' and watched 'Phantom of The Opera' also 'Into the Woods' this year, I was excited to see some of the September cohort on stage as new talent which always catches my interest and I love to see the senior students excel in their vocation to become accomplished actors and actresses over their period at Pendleton College.
Directed by Joseph Meighan and Musical Direction by Neil Bennett the perfect duo in the world of musical theatre I was intrigued to see how they would cast this 1950's Broadway Musical with its blend of interesting characters, clever story and glorious songs by Frank Loesser.
This version of Guys and Dolls is set in 1930s New York concerning the journey of two young couples, Sarah Brown (Alex Brighouse) and Sky Masterson (Ryan Coxon), and Adelaide (Holly Meadows) and Nathan Detroit (Taz Al-Jeddal), Nathan Detroit being a notorious con-man attempts to find a new life for his illegal crap game, whilst trying to keep his long-term fiancée Adelaide happy and unaware of his wrong doings. The show sees Detroit's regular venue for the illegal game discovered by Lieutenant Brannigan (Elliot Blyth) leaving him no choice but to find an alternative location for him and his gambling 'guys'.
With one thousand dollars to find Nathan bets the handsome wealthy Sky Masterson that he can't take a 'doll' of his choosing to Havana for a date, Detroit chooses prim and proper Evangelist Sergeant Sarah Brown believing it to be a sure bet he will win but this is when love story between Sarah and Sky begins!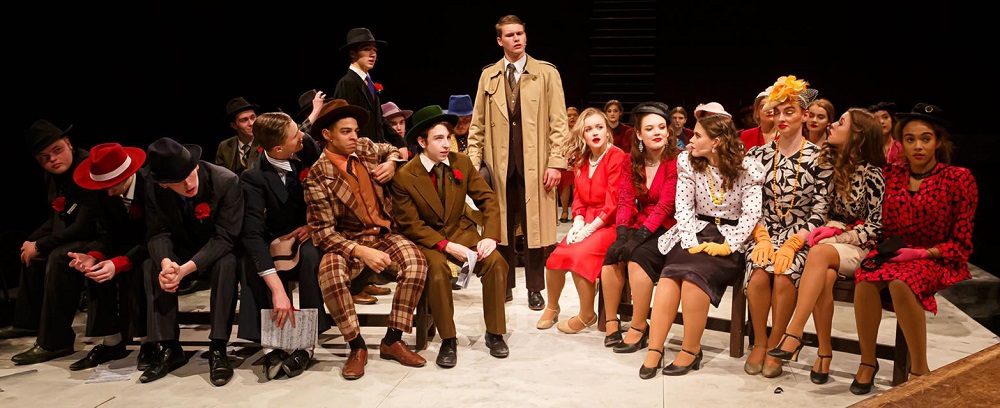 Alex Brighouse (Sarah) shines in the scenes that follow as she goes from pure religious tourist to a jealous woman who starts a bar brawl. The comedy aspect as she gets increasingly drunk on dulce de leches was actually quite funny particularly in her rendition of 'If I Were a Bell' whilst being babysat by a cynical yet romantic Sky Masterson. Ryan Coxon who delivered the role of Sky came into his own with his phenomenal version of 'luck be a lady tonight' this young man's stage presence was that of any professional with his stunning subtleness but powerful acting and impeccable vocals.
Holly Meadows was also an audience favourite with her larger than life character of Adelaide the nightclub singer who's been engaged to gambler Nathan Detroit for fourteen years, Meadows was wonderfully eccentric and had fantastic stage presence - her reactions provided the audience with an array of much needed comedy making her truly spectacular as Adelaide, she was brassy yet endearing and could impressively belt out a tune - her solo 'Adelaide's Lament' was excellently sung with confidence and character 'A Bushel and a Peck', 'Take Back Your Mink', also 'a person can develop a cold' where personally the highlights of my evening as I loved every moment this lady was on the stage and found myself waiting for her next scene.
In fact, I'd forgotten just how many famous tunes were in this show – which is a sad reflection on when I saw it last, songs such as 'Luck Be A Lady Tonight', 'Sit Down You're Rocking The Boat', 'If I Were A Bell' and 'I'll Know' all delivered to a high standard by this strong cast.
Special mention must go to the fantastic staging and set design as it was a stunning and versatile allowing the cast move easily and freely to deliver their performance with an exceptional eye to every detail of a new York city street including a subway and the 'Hot Box' nightclub venue.
The costumes were outstanding as always with the authentic elegance of 1920's attire which enhanced the evenings performance, however the greatest credit must go to the remarkable and refined choreography by Louise Pettitt as the nightclub numbers and cast dances during the musical scenes were beyond anything I would expect from a sixth form college drama production. I found myself captivated by every move during the choreography as the entire cast were perfect in their timing and delivery of the complex dances, making it an absolute visual delight that made we want more and more of these scenes.
The whole cast and crew have worked so hard and it has definitely paid off, I love the energy and enthusiasm from these students as they clearly enjoy every moment on stage standout dancers must be mentioned which was Marley Fenton with his sassy salsa moves and sultry slow dances as he glided across the stage making it an enchanting watch.
I can't wait to see what 2020 brings from this fabulous duo of director Joseph Meighan and musical director Neil Bennett as they seem to turn everything they touch into a golden nugget, with Pendleton Performing Arts being one of the most talented and exciting drama group in the North West.
Well done to all involved and roll on 2020.
Verdict: No luck was needed tonight for these Guys and Dolls as they are all winners, and no one rocked the boat during their sterling performance.
Reviewer: Katie Leicester
Reviewed: 10th December 2019
North West End UK Rating: ★★★★