Manchester City Ballet, the name of the company performing classical ballet, is part of the training given by one of the UK's leading ballet training schools, attracting students from all over the world, Manchester's own The Northern Ballet School. And how lucky that they occupy a building with it's own beautiful Art Deco theatre on which to present their labours of love, The Dancehouse Theatre.
I have been reviewing their in-house productions now only for the past twelve months; I came into contact with them this time last year for their lovely production of Giselle, and have been hooked ever since! These are students from all different backgrounds, both social and ethnic, and yet to watch them onstage together you would think they had been working together for ever. Most of these students have just said goodbye to their teenage years, and yet the skill, dedication, precision, talent, and sheer energy that they put into their productions is incredible. You only have to let your eyes wander from the principals towards the ensemble, or those seated on the sidelines simply filling the stage to know what I mean. They are not just simply sitting there, but are engaged fully and completely with the action and remain in character and active and alive despite doing nothing but sitting.
I noticed this more this evening than on previous visits I think simply because my seat was much closer to the stage, and I was able to see the whites of their eyes, and every single nuance and change of expression, and I much preferred that. I felt much more a part of the happening.
The evening felt too long. Despite the curtain falling before 10:00pm, it still felt long. This is because the company used pre-recorded music, and played it all - including the overture. [why one should play a pre-recorded version of an overture at a live theatre performance I honestly don't know!]; and also, they chose to have two intervals. One between each of the three Acts. That may well be the way it is 'traditionally' performed, I don't know, I was watching the ballet tonight for the first time; but it just dragged a little, from an audience member's perspective.
However, that is the only negative comment I have to make about this evening's show. Everything else was utter magic! Produced by Patricia McDonald, and choreographed excellently and imaginatively by Anton Alexandrov and Lisa Rowlands, I really didn't need a programme note to tell me the story. The story was enacted out in front of me, and I was able to understand exactly what was happening just by watching the ballet. To my mind, this is EXACTLY what a ballet should be doing. A ballet, apart from it needing to be aesthetically pleasing showing the dancers to have grace and beauty, first and foremost needs to tell a story. And this did both by the bucketloads! Grace and beauty in abundance and a very clear and almost pantomimic narrative.
I did have ballet lessons once, a long time ago, before moving over permanently to Musical Theatre and forsaking my classical training, and so I would not think of myself in any way qualified to criticise the dancing of ballet. I can still remember some of the moves and just exactly how much pain I went through to try and execute them correctly - and that memory is enough to make me understand just how both incredibly difficult some of the seemingly effortless moves are and how dedicated and talented you have to be in order to make them appear effortless. As I already mentioned, I was very close to the front this evening, on Row C, and never once did I see a face wince nor did I see a bead of sweat. I have absolutely no idea why not - since I know there must have been both, but none showed. That was hugely impressive.
In tonight's cast (some roles were doubled) Marin Shimizu danced the lead role of Swanhilde with utter relish. There was a childish impudence and definite sense of fun behind her performance which appealed greatly. The male protagonist dancing the role of Franz was a young man who might very well become the next Wayne Sleep, Miguel Angelo. And together, when they danced a slow and rather sensual pas-de-deux in the third act, they were simply electric.
For those that are unfamiliar with Coppelia; then in a nutshell, it concerns the life-size realistic-looking doll Coppelia, made by toymaker Dr. Coppelius. Franz is betrothed to Swanhilde but sees this doll and falls in love with it. Swanhilde becomes jealous and enters the shop to find this girl, and realising it was nothing more than a doll, is reconciled - but not before pretending to be the doll and have a laugh at Dr. Coppelius' expense. And of course the two lovers get back together again and all is well. It's not Shakespeare, that's for certain, but then again, the storyline is not the most important element in a classical ballet. And this ballet, with music by Leo Delibes had many tunes in I recognised and knew, and so it didn't seem quite as distant and foreign to me as watching Giselle did last year.
The whole company were magnificent. The other roles were much smaller or cameo roles and so I cannot really comment on them individually, but suffice to say that the storytelling and the dancing was absolutely amazing. You know when you go to one of their shows, that you are going to be wowed, but when you realise that these dancers are still students, still learning their craft, it makes it all the more incredible.
What a fantastic way to finish 2016, NBS! I can't wait to see what 2017 brings for you.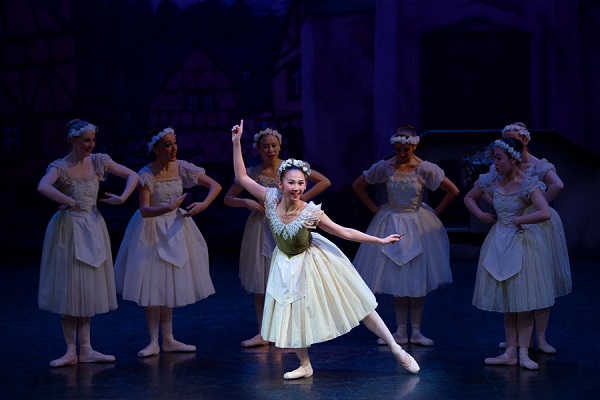 Reviewer: Mark Dee
Reviewed: 10th December 2016