The 25th Annual Putnam County Spelling Bee is in my opinion a very under rated musical which isn't performed as widely as perhaps it should be. Pendleton Sixth Form College students tonight proved just why this is a great musical with unpredictability being one of its endearing features.
The show follows what is a fictional spelling bee set in a geographically ambiguous Putnam Valley Middle School. Six quirky adolescents compete in the Bee, run by three equally quirky grown-ups. Each competitor has their own backstory which we learn about during this one act show as well as meeting four competitors chosen from this evening's audience.
Holding court over the proceedings are past Putnam Spelling Bee champion Rona Peretti and Vice Principal Douglas Panch, played superbly by Emily Clarke and Tom Kehoe respectively. Both these roles are a comedic gift with the pair delivering some of the best lines in the show, especially when it came to the audience members turned competitors. Both are assisted, if that is the right word, by ex-convict Mitch Mahoney (Dareo Knott) who is performing his community service with the Bee.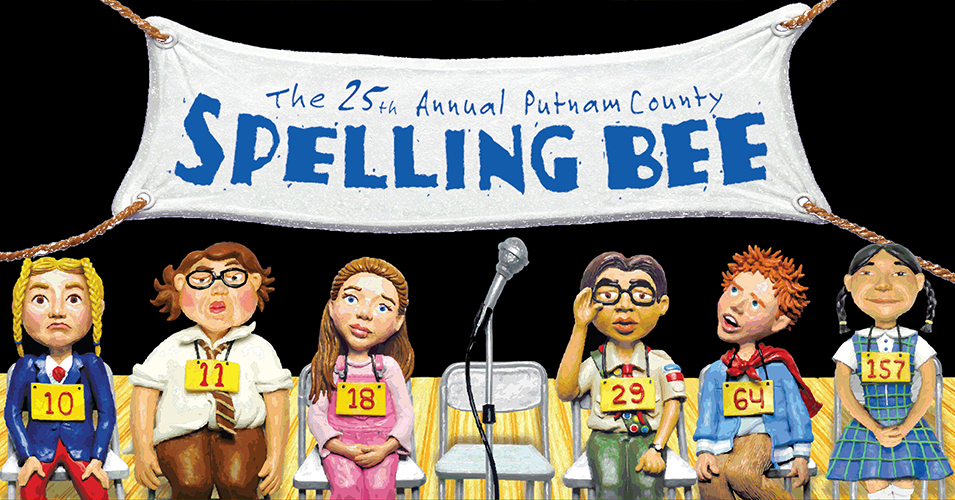 The competitors (in no specific order) are Chip Tolentino (Joe Foster), a Boy Scout and champion of the Twenty-Fourth Annual Putnam County Spelling Bee, Logainne Schwartzandgrubenniere (Abi Harper), who is the youngest and most politically aware speller with two gay fathers. Also competing is Leaf Coneybear (Jake Hankey), who comes from a large family of former hippies and makes his own clothes, Marcy Park (Harriet Dean) who was placed ninth in last year's nationals, speaks 6 languages and sleeps only 3 hours a night. William Barfee (Lucca Chadwick-Patel) a finalist last year and Olive Ostrovsky (Sam Kearney-Edwards) whom made friends with her dictionary at a very young age complete the 6 main gladiators in this spelling battle.
Each of the 6 competitors played their roles to perfection. Foster with his embarrassing predicament, Harper with her over pronounced lisp and Dean's dead-pan facial expression all hit the mark. However, for me Hankey as Leaf with his trance induced recollection of spellings and Chadwick-Patel with his "magic" foot and only one working nostril shone. But the star of the show was without question Kearney-Edwards as Olive. Her interpretation of the role and its innocence was quite beautiful to watch. All 6 are destined for long careers in this business they call show, in fact all on the stage tonight are.
Supporting the main cast, the ensemble Owen Bolton, Meg McKinlay, Sam Hill, Caitlyn Brady, Haroun Al Jeddal and Dalia Kay all played their part taking on smaller multiple roles.
Director Stephen Hughes-Alty has pitched this show just right alongside choreographer Hannah Birch and MD Kevin Matthews. I am already counting down the days until their next production, A View From a Bridge which plays from the 15th – 17th March. With tickets priced from just £3.00 you cannot afford to miss watching these stars of the future and all at Pendleton take their first steps on the show business ladder.
Reviewer: Paul Downham
Reviewed: 14th February 2017