If you haven't seen the film of Legally Blonde then OMG where have you been?! The 2001 movie was the catalyst for this musical and fans of the Reece Witherspoon smash hit will not be let down by this stage adaptation!
We follow peppy Elle Woods, played by Lucie Jones after she has just been dumped by Homecoming King Warner Huntington III (Liam Doyle) where she decides to try and get into Harvard Law School in order to win him back.
With Witherspoon's version of Elle being iconic, it did take me a few scenes to warm up to Jones' portrayal of Elle but by the end I was in love with her. Jones took an interesting angle in the way she played Elle, giving her a hint of Parks & Rec favourite, Leslie Knope, which was a fun twist. She was a strong character, playing the comedy moments exceptionally well and with an amazing voice. I will say, however, that her dance ability didn't quite reach the same level.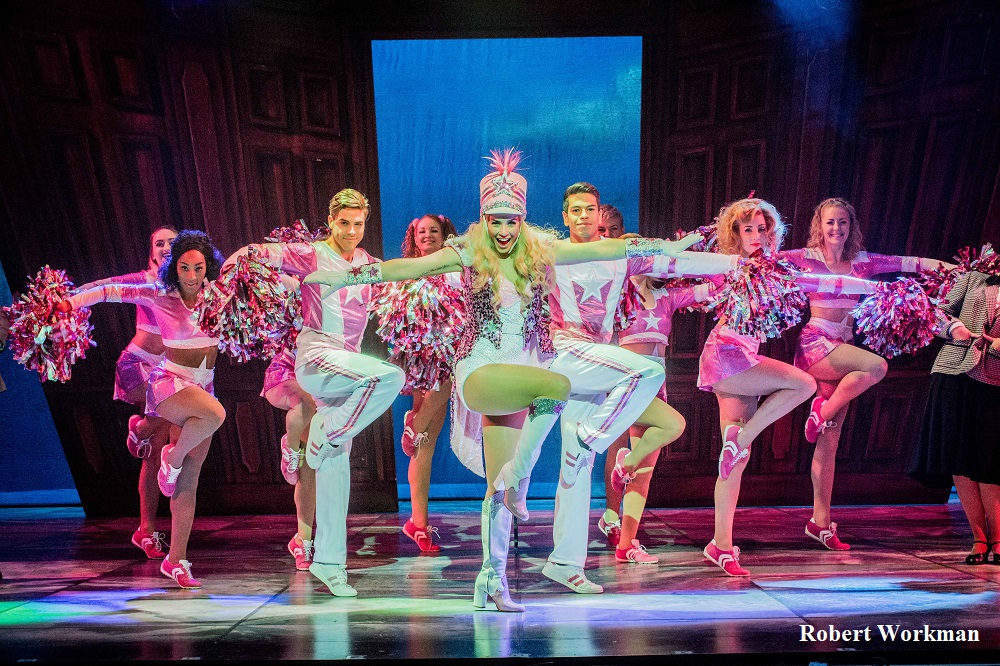 The set really was something to behold! Pink, sparkles, lights. It effortlessly transformed from Elle's dorm room to a courtroom and from the salon to the outside of Harvard. In fact, the overall visuals of this show, with the costumes, props and bizarre happenings (men dressed as cupids coming in on roller skates) was fantastic.
Elle's mentor Emmett was played by David Barrett who was wonderfully likeable and very believable when he went through the obligatory makeover. His and Jones' voices worked perfectly together and I found myself wanting more songs from them.
One disappointment for me was Bill Ward's portrayal of sleazy Professor Callahan. As a big fan of the official soundtrack, I was disappointed to hear that instead of being smooth and slimy, Ward just yelled every word in his songs. Of course the character is supposed to be unlikeable, I found myself disliking the actor even before that point.
Rita Simons' sassy confidant Paulette was spot on, and the Greek chorus of Sorority girls were a great way of tying the story together. There were times that the odd character dropped their accent slightly, which was a shame. Of course the starring cast members were Chester as Rufus and Bruisey as Bruiser - the two K9s that made short appearances on stage!
Overall, it was a fantastic show. It was fun and silly but with serious moments and an overarching empowering message. Absolutely worth a watch!
Reviewer: Codie Louise
Reviewed: 13th March 2018
North West End Rating: ★★★★