Gaslight is a play based on Patrick Hamilton's novel of the same name. It also gave its name to the scientific phenomenon "Gaslighting". Bill Kenwright brings this production to Birmingham as the second stop on a brief tour before a stint in the West End.
Set in a Victorian house in London we follow an evening with Jack and Bella Manningham. From the outset it is clear Bella is on edge and eager to please her husband. It soon becomes clear that Jack is the very model of a controlling Victorian husband. There are strange goings on, items going missing, noises on the abandoned 4th floor and gaslights mysteriously dipping. It is only when a visitor, Rough, arrives that he can shed some light on what is really going on.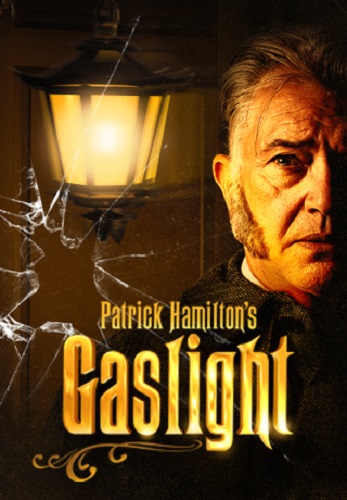 Charlotte Emmerson captures the anxiety of Bella Manningham straight away as she bustles around the living room with a nervous energy. Her portrayal of a woman close to the edge is the focus of the storyline and one which she carries well through her performance. In contrast Jack (James Wilby) has an air of complexity to him, there always appears to be an underlying plan to all his actions. Wilby depicts the devious and cunning husband with aplomb. Adding a touch of humour to the dark proceedings is Martin Shaw as Rough. He is a steadying influence on Bella and the contrast of the two male characters is clear. Shaw commands the stage as much as he does the action, his Irish accent and self-assured confidence raising a smile.
With the majority of the action taking place in one room, but the need to see the stairs to other floors, an imaginative solution is called for from William Dudley. Video projection combined with a more traditional gauze back wall are used to create the rest of the large house. The sound and lighting (Mic Pool and Chris Davey are subtle in the most part but occasionally come to the fore in moments of high tension when they are used to great effect to put the audience more on edge than they already were.
The setting out of the relationship between husband and wife means that the play takes time to get moving. Once this is established though you are immersed into the story and the ensuing drama. There are top quality dramatic performances throughout and a chilling reminder of the dangers of psychological control. This play will have you on the edge of your seat and your pulse quickening. https://www.kenwright.com/portfolio/gaslight/
Reviewer: Annette Nuttall
Reviewed: 30th September 2019
North West End UK Rating: ★★★★