Though the producers probably had no say in it, the Old Rep Birmingham's decor and ambience ideally and aptly suits this play. There is a wonderful 1920's elegance to both and both proved very welcoming to last night's audience.
"Crimes on the Coast", recently renamed from "Crimes Under the Sea" upon request from the Agatha Christie Estate in case murder-mystery buffs confused it with the eponymous authors own work, "Evil Under the Sun", is a convoluted, complex and, at times, confusing work.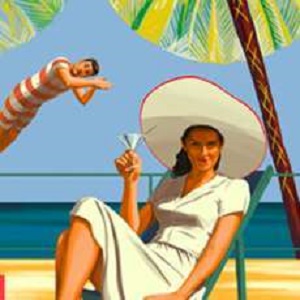 It firmly and confidently takes each and every worn murder-mystery trope and cliché and gives it a sound bashing. The vicar, the film star, the military officer, the waiter et al each, in turn, become suspects under the watchful eye of Artemis Arena (played by Ashley Christmas) the only performer to play just one role throughout. The others share the remaining 14 characters and suspects between and do so with dexterity. Hanaha Genesuius, for example, undertakes seven, three of which are played almost simultaneously, a particular highlight of the evening. Jon-Paul Rowden garners most of the laughs with his four characters including the delightfully named Inspector Aquafresh and Luca Thompson, though on stage for equal time as the other, has a mere three roles which he capably masters.
"Crimes on the Coast" proved itself a warmly received play with a small but appreciative audience tonight. Only way half way through its extensive tour and showing no signs of tiring it's yet another comedic outing for the New Old Friends who are continuing to prove themselves able exponents of this period, this style and this comedy.
Reviewer: Peter Kinnock
Reviewed: 4th October 2019
North West End UK Rating: ★★★