As I left the theatre I heard a fellow audience member comment to her friend; "I suppose it's like real life, but nothing happened". Shelagh Delaney's first play, A Taste of Honey, presents a glimpse into the lives of Helen and Jo, a mother and daughter duo in working-class Manchester. Part of the 'kitchen sink dramas' of the 1950s and 1960s and workshopped by Joan Littlewood (of Oh What A Lovely War acclaim) at Stratford East, A Taste of Honey is an honest appraisal of the realities of the lives of Helen and Jo. The play, written in Delaney's autobiographical style, is filled with her optimistic restlessness, not for her the anger of her contemporaries (Joe Orton, John Osborne). Here nothing happens, but everything happens. As Jeanette Winterson observes in the programme notes Delaney's opportunities were impacted by her class and gender (she was a working class girl from Salford) and with A Taste of Honey (written when Delaney was 19 years old) she became Britain's first working class woman playwright. With the National Theatre recently coming under fire for announcing a season dominated by male writers, it is good to see this important play in their touring schedule.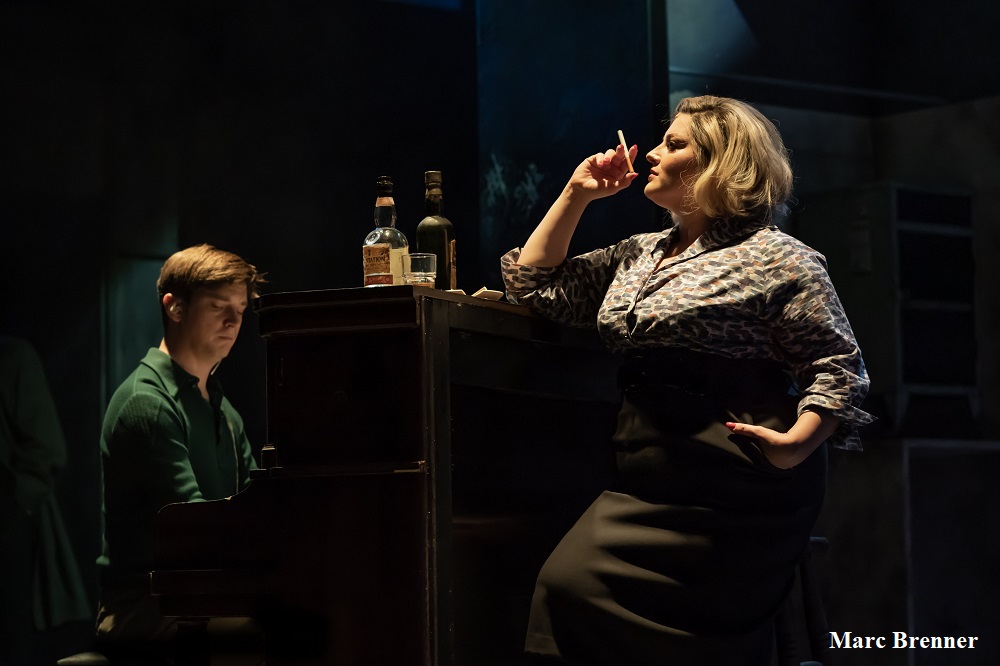 There is much to recommend Bijan Sheibani's production. Jodie Prenger is superb as Helen - capturing her air of assumed nonchalance and flashes of desperation. Gemma Dobson, playing Jo, provides Prenger with an excellent sparring partner - when another character tries to break up an argument between the two he is told to butt out because they 'enjoy it' . Dobson manages to perfectly capture Jo's teenage disgust, in a manner that is all too real for anyone who knows teenagers. The pair bring Delaney's rich Northern prose to visceral life. Making his professional debut Stuart Thompson presents a nuanced portrayal of Geoffrey, Jo's gay best friend, resisting the temptation to over play the character. Prenger and Dobson are also more than ably supported by Tom Varey and Durone Stokes, as Peter and Jimmie respectively.
The addition of a jazz trio (the excellent David O'Brien, Alex Davis and George Bird) are a slight nod to Littlewood's original workshop production, and give Benjamin Kwasi Burrell opportunities to enhance the soundscape and interpolate some songs into the proceedings. Whilst realism purists might balk at a fifties take (with full sha-la-la-la backing) of 'A Red Red Rose' by Robert Burns the music is incorporated cleverly and Aline David makes full use of it to fluidly choreograph set and scene changes. Some song choices feel a little too obvious (such as Geoffrey's rendition of 'Mad About the Boy' or Helen's opening 'A Good Man Is Hard to Find') but they provide subtext as well as underscoring.
This is a slick production. Paul Anderson's lighting design works to convey the claustrophobia of Helen and Jo's existence, allowing Hildegard Bechtier's set design with its muted colours and 'contemporary wall paper', space to breathe. In contrast to Helen's description of the theatre as 'all mauling and muttering , can't hear what they're saying half the time and when you do it's not worth listening to' this is a production well worth listening to of a play that, 60 years after its debut, still feels relatively fresh and contemporary. The kitchen sink has pride of place upstage.
Reviewer: Clare Chandler
Reviewed: 5th November 2019
North West End UK Rating: ★★★★