Were Victor Hugo still alive today he would be coining in the royalties not only from the world's longest running musical "Les Misérables" which, though through-sung, is never referred to an as an opera even though we know it really is - but also from providing the basis for Verdi's first masterpiece.
"Rigoletto" burst onto the opera scene in 1851 and has justifiably held its position in the classical music canon ever since. The music soars and weaves and enchants and deftly carries the story of the hunchback court jester through increasingly dramatic twists and turns.
James Macdonald's finely realised vision is set in a White House which has more than a faint trace of Trumpian pomp and political double-dealing with a fantastic and strikingly angular set by Robert Innes Hopkins.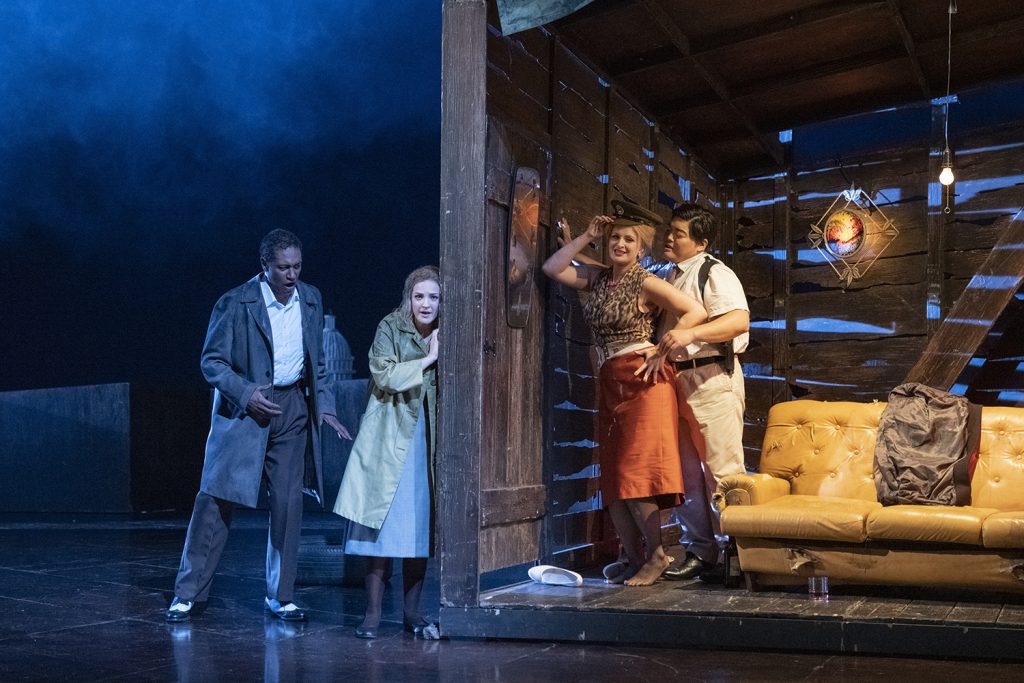 Though everything did grind to a halt fifteen minutes in for an extended scene-drop to facilitate a set change during which the audience seem bemused and unsure whether it was ice-cream time or not. That aside the notion, the setting and the concept served Verdi's work with precise and invention.
As we expect with the Welsh National Opera, the music was literally, and figuratively, pitch perfect under the watchful baton of Alexander Joel. Mark S Doss's title role captured the torment and anxiety and complexity of the character with precision and his singing was both sonorous and beguiling especially in "Parmi veer le begrime." David Junghoon Kim, as the Duke doubling as a student (though, perhaps, mature student would be more accurate) is a delight with a duplicitous character and has the show's hit in the palm of this hand. The room sizzled with the delight and happy elbow nudging ensued, as the orchestra struck up the opening bars of "La Donna e Mobile" - and Kim delivered with consummate aplomb.
But it was Korean born Haegee Lee as Gilda whose voice stole the show. A wonderful, vibrant sound with hints of melancholy and fragility suiting the part with precision and accuracy. Though young with few credits to her name she is clearly a face to remember and a voice to listen out for.
"Rigoletto" runs in repertoire with "Carmen", "Les Vepres Siciliennes" and "The Marriage of Figaro" for the rest if the season.
Reviewer: Peter Kinnock
Reviewed: 6th November 2019
North West End UK Rating: ★★★★