Before the show begins the audience have a birds-eye view of the New York High School for the Performing Arts. On the street below the two buildings we can see a yellow taxi which recalls the film's iconic street dance routine. Sadly the stage version never quite lives up to the memory of Fame's earlier incarnations.
As with the film and television series, the musical follows a class of young hopefuls as they train at the prestigious New York High School for the Performing Arts imploring us to 'remember' their names. Whilst one character comments that there is nothing wrong with acting like adolescents as 'that is exactly what we are', some of the company look like they may have graduated from high school some time ago.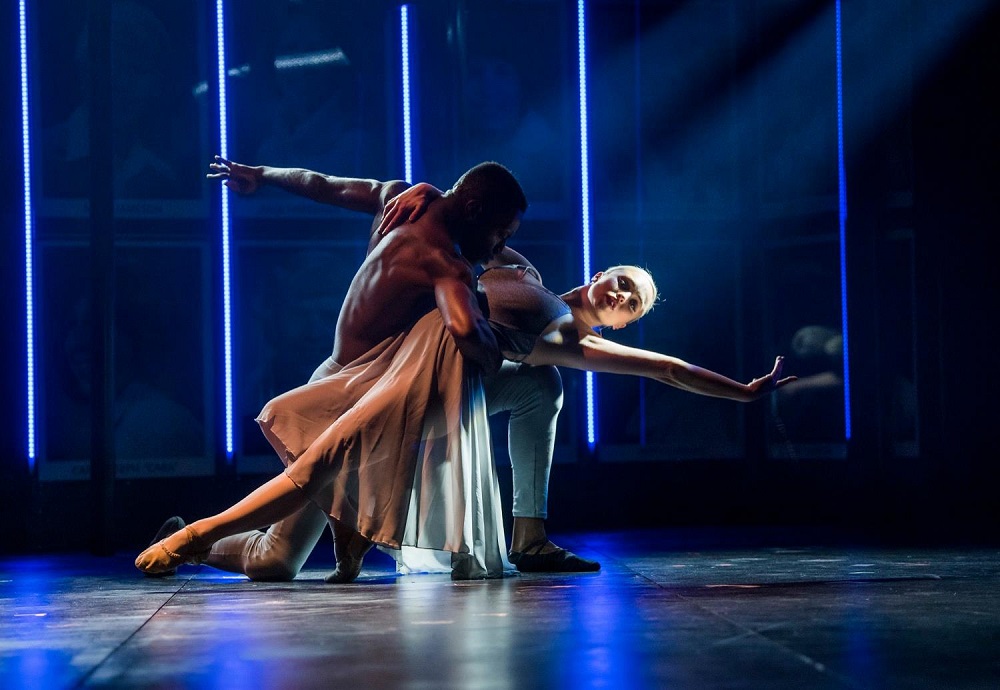 Whilst the original movie (or 'that movie' as it's referred to in the show) was gritty, hard-hitting and realistic exploring a wide range of subjects, the stage version is heavily sanitised. There are still dramatic plotlines but these lack nuance and feel increasingly dated. The performers do their best to breathe life into the material but often it's too clunky to be saved.
Jamal Kane Crawford dances well (especially in his duets with Jorgie Porter) but his rap number is awkward and dated, crying out for a rewrite. Stephanie Rojas sings powerfully as the troubled Carmen but her storyline is predictably tragic. The contemporary resonances of young talent exploited by those in positions of power are inescapable but never fully realised. The actor musicians (Simon Anthony, Louisa Beadel, Alexander Zane - making his professional debut - and Tom Mussell) within the company are excellent.
They are quadruple threats; acting, dancing, singing and playing with aplomb. Director Nick Winston's choreography has appropriate nods to the eighties and the neon leg warmers of the original but the company aren't as slick and synchronised as they might be. This may be a choice due to the 'improvised' nature of some of the numbers but it means the show never achieves a choreographic high - unlike A Chorus Line which producer David De Silva (Father Fame!) was inspired by.
As Serena, Molly McGuire gives a high octane performance which evokes the funny girl herself - Fanny Brice. However, her energy is not matched by Keith Jack's rather bland Nick. Albey Brookes manages to make wannabe comic Joe funny without verging into grotesque, his rendition of 'I Can't Keep It Down' is a highlight of the production. Josie Benson feels underused as Miss Sherman, she wrings all the emotion she can out of 'These Are My Children' but isn't allowed any real character development.
There are some decent musical numbers in the show but some of the classics from the film are notably absent. The crowd pleasing finale of the Oscar winning title song reminds you why thi show has stood the test of time even if the musical is starting to show its age.
Reviewer: Clare Chandler
Reviewed: 19th November: 2019
North West End UK Rating: ★★★