How refreshing to watch a piece of theatre that is set in one place and in real time. Skylight is a story about love, frustration, guilt and a class divide.
From the offset this play looked to be interesting with a very clever set. It is set in an apartment which is open plan so almost fully on display but this apartment is surrounded by many bricks, some lit inside to give the effect of other apartments in the vicinity. Parts of this set were not just props but fully functioning items such as a kettle, a cooker and the sink with running water. The set looked almost futuristic in its surrounding but you were transported into what looked like a 1980s bedsit in the centre.
What amazed me most in this play was that Kyra, the sole female of the play, chopped, prepared and cooked a full meal (Spaghetti Bolognese) while delivering her lines as though it was the most natural thing on earth. With this show being in real time, the meal was able to be prepped and cooked fully during act one, making the auditorium spell delicious. Every move seemed perfectly choreographed to the lines being delivered so it flowed wonderfully.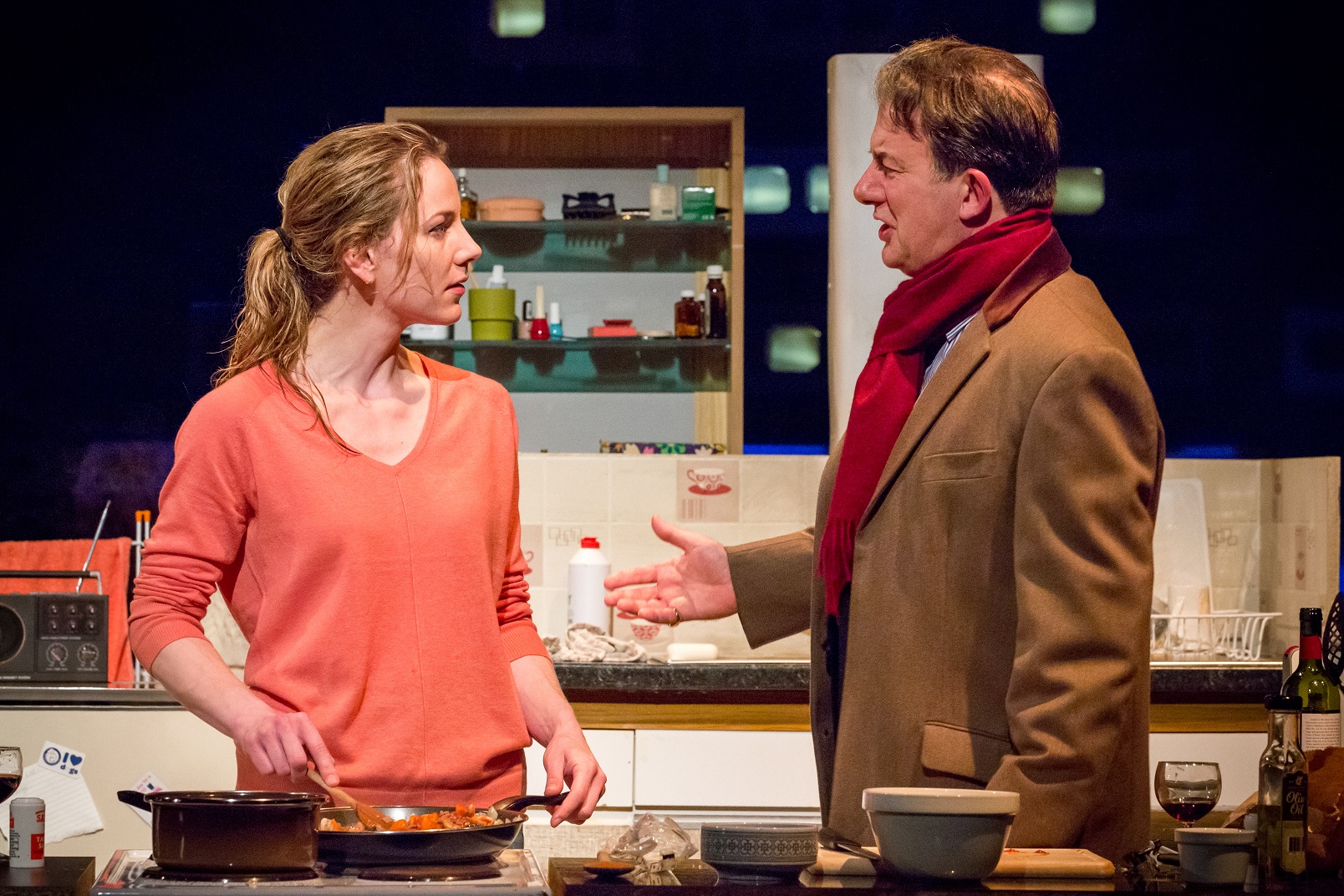 Kyra was played by Jeany Spark who portrayed a range of emotions during her time on stage, never leaving the set except for the interval. She kept it interesting, even when not speaking. Spark was very passionate when it came to what she believed was right and fought to make her point that if she didn't do what she was doing, no one else would. You see this passion when she is joined on stage by Tom played by Jay Villiers. Tom is a wealthy, middle class toff who seems to want for nothing, whereas Kyra, who had everything while working for Tom, walked away leaving it all and pursued a job teaching under privileged children who she cares about greatly. Tom cannot seem to understand the importance as to why Kyra would continue to live this way, in a run-down area, having to travel to work by bus each day rather than give it up and go back with him. It's at this point you get the anger and passion from both Spark and Villiers when they both firmly believe they're correct and neither will stand down and admit defeat.
Our third character is Tom's son Edward played by Oscar Batterham. Batterham brings the light and comedy to the play, only appearing in the first and last five to 10 minutes of the show but adding depth and humour to what could be a dark, depressing play. Batterham plays a loveable character and when he first leaves the set, you are willing for him to return throughout.
Skylight is directed by Theatr Clwyd's resident artistic director, Tamara Harvey. Harvey has done a wonderful job working in this piece, keeping the actors busy the whole time they're on stage, ensuring it doesn't become too still or stagnant.
Once the play started, the set was not touched by any stage hands so it was down to the actors to ensure everything was in the right place and if it wasn't, to move it as and when necessary. The preset for this show must have been immense as they had to ensure everything for the full act was there ready to go from the offset.
Reviewer: Damian Riverol
Reviewed: 14th February 2017
North West End Rating: ★★★★
Photo: Mark Carline