BalletLORENT, a Newcastle based dance company, brings on tour this well known story of Snow White. Carol Ann Duffy, a Poet Laureate, writes this adaptation, keeping faithful to the original Grimm's tale and emphasising the key themes.
In this production the Queen (Caroline Reece) gives birth to Snow White and she becomes jealous of the sheer beauty of her daughter – the beauty she wishes for. Snow White (Natalie Trewinnard) is beautiful with "pure snow skin framed by hair the colour of her ebony window frame, and blood red lips". The Queen looks in the mirror (Gwen Berwick) to be reassured that she is the "fairest of them all" but only to be told the truth and how she maintains her "beauty" with dying her hair and relying on cosmetic surgery. With this in mind she arranges for Snow White to be killed.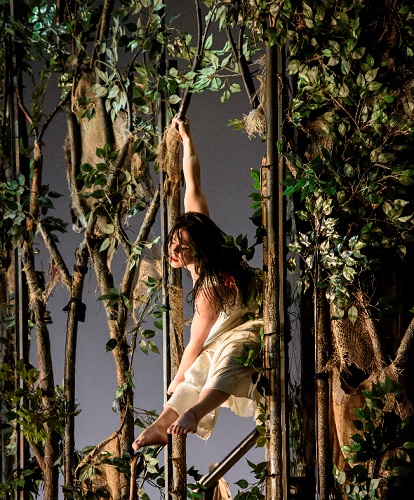 In many adaptations of Snow White there are usually the seven dwarfs; Duffy instead includes seven minors in the adaptation. Their eccentricity draws attention with their physical expression and synchronised movements in the dark underground mining world throughout the performance. This production demonstrates how destructive jealously is and how important love and inner beauty are.
Though this is a dance production it feels however the artists are primarily visual aids to the continuous narration. It appears that there is a lot reliance on the spoken narrative instead of the dancing in depicting the characters. Saying this, there are some wonderful moments especially the singular dancing from both Reece and Berwick during the reflecting Mirror Scene in the second half.
The staging is stunningly beautiful and very pleasing to the eye. A lot of detailed planning has been put into Phil Eddolls's sets, the palace and the woods, and works really well with the smoky (mystical) effects, soundscapes and Malcolm Rippeth's lighting.
It is commendable to see children performing with the cast and it must be a dream for them to be given an opportunity to fulfil their talent on stage. Murray Gold's musical composition is wonderful and the music reflects the mood and tempo of this story. Different genres of music are played and when the miners come out on stage for the first time the modern music suits the tempo and their synchronised body movements.
Snow White eventually finds true love in a place where she is least likely to look for it. She forgives the Queen and marries the Huntsman (Gavin Coward) in a stunning Libby Everall's dress and the overflowing length nicely blends in the staging. In conclusion the characters "lived quite beautifully ever after".
BalletLORENT's visually pleasing production certainly appeals to children and adults alike. An imaginative and creative Snow White is choreographed and directed by Liv Lorent, the founder of the dance company. The cast and creative team have worked well in delivering this evening's performance.
Reviewer: Dawn Smallwood
Reviewed: 30th September 2016
North West End Rating: ★★★