This is full on panto season which make this devilishly dark production of Roald Dahl's classic tale of witchcraft and heroism a very welcome relief.
If Dahl is the undisputed king of dark storytelling for children then David Wood who adapted this version of the novel is his theatrical equivalent. He brings all his decades of experience treating children as small grown ups to bear masterfully judging just how much darkness he can keep in so the younger members of the audience don't go home and wet the bed in fear.
Equally he keeps in all of Dahl's brilliant wordplay and refreshing refusal to sugar coat his stories just because the audience will be full of children. The cast start off singing a song warning the adults - as much as the children - that there are not always a happy ending in stories which is certainly the case here.
The main character Boy is orphaned right from the start so this is as far away from the relentlessly cheery pantoland as you can get as he ends up living with his Norwegian grandma who warns that there are witches in human form eager to wipe children from the face of the planet. The scene where the physical characteristics of the baldy witches are explained = and that children smell like dog poo to them - is great fun and bit scary.
Boy and his grandma end up in a south coast hotel where the Witches of Great Britain are having their AGM in the presence of the Grand High Witch of the World who is determined to poison every child in Britain. After Boy and his daft mate Bruno undergo a dramatic physical metamorphosis at the hands of the witches they face a desperate race to save the nation's kids.
Newcomer Fox Jackson Keen is charming as Boy mucking in like the rest of the cast playing a variety of instruments, and is the only one of the hard working cast who doesn't take on multiple roles. Old hand Sarah Ingram is a suitably scary Grand High Witch forcing kids to grab onto their parents every time she appears on the simple but effective stage.
RADA trained Jenna Augen plays a mean fiddle as well as the kindly Grandma and musical director Bobby Delaney manages to keep the cast's decent musical efforts in time. Special mention to the affable Jonny Weldon who provides the self-absorbed Bruno with some much needed laughs.
This show is billed as for kids aged 5 or above and it's certainly a baptism of fire as the body count is high even for a Dahl text, but Woods has pitched it perfectly retaining just enough darkness to make it challenging, and not the stuff of young nightmares.
The Witches runs at West Yorkshire Playhouse until Saturday 21st January. To book go to www.wyp.org.uk or 0113 2137700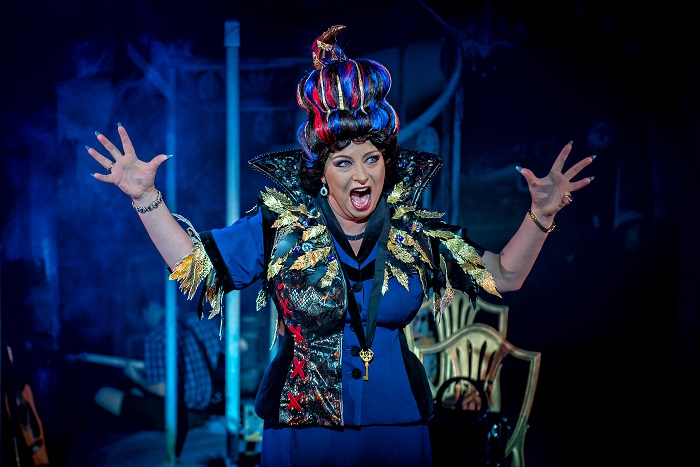 Reviewer: Paul Clarke
Reviewed: 27th December 2016
North West End Rating: ★★★★
Photo: Anthony Robling