More often than not you see very talented performers in touring productions sticking to their comfort zones and then you see someone like Jodie Prenger prepared to risk it all just like Shirley Valentine does.
Since winning the TV programme I'd Do Anything, Prenger has built up a very strong reputation in musical theatre and, although she has doing more straight acting recently, it was still a gamble to take on this tricky one woman show where there is nowhere to hide for two hours.
It is probably true that somewhere on the planet there is a touring production of Blood Brothers putting bums on seats, but Shirley Valentine remains Willy Russell's masterpiece. The language, pacing, the humour and the brutal dissection of a dead marriage are so precise Pregner really had to be on her A game.
Like many only children brought up in matriarchal families Russell has a clear understanding of what makes women tick and more importantly how to say it. Russell says it was that instinct that helped cast Prenger and, boy, has it paid off.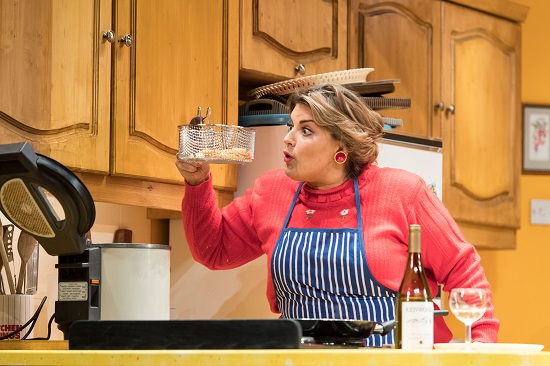 From the moment Prenger opens her mouth in her flawlessly recreated 80's kitchen in suburban Liverpool she is Shirley Valentine, describing her empty life to the kitchen wall and the audience as she prepares her husband Joe's egg and chips to be on the table when he walks through the door.
Russell gives Prenger the tools to work with particularly a perfectly executed routine recalling her son's disastrous nativity play as she agonises whether to take up her mate's offer of a two week getaway in Greece. Prenger actually has to make those damn egg and chips onstage as she plays a host of different characters with consummate comic timing.
It's no spoiler that Shirley does go off to Greece where she meets a local man she dubs Christopher Columbus as he manages to find her clitoris after decades missing in action. There are less laughs in the second act, but Prenger makes believable Shirley's liberation from the Formica hell back in Liverpool. She is sure footed playing a number of different characters she meets along the way, and her Greek accent is actually more believable than Tom Conti's in the movie.
Despite some of the dialogue is a bit dated but the knowing laughs from the women behind me speak to the truth of Russell's words, but also to warmth and integrity of Prenger's Shirley. It's worth remembering Pauline Collins won a Tony and was Oscar nominated for her Shirley, but not for one second did you think of that as Prenger made the role her own.
Jodie Prenger should be applauded for taking a calculated risk with this role, but when it becomes a career changing turn it must make the warm applause she received just that bit sweeter.
Shirley Valentine is at Leeds Grand Theatre until Saturday 8th April and touring. To book ring 0844 848 2700 or online www.leedsgrandtheatre.com
Reviewer: Paul Clarke
Reviewed: 3rd April 2017
North West End Rating: ★★★★