"I used to be The Wife. I used to be The Mother. But now I'm Shirley Valentine again"…..
Bored Liverpudlian housewife Shirley Valentine is preparing eggs and chips for her husband Joes arrival from work (even though he will be expecting steak, after all, "Thursday night is steak night" according to Joe, and whilst doing so talks to the wall about her rebellious school days, even though at the time she didn't even want to be rebellious, instead she wanted to be more of a model student like fellow classmate, Marjorie Majors – her former class enemy.
When friend Jane offers her a free trip to Greece for a fortnight, Shirley contemplates with the idea of accepting the offer, even though she worries what husband Joe will have to say about it.
Written by Willy Russell, who also wrote Blood Brothers and Educating Rita, Shirley Valentine is a one-character play, taking the form of a monologue by middle-aged working class Scouse housewife, focussing on her life before and after a transforming holiday abroad, where she discovers her true self and is faced with a life changing position.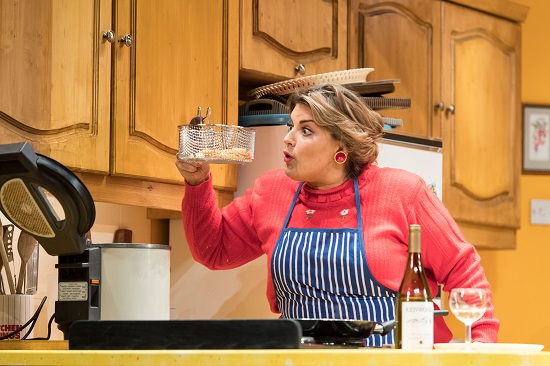 Jodie Prenger, winner of BBCs series "I'd Do Anything" plays the role of hopeless housewife Shirley with ease, along with slipping into various other characters to tell the story of how a chance in a life time holiday transformed the life of a stuck-in-a-rut housewife. From the moment Jodie entered the stage, she had an extremely strong stage presence and had the audience in roars of infectious laughter, at times giggling along herself, creating a wave of laughter throughout the auditorium. Her comedic timing was impeccable.
However, it is in Act Two that Jodie really comes into her own. It is there, in Greece, she meets bar owner Costos (her own "Christopher Columbus") and as a brief fling with him, and he finally helps her discover a certain "lost island" she has heard other women talk of. Whilst holidaying in Greece, due to the indisposed friend Jane, who met a new lover whilst on the plane and abandoned Shirley upon arrival at their hotel; Shirley re-evaluates her life and discovers her true self.
Filled with witty one liners and a variety of different characters portrayed by Shirley (Prenger), as she speaks to the wall in her kitchen, and a rock on the Greek island, going over her life and dilemmas faced, Shirley Valentine is a light hearted comedy and the perfect girls night out!
Playing Sheffield's Lyceum Theatre until Saturday 29th April, before continuing through the UK right through to November 2017 when it comes to an end in Dartford, Shirley Valentine is the perfect girl's night out guaranteed to have you in fits of laughter!
Reviewer: Charlotte Browne
Reviewed: 24th April 2017
North West End Rating: ★★★★