When a widower brings home his new (and much younger than him) bride it sparks conflict with his youngest son over the ownership of the family farm. But the battle lines soon become blurred when the son embarks on a passionate affair with his father's new wife.
Film and theatre director Sam Yates directs a cast including Olivier award‑winning actor Matthew Kelly (The History Boys in 2013) and Evening Standard Theatre Award nominee Aoife Duffin in Nobel prize-winning playwright Eugene O'Neill's haunting tragedy Desire Under the Elms.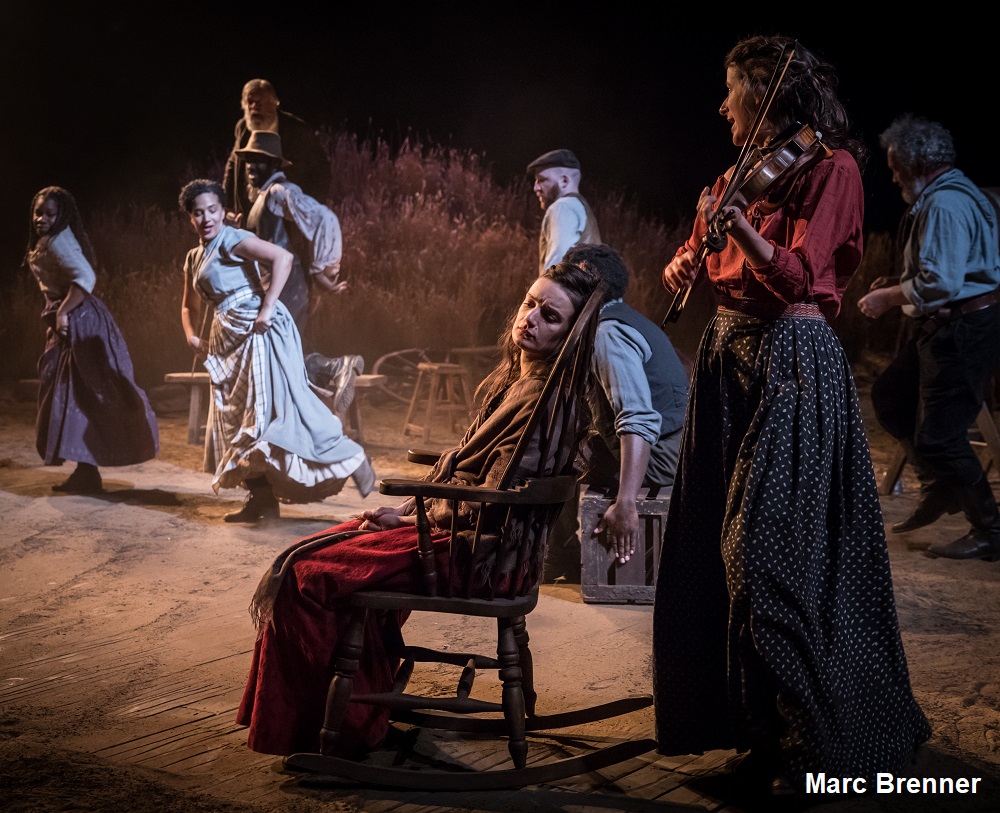 The first thing that really strikes the audience is the impressive stage set; masses of corn crops and a sand covering every inch of the stage floor, which at times is brushed to one side in different areas to take us from on the farm into the farmhouse. A diagonal screen is used at ceiling level to cleverly change the weather and sky from day to night, sunshine to thunderstorms. These are paired with intensely dramatic music which at times had me on the edge of my seat, my heart beating so loudly in anticipation I feared it may be heard by others.
Not wanting her new husband's son Eben (Michael Shea) to inherit his dad's farm (his two brothers Peter and Simeon having left for the Californian gold mines at the arrival of their new mother), manipulative Abbie (Aoife Duffin) persuades her husband Ephraim (Matthew Kelly) to bear her a son, so that he instead can inherit the farm. However, little does Ephraim know that Abbie already has an eye on another man, his son Eben, and she will stop at nothing to get what she desires. Aiofe Duffin portrays the role of Eugene O'Neill's character Abbie with ease, capturing the almost demonic possessed woman who will do anything she can to get her own way. At times Duffin's facial expressions and transfixed glare in her eyes as the dramatic music builds up to a pivotal moment, had me gripping to the edge of my seat. Kelly's portrayal of unsuspecting Ephraim is compelling to watch; his drunken scene as the penny starts to drop is the highlight of the performance. As much as I found the story slow and uninteresting in places, the three leads (Kelly/Duffin/Shea), along with the impressive stage set, make O'Neill's "Desire Under The Elms" a gripping performance to watch.
Reviewer: Charlotte Browne
Reviewed: 25th September 2017
North West End Rating: ★★★