Life to Elle Woods is perfect - she's dating the hottest guy in school, is the most popular girl in school, and has a credit card that never gets declined, plus she's a fashionista Sorority Queen.
When she thinks her boyfriend, Warner Huntington III (Liam Doyle), is about to get "Serious", he drops a bombshell on her that he thinks they should split up, since he's about to head off to Harvard Law School and doesn't think staying with Elle will have a positive impact on his future as a serious Lawyer. Outraged, Elle vows to get into Harvard and win back her man......but first she needs a 175 on her LSAT score (that's Law School Admissions Test, FYI!). For the first time in her life, Elle swaps socialising for swatting and after several failed attempts she finally gets the 175 needed to get into Harvard, and sets off to prove to Warner, that what he wants is right in front of him.
Along the way, Elle encounters some negativity from her fellow students, but finds a friend in returning student Emmett, and when some unwanted male attention results in Elle making the tough decision to leave Harvard, but having become quite close to Elle, Emmett steps in to try and convince her to stay.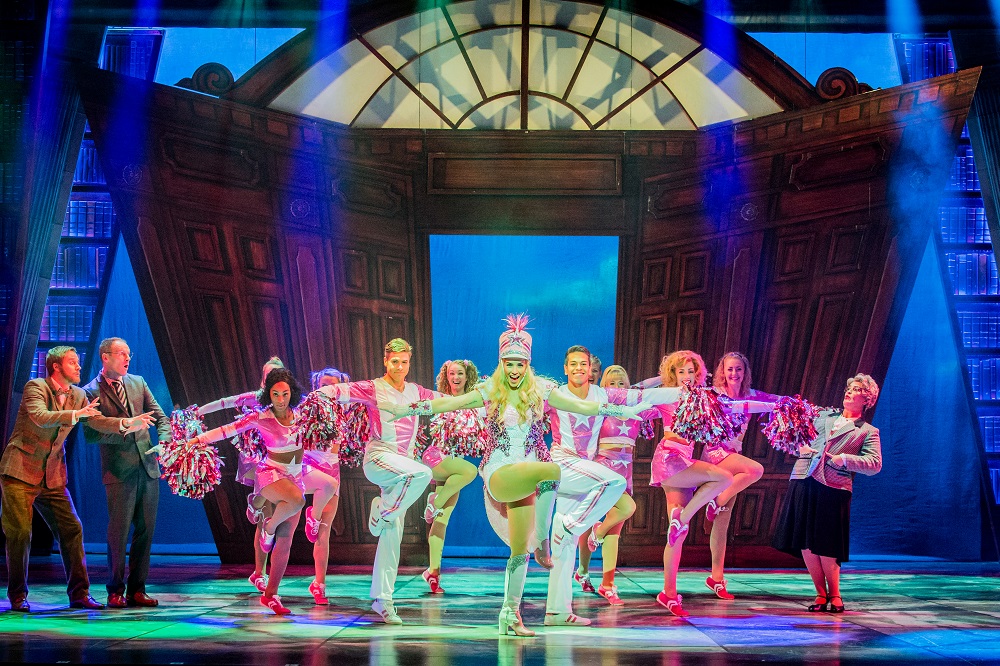 With their first Law case reaching its climax, will Elle return to Harvard, and win back her man? Will Paulette be reunited with her beloved pooch Rufus and master Elles' fail proof plan to blag the hot delivery guy?
Based on the 2001 movie with the same name, starring Reese Witherspoon in the title role, this Olivier Award winning musical (Best New Musical), Legally Blonde is a fluffy, pink, glitter filled delight, full of light hearted humour, the musical numbers (music and lyrics by Nell Benjamin) are catchy, often cheesy and at times make you laugh out loud.
Following one of the United Kingdom's better Eurovision entries, Lucie Jones steps back onto stage, following a short stint in The Wedding Singer Tour, and the run of Rent tour. As always Jones gives 100% in her performance, and this production is no different. Jones portrayal of Elle Woods is sweet and charming, whilst getting the ditsy blonde traits down to perfection. David Barrett's Emmett Forrest is loveable, although my first reaction was that although Emmett, although a returning Grad student, appeared to be significantly older than Jones, as did some other cast members appear to be far older than the roles they were playing. This aside Barrett was irresistibly charming, and by the time Elle had given him a fashion makeover, he had won the hearts of every female in the audience. Although Jones originally aimed for the X Factor pop star root in her musical career, I for one am so pleased she found the West End and theatre, as having seen her in all of her musical roles (UK based ones) to date, I believe this is what she was born to do.
Rita Simons provided the laughs as Paulette Bonafonté, Elle's go-to Agony Aunt and Beauty Salon owner, and her spoof Riverdance had the audience in roars of laughter, for the right reasons of course. This wasn't my first visit to Legally Blonde and it certainly won't be my last. Although there's several factors in this touring production that I cannot get my head round, such as cast ages, amongst other things, it doesn't stop the fact that it proves that blondes really do have more fun and that what you think you want, isn't always right in front of you.
Reviewer: Charlotte Browne
Reviewed: 30th October 2017
North West End Rating: ★★★★