It was just another day for Hull City of Culture 2017's monitoring and evaluation officer, Lizzie, until complaining resident, Dennis, snuck into the office Lizzie worked in.
Dennis (Andrew Dunn) was the catalyst for everything that could go wrong, to go wrong. Orderly Lizzie (Amelia Donkor) thought she had everything under control, as the city prepared to hand over the culture baton to Coventry, holders of the next City of Culture title.
The Hull Truck Theatre stage - bedecked out with actual office items borrowed from the Culture Team's office in Hull's Old Town - was set for laugh-a-minute chaos, breath-taking monologues, a swear word or two (or three or four) and fun and games galore.
I tried taking notes, I really did, but failed miserably. The non-stop activities on stage by the small cast of six were just too quick for my reviewer brain to put pen to paper.
As a proud Hull resident, I attended several installations the Culture Team arranged, and can honestly say I was impressed with everyone. But if the behind-the-scenes shenanigans were a fraction of what I witnessed on the stage on Tuesday night, then I'm surprised anything came to fruition.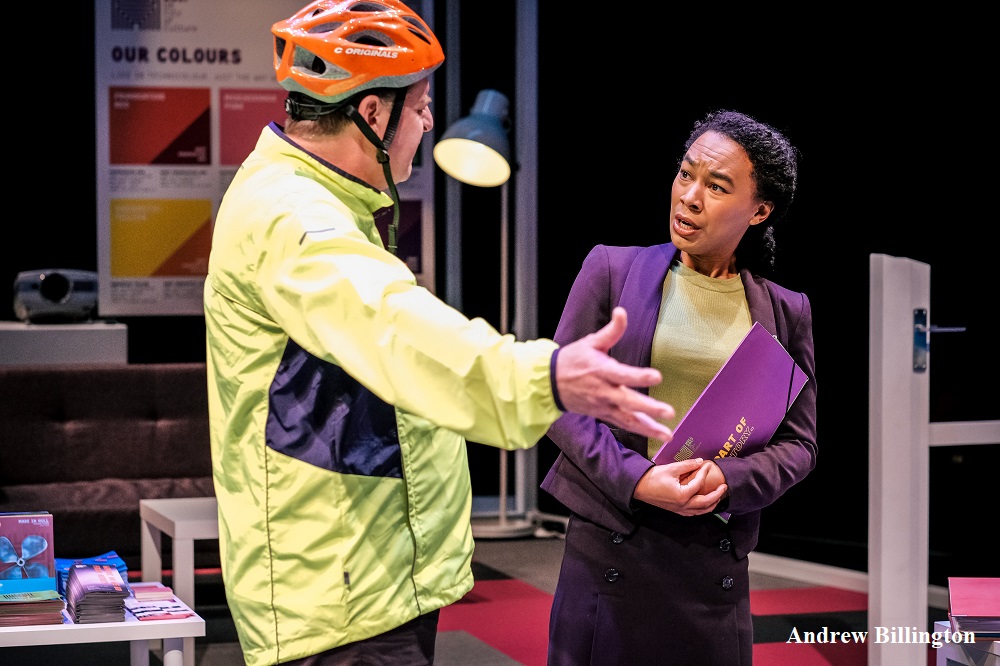 I will try to give you a rough idea of proceedings. Hull was hosting a gathering to wish a "happy transitioning" to Martin Green, the Culture Company's CEO, and for the head of Coventry council to accept the role of City of Culture 2021.
Travelling to the city – one on train, one by car - were Hull's very own Tom Courtenay and Maureen Lipman, who had been invited to attend the handing over ceremony.
Then there were office wallers, Josh (Jordan Metcalfe, who also played Dwight and Dixon) and Ash (Matt Sutton, who also played Tony). And completing the set up, two people instantly recognisable by Hull residents – not by their faces, but by their turquoise and pink outfits – volunteers Janice (Nicola Reynolds, who also played photographer Fleur, and Imelda, from the DCMS dept – no, me neither) and Gerald (Martin Hyder, who was also Clive, the head of Coventry Council). Are you keeping up?
As I mentioned above, disgruntled Dennis, of Summergangs Road, in East Hull, set everything in motion by somehow getting into the private office and grumbling about his "correct disposal of waste" being mistaken for an art installation. He'd put out a sofa, fridge and standard lamp for the council to pick up and dispose of, but it had drawn crowds thinking it was part of a City of Culture installation.
Some bright spark had even rigged up a generator and plugged in the lamp and fridge.
But what sent Dennis over the edge was the arrival of a turquoise and pink-clad volunteer who turned out to be none other than Gerald, there to oversee the "installation".
This small team of six, playing 12 characters, ran on and off the stage in true farce style. With impeccable comic timing they ensured there was never a dull moment.
And how they remembered their lines in all this mayhem, goodness only knows. Amelia Donkor as Lizzie was especially impressive, being on the stage practically the whole time.
After the interval, the farce pace went up a gear and it really was laugh-out-loud time. Former Home Secretary and Labour MP, Alan Johnson, did his part on stage as the VIP guest in the proceedings, but it was the voices of famous thespians Tom Courtenay and Maureen Lipman that made me laugh the most.
As confusion reigned, they were both mistakenly told their services were no longer needed. Over the speaker phones came Courtenay's response: "I'll (bleep) the (bleephole) to (bleep, bleep, bleep)". And Lipman's: "City of (bleep) Culture my (bleep)". On and on they went in the same hilarious vein. What good sports.
The "serious" message behind all this was to measure the impact the cultural events had had on the city of Hull. And the question was asked: "Was it effing worth it?"
Yes it was, as was this very entertaining spectacle.
Reviewer: Jackie Foottit
Reviewed: 30th January 2018
North West End Rating: ★★★★