Brighton Rock is not for the faint of heart. Adapted by Bryony Lavery from the Graham Greene novel of the same name, the story follows the travails of Pinkie (Jacob James Beswick), a small-time gangster and sociopath in the resort town of Brighton in the 1930s. The murder of the gang's previous leader has left a power vacuum which Pinkie hopes to fill. Unfortunately, he is dogged by rival gangs and dissent from within his own ranks; the affections of Rose (Sarah Middleton) a young waitress perhaps not as innocent as she first appears; and the scrutiny of would-be detective Ida (Gloria Onitiri) as well as the official police. Soon, Pinkie's world starts to unravel, as he and those around him descend into self-inflicted vortex of tragedy and violence.
Under the skilled direction of Esther Richardson, the play offers a masterclass in atmospheric drama. The production makes excellent use of music, placing musicians on stage in the centre of the action. The drama is coloured effectively by the insistent use of percussion instruments, which alternately create a sense of terror and dream-like wonderment.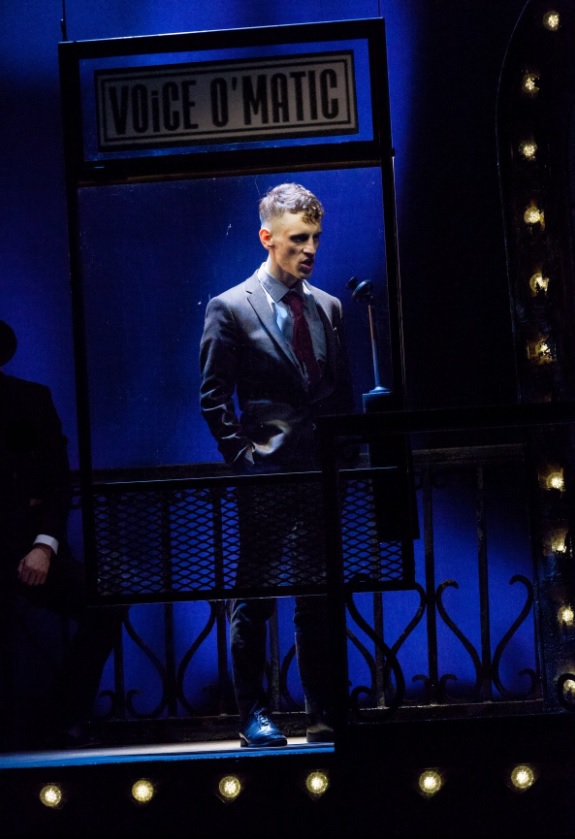 Further to this, the performance space is used for maximum effect; for the majority of the play, the stage is cloaked in darkness, and the use of lighting and costume helped the characters stand out in vivid detail. This was especially true for the character of Ida, whose striking red dresses made her appear distinct from the world she inhabited. Similarly, the cast make great use of movement techniques to portray actions are varied as drowning and love-making in ways that are sensual but gripping.
Jacob James Beswick does an excellent job in portraying Pinkie as a villainous but essentially ambiguous character. He is a mercurial presence, and one never knows what his Pinkie is going to do next. Sarah Middleton is likewise evocative as the innocent but subtly knowing Rose, who becomes enraptured by Pinkie. Quite where Pinkie's influence ends and Rose's desire for a life of excitement begins is anybody's guess, and Middleton does well in showing the slow but sure transformation from a hapless teenager to a willing accomplice in Pinkie's life of crime. It is Gloria Onitiri's Ida who steals the show, however; she provides a moral centre for the audience to latch on to, and Onitiri is charismatic enough to never make her come across as sermonising.
If the play has a downside, then it is surely in its run-time, which approached three hours. While this is probably necessary to do the material justice, it will test the patience of many audience members. Thankfully, if one allows oneself to get caught up in the drama, the time passes swiftly. Similarly, its lack of a clearly defined protagonist and the morally ambiguous world it portrays present a problem in terms of audience engagement. The play navigates this well, for the most part; but after a few hours, the lack of any characters we can empathise with clearly and unreservedly does prove trying.
This is not a play for everyone, but that is no bad thing. Brighton Rock does what it sets out to do in being a challenging piece of theatre that will no doubt appeal to a younger audience. It provokes questions of morality, love, sex, violence, deception, and loyalty, and does so with elegance and style.
Reviewer: Amanda Hodgson
Reviewed: 21st February 2018
North West End Rating: ★★★★