A cast of just five caused so much mayhem on the stage of Hull Truck Theatre on Wednesday night, that, by the end, I was literally slack-jawed with laughing.
It could be argued that the five culprits were only following the script of They Don't Pay? We Won't Pay!, but I suspect as the performance heated up, they went AWOL quite a few times.
We warmed to these pranksters before "curtain up" when they serenaded us with song as we took our seats. And before long I was singing along with the rest of the bemused theatregoers to the likes of When You're Smiling, Bring Me Sunshine, I'm Gonna Be (500 Miles) and finally, Dirty Old Town.
Assured we were all seated and with their musical instruments taken back stage, they quickly got into character.
All the action takes place in Anthea and Jack's rented flat. Anthea (Lisa Howard) is unemployed and fed up of struggling financially. Her factory worker hubby, Jack (Steve Huison), a solid Trade Unionist and Socialist, is as honest as the day is long.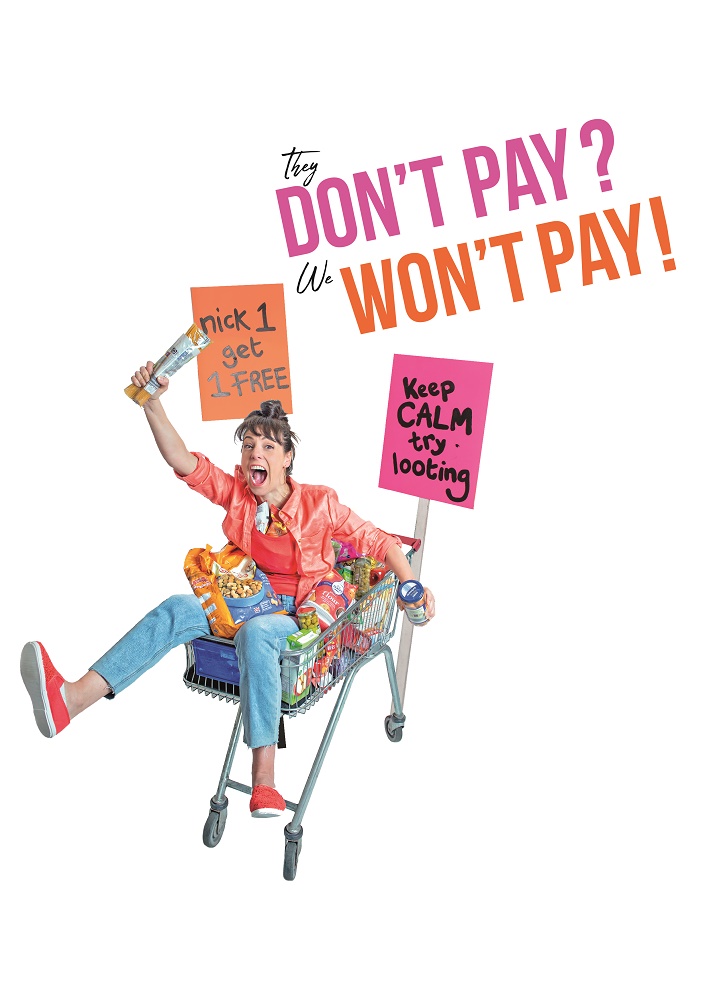 When Anthea gets caught up in a mini riot in her local supermarket, she finds herself filling her bags with stolen groceries (all the other shoppers were doing it, so ….). Of course, knowing how Jack would feel about her breaking the law, she coerced her timid and easily led friend, Maggie (Suzanne Ahmet) to help her hide the booty around the flat.
What followed was very well-timed and well-orchestrated slapstick as they hid stuff everywhere they found a space – gaining them a well-earned round of applause.
Anthea persuades Maggie to take some stuff for herself, which, reluctantly she does, stuffing it up her coat. In walks Jack, having left work early after an almighty row in the works canteen – the cooks had had the nerve to add baked beans to the corned beef hash. Imagine!
Out walks a pregnant looking Maggie, and in true farce tradition this is the beginning of a host of misunderstandings and lies, when Jack mentions to his wife how fat Maggie has become – and Anthea reveals her friend is five months gone.
When his wife pops out, Jack is soon answering the door to my favourite character of the night, a self-confessed Marxist police constable (one of four roles for Michael Hugo – well, five if you count the mouthorgan-playing postman at the end!).
Espying the Trill bird food, the packet of turkey neck and the tin of Champion Chow dog food Anthea had left out for her husband's tea, the policeman is soon feeling so sorry for Jack's predicament, he gives up all intentions of searching for the stolen groceries.
Meanwhile, Jack has to find a way to let his friend, Lewis (Matt Connor) know that his wife, Maggie, is pregnant. Believing even more outlandish lies Anthea had concocted about the forthcoming birth, Jack eventually relays it to Lewis with hilarious results.
Soon, the story of the stolen groceries takes a back seat (though they were everywhere – how poor Maggie walked at times, I really don't know), while more serious issues increasingly get an airing – politics, the Government of the day, Brexit, greedy banks.
These issues run through the whole play like letters in a stick of rock and I did wonder at one time if it was overdone. But then I reasoned the script had condensed into one play what many of us talked about from day to day – whatever our beliefs.
Before the story ends, we encounter a "right wing" police sergeant, Jack's old dad, a "lady" undertaker and a young, hopeful postman, all played by the aforementioned Michael Hugo.
We had characters totally changing their long-held views, a dead body, tales of "dishy" paramedics, audience participation (that's why I never sit on the front row), singing, waters breaking, olives dropping out of nether regions – the list goes on.
All this on a simple, but effective stage setting, by actors whose loud, clear voices ensured not one word was missed.
I defy anyone – Leaver, Remainer, left wing or right, rich or poor – not to laugh at the havoc these five talents wreak.
They Don't Pay? We Won't Pay! is fast, furious, farcical and immensely entertaining. Theatregoers couldn't ask for more.
Running until Saturday, October 27th, 2018; 7.30pm nightly with 2.30pm matinees on Thursday and Saturday. Tickets from £13.50. Call (01482) 323638; visit www.hulltruck.co.uk
Reviewer: Jackie Foottit
Reviewed: 24th October 2018
North West End Rating: ★★★★