More than two hours of rollicking, all-singing, all-dancing fun kept a packed theatre entertained, engrossed and enamoured, when The Merry Widow came to the city on Friday night.
For the second night running, Hull New Theatre played host to an Opera North production. Thursday night was for the more serious, darker, Tosca, but Friday's offering was the complete opposite – it was fun and games all the way.
A glittering cast, in even more glittery costumes – golden epaulettes swung from many a male shoulder, while ladies flounced around in ball-gowns in every hue – made this an unforgettable spectacle. And the wonderful singing from all concerned surpassed even that spectacle.
With accompaniment from the Opera North Orchestra, conducted by Martin Pickard, the stars were aligned for a glorious night's entertainment.
The country of Pontevedro is in financial panic. Its wealthiest resident has married a penniless young woman, Hanna (Katie Bird), who finds herself a widow within seven days of the wedding. Rumour has it she is now looking for a new husband to share her huge wealth with.
The Pontevedrian Ambassador, Baron Mirko Zeta (Geoffrey Dolton) has to make sure the pretty young widow marries one of his countrymen to ensure the fortune stays in Pontevedro – thus, saving it from bankruptcy.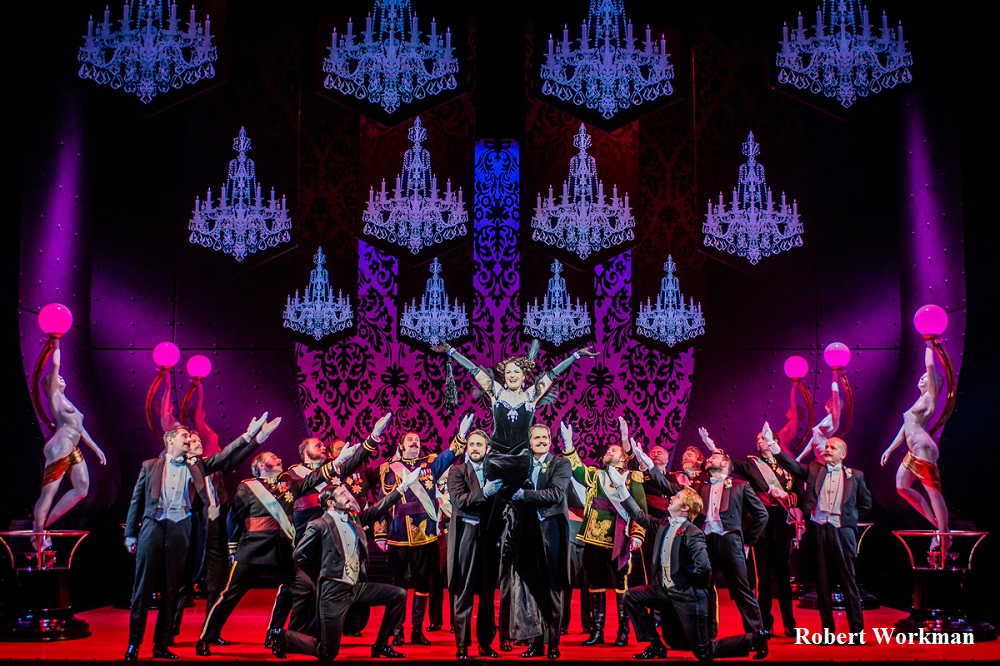 Zeta's nephew (my favourite character on the night), Count Danilo Danilovitch (Quirijn de Lang) is the perfect candidate, but unbeknown to his uncle, he and Hanna have romantic history – and it didn't end well.
They had met and fallen in love once before, but Hanna being a poor country girl at the time and Danilo being instructed never to marry a penniless girl, he leaves her heartbroken. On the rebound and to spite him, Hanna marries the immensely wealthy Count Glawari, coming into a huge fortune after his untimely death.
At the news of her marriage, Danilo takes to drink and women – especially the loose-moralled can-can dancers at the infamous Maxim's in Paris.
When Hanna hits Paris, it's party time all the way. Resplendent in black velvet, adorned with diamanté and diamonds, she cuts a dashing figure, attracting the attention of many fortune-hunting French bachelors – equally dashing in their bemedalled uniforms.
While Hanna and Danilo go to great lengths to pretend they hate each other, another affair of the heart takes centre stage. The Ambassador's wife, ex-chorus girl Valencienne (Amy Freston) is torn between her passion for Monsieur Camille de Rosillon (Nicholas Watts) and the respectable position gained from her marriage to the ageing Ambassador.
These two stories vie for our attention throughout. Against a backdrop of the most sumptuous stage setting, it's these four characters who feature the most. And each made a huge impression on me.
I loved Quirijn de Lang as Danilo the minute he drunkenly staggered onto the stage. Add to this a truly magnificent singing voice and comic acting – he looked a bit of all right, too (it's the man in uniform thing).
Amy Freston as Valencienne was amazing, As if a beautiful voice wasn't enough, she actually cart-wheeled and did the splits in a gown so full, it's a wonder she could walk, never mind do acrobatics.
Katie Bird's Hanna was cheeky, rough around the edges, and could hold her own in any man's company. Her singing voice was unbelievable and to my untrained ears, she never once missed a note. Amazing stuff.
And to complete the foursome, Yorkshire-born Nicholas Watts as M Rosillon acted the part of a lovestruck suitor with such good grace, manners and humour, I warmed to the naughty boy immediately. His singing was top-class, too.
Aided and abetted by the comic talents and tuneful singing voice of Geoffrey Dolton as the Ambassador, the story unfolded in such a rip-roaring, colourful way, I wasn't bored for a minute.
Other talented cast members (too many to name) added to a truly memorable occasion.
Sung in English, every word was easy to understand, but two large screens highlighted the words just in case we missed any.
Hanna eventually gets her man (guess who?) and as the cast took their final bow I wasn't the only one cheering them on with a huge smile on my face. My hands and arms ached with clapping for so long (but not as much as my back and backside – boy, those Hull New Theatre seats become very uncomfortable during a lengthy performance).
Reviewer: Jackie Foottit
Reviewed: 2nd November
North West End Rating: ★★★★★