The bleak stage setting at Hull Truck Theatre on Wednesday evening, gave us in the audience a hint of what was to come – especially if, like me, my fellow theatregoers hadn't read one word of author David Mark's book, from which this play is adapted.
A few seats, a table and chairs, three filing cabinets, a huge film screen and a cast of six were all that was needed to introduce us to DS Aector McAvoy – Dark Winter being Mark's debut novel about the Hull detective.
And it was a very dark winter, indeed, in Hull, East Yorkshire, when three bodies lay in the morgue – all victims of a twisted killer.
As the film screen showed us snowy Hull streets, two weeks before Christmas, the atmosphere indoors was not much warmer.
DS McAvoy (David Tennant look-and-soundalike, Peter McMillan) is the only one in his department convinced the killings are linked.
But how could an adopted young Hessle girl, originally from Sierra Leone, a local ex-trawlerman and an arsonist from Hull estate, Orchard Park, be connected?
McAvoy is certain someone is playing God and he will move heaven and earth, risking his own life, his marriage and his sanity, to prove it.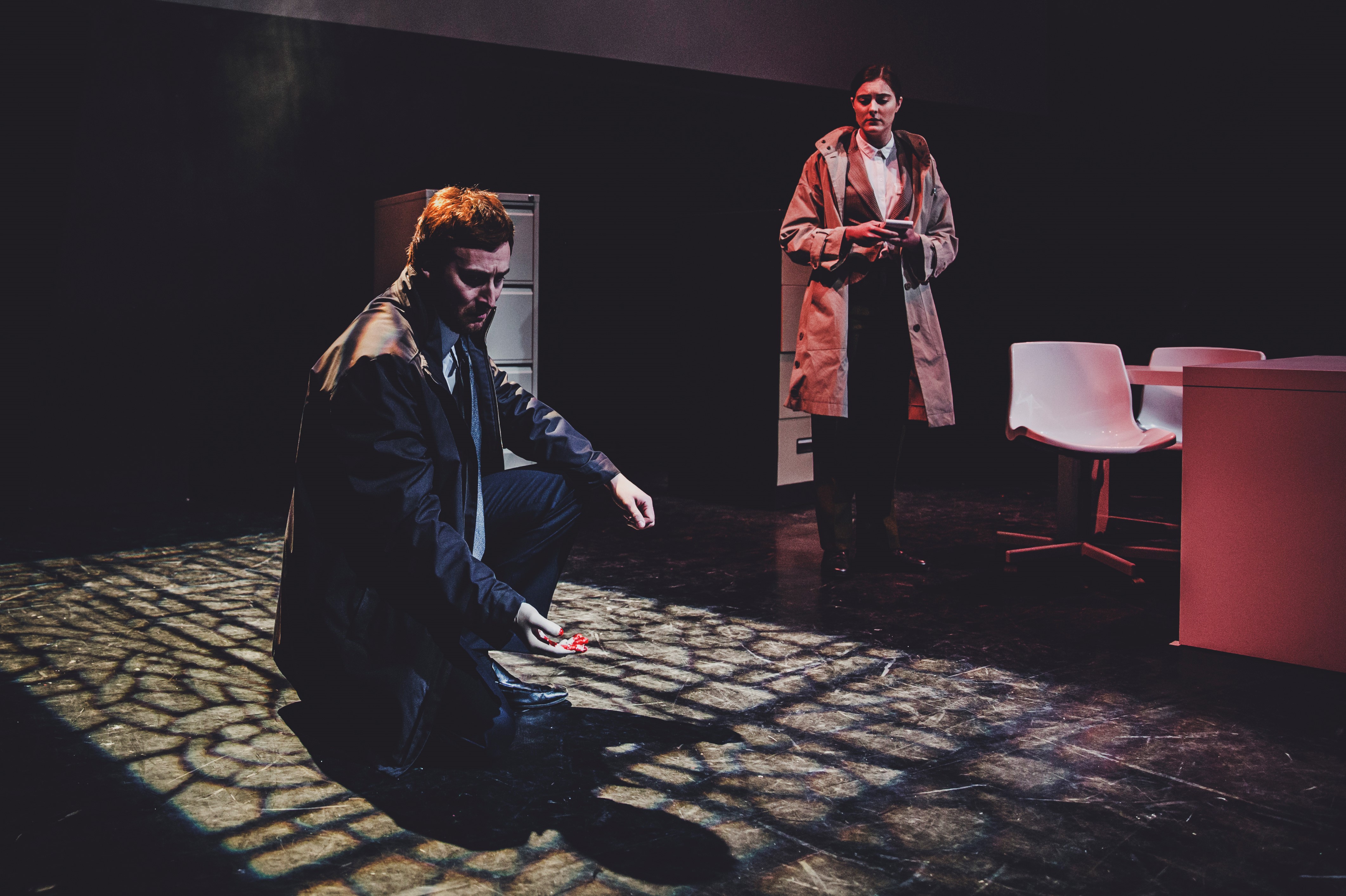 His involvement starts in the city's Holy Trinity Church, when he is called to the scene of a young girl's bloodied body. While there, he is knocked senseless by the escaping killer, but not before he sees that the killer is crying.
Two more deaths peak his curiosity even more, but his superiors won't hear of it – one even goes out of his way to belittle him any way he can.
McAvoy's stress levels don't diminish on the home front, as his wife is due to give birth to their second child – but he is never home to comfort her.
"Why can't you be like that man in Midsomer Murders who catches a serial killer each week and is home in time to take his wife to yoga," she wails.
When the determined detective finally uncovers how the three victims are connected – all are survivors of past tragedies – he risks everything to uncover the culprit.
Having not read the book, I didn't have a clue how things would turn out. My imagination ran riot at times, especially when the killer jumped out of the shadows at, seemingly, every toss and turn!
I won't give the ending away, but I will say the small cast – take a bow, Sarah Naughton, Laura Peterson, Richard Vergette, Danielle Phillips, Iain Thomson and the aforementioned Peter McMillan – did Mark's book justice.
With more than one role each, they all managed, convincingly, to convey very different characters, with minimal costume and scenery changes. Once or twice, certain voices never carried, especially to us up in Row J, but I managed to get the gist of most of what was being said in those instances (mainly when the character was facing away from us in the audience).
Where the stark stage setting was not enough to relay certain events, the huge film screen did the job admirably. Flashing lights and crash, bang, wallops added to the tense atmosphere.
I left the theatre with my interest peaked. Back home, a quick look on Amazon showed me Dark Winter is just the first in a whole series of DS Aector McAvoy stories, by the Hull-born author.
And thanks to Peter McMillan's arresting portrayal (pardon the pun) as the misunderstood detective, I am now looking forward to reading more Aector McAvoy adventures on the streets of the city I am proud to call home.
Running until Saturday, November 10th, 2018; 7.30pm nightly, with a 2pm matinee on Saturday. Tickets from £16.50. Call (01482) 323638; www.hulltruck.co.uk
Reviewer: Jackie Foottit
Reviewed: 7th November 2018
North West End Rating: ★★★