Mike Leigh's acerbic comedy drama lives again at York's Grand Opera House, as the guests gather in 1970s suburbia for what promises to be a night of farce, cringe-inducing one-liners, cocktails, and lots of olives and pineapples on sticks.
Fans of the original stage play (which was produced in 1977) will be familiar with the story and will not leave disappointed. Beverley Moss (played here by Jodie Prenger) is a domineering suburban housewife, married to henpecked husband Laurence (Daniel Casey), a hardworking estate agent with aspirations to the finer things in life. Beverley conceives an idea to throw a party in her home, ostensibly for her newly-wed neighbours Tony (Calum Callaghan) and Angela Cooper (Vicky Binns). They are joined by their retiring and divorced neighbour Susan (Rose Keegan), whose 15-year-old daughter Abigail is throwing a party of her own that becomes the object of much discussion among the neighbours. Bickering, petty squabbles, jokes, domestic treachery, class politics, and lots and lots of '70s references ensue, all culminating in an ending that is equal parts tragedy and black comedy.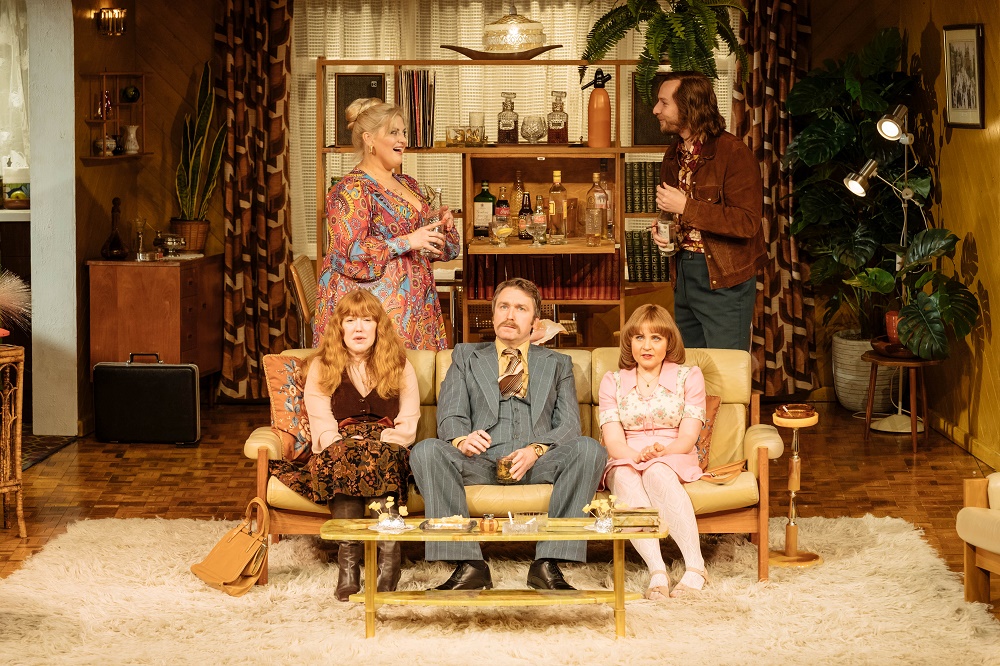 The first thing to note about Abigail's Party is that it is very much a creature of its time. The production reproduces the slightly desperate veneer and increasingly dishevelled attitudes of Britain in the 1970s with gusto, and the anxieties about social standing and economic class in an opening world are brought to the fore. The production cannot change much because not much can be changed without making the play something else entirely. It is a snapshot of British society in a particular time and a particular place (roughly, suburban Essex) and despite the play's pretensions to universality, there isn't much that speaks to us today. It is now an artefact of the nostalgia industry and should be viewed as such. For those who see the play without the benefit of '70s nostalgia goggles, the best description of the drama is simply: 'you really had to be there' to get much out of it.
This isn't to say the production is bad. Far from it. Each of the actors inhabits their characters fully and makes them vivid against the swirling beige and orange background of Beverley and Laurence's home. Jodie Prenger, in particular, does a fabulous job of making the monstrously bullying and hugely inappropriate Beverley into a sympathetic figure. Calum Callaghan and Rose Keegan likewise do much with minimal dialogue, making their characters at once sympathetic and somehow marginally loathsome. After a slightly mechanical start, however, the cast settled into their respective roles and were soon bouncing off each other.
The set design provided the illusion that the audience was peering into a suburban home surprisingly well, creating the appearance of extra rooms on each side of the main sitting room and thus lending the playing space a feeling of depth. Similarly, the lighting was well-used to create the impression of suburban interior lighting, and this never felt forced or overly-clinical. The 1970s was a decade of flamboyant fashion, and the costumes cannot be praised as anything other than completely accurate.
In sum, is a strictly invitation only affair. While the production is superb as an example of its kind, its appeal will always be limited to those who were at the original party, held circa 1977.
Reviewed: Amanda Hodgson
Reviewed: 28th January 2018
North West End Rating: ★★★★