Within two minutes of curtain up, on Tuesday night, we in a packed Hull New Theatre, were bathed in twinkly glitterball lights, heralding the start of Saturday Night Fever.
The opening number, Stayin' Alive, got us all in the disco mood early on. And the pace never slackened.
The 1977 movie starred John Travolta and the Bee Gees' soundtrack, for decades, was the best-selling movie soundtrack of all time. I wore my cassette player out (that dates me), playing the Night Fever tape over and over again and still know every word to the songs. Happy days.
There was nothing taped in this production as Edward Handoll, Alastair Hill and Matt Faull, as the Bee Gees, sang live on stage, their spot-on vocals being the glue that held everything together. The spotlight stayed on them as they sang, accompanied by talented musicians, who stayed in the shadows. Very atmospheric it was, too.
The story centres around 19-year-old Brooklyn guy, Tony Manero (Richard Winsor … sigh), who works in a paint store by day, but spends his spare time dancing, especially on weekends at the 2001 Odyssey club.
His sexy dance moves leave all the girls drooling – and that was just in the audience on Tuesday night. Of course, Tony loves the attention, but he loves dancing more. When he hears the club will be hosting a dance competition, with a prize of $1,000, he decides to enter – but who will be his dance partner?
Step forward his biggest fan, Annette (Anna Campkin). Reluctantly, Tony agrees to rehearse with her, but stresses it will be business only. She ain't bad, oops, I mean, she isn't bad, but when Stephanie Mangano (Kate Parr) shows up, Tony only has eyes for her.
There's plenty of action leading up to the all-important night of the competition, but in a way, whether Tony wins or not, is sort of an anti-climax.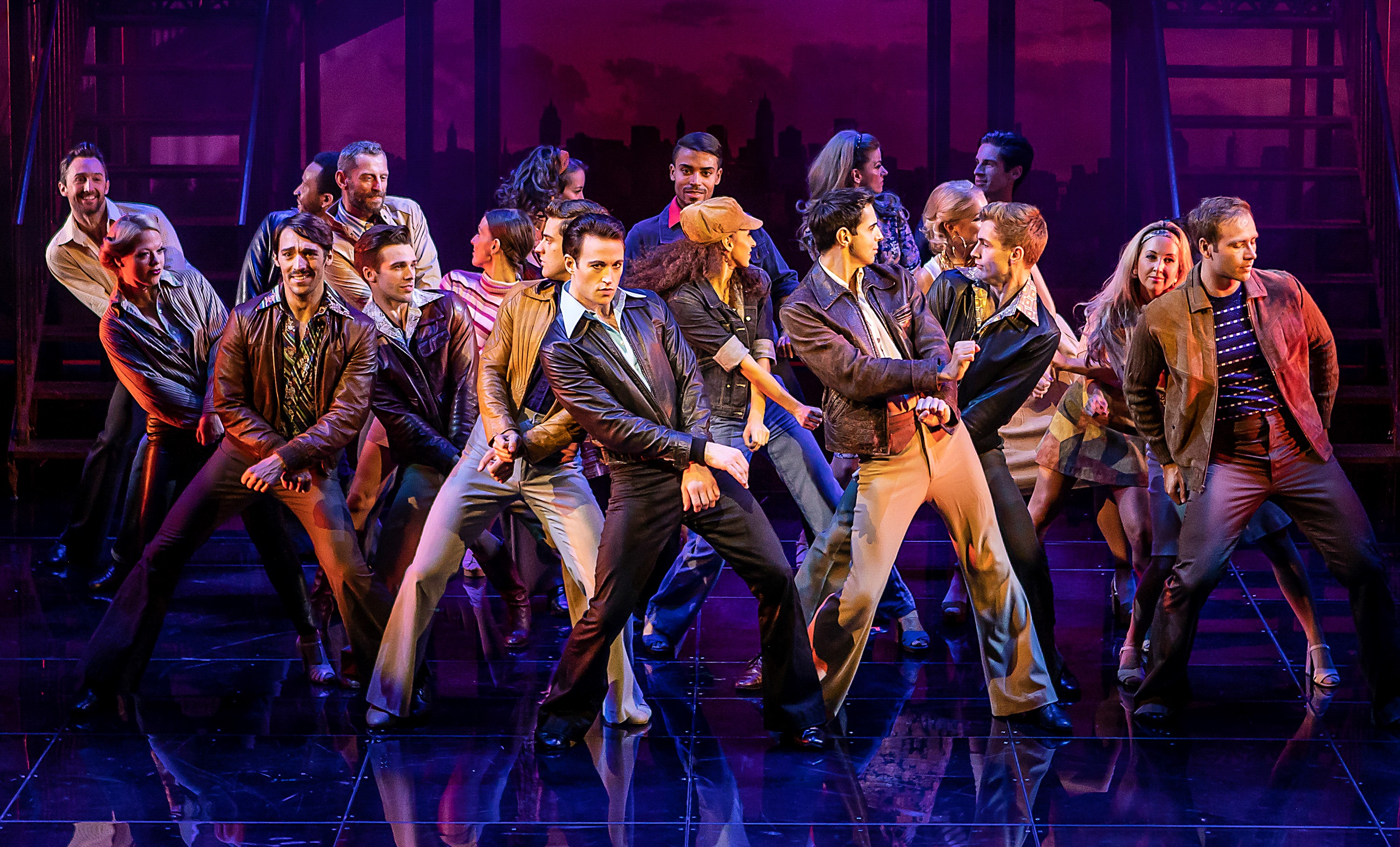 So much stuff is going on in his young life. He not only has to contend with his own teenage angst and an unhappy home life with a bullying, out of work, drunken father, but also is the kingpin of a group of streetwise pals he is growing tired of. And when tragedy strikes, his life will never be the same again.
As the amazing stage setting changed before our very eyes, from the Brooklyn Bridge, to Tony's living room; to the Dale Dance Studio and the 2001 Odyssey club, the "Bee Gees" sang all the hits - Night Fever, Words, If I Can't Have You, Nights On Broadway, You Should Be Dancing, Jive Talkin', More Than A Woman, Tragedy, Too Much Heaven and, my fave, How Deep Is Your Love?
Richard Winsor was simply FABULOUS as Tony. His Brooklyn accent never faltered and his dancing – phew! And boy, could he strut.
However, I felt there wasn't much chemistry between his character and Stephanie, the girl he chose, when they danced together. Lovely as their competition routine was, I found it a bit clinical.
And puzzlingly, three "Bee Gees" became two, halfway through the production. However, the remaining "brothers" more than made up for the missing vocal.
Throughout, the super talented cast never lacked energy – they sang, they danced, they drank, they laughed, they cried, they fought. Oh, and they swore – the F word cropped up a few times, but it all added to the realism of the times.
This being set in the mean streets of 1970s Brooklyn, an undercurrent of friction and tension runs throughout this story. But the minute it threatens to dampen the party atmosphere, up pops a fab song and some amazing dancing, keeping us all happily entertained. I loved every minute.
Running until Saturday, February 2nd, 2019. Tickets from £15. 7.30pm nightly with 2.30pm matinees on January 30th, 31st and February 2nd. Call (01482) 300306; visit www.hulltheatres.co.uk
Reviewer: Jackie Foottit
Reviewed: 29th January 2019
North West End Rating: ★★★★